Most stylish electric cars
Going green doesn't have to mean you cramp your style, as these 10 bold-looking EVs prove
Electric cars are considered less damaging to the environment than petrols or diesels, as well as very cost-effective to run, but it's not often you think of these machines as stylish. Their image is more tied up with the latest technology and being kinder to the environment, so you'd be forgiven for thinking design would largely be overlooked as a frivolous distraction. However, the reality is rather different, because most electric and plug-in models boast bold looks, with their compact motors allowing stylists to let their imaginations run wild. Here, we pick 10 of the most eye-catching electric cars out there.
BMW i3
The BMW i3 (above) is a real head-turner. It's something truly different on the road, as it was designed as an electric car from the outset, rather than being adapted from a petrol or diesel car. And much of what you see and touch contributes to making the car more sustainable. On the outside, the thermoplastic body panels are a quarter recycled, while the interior features a distinctive dashboard covered in eucalyptus wood sourced from a sustainable forest. In all, around 80% of the i3's interior is made from recycled materials.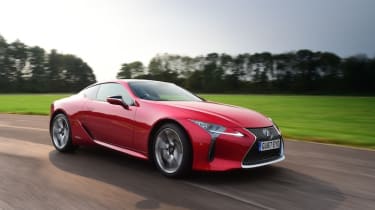 Lexus LC 500h
There are million-pound hypercars that don't attract as much attention as the Lexus LC 500h. Very closely based on the LF-LC concept created in 2012 by the brand's California design studios, the production LC is a daring mix of curves, creases and flowing lines. It looks fantastic from any angle, while the vast optional 21-inch alloys add further kerb appeal. Under the eye-popping skin is Lexus's tried-and-tested petrol-electric powertrain; this develops an impressive 354bhp yet is capable of returning almost 35mpg.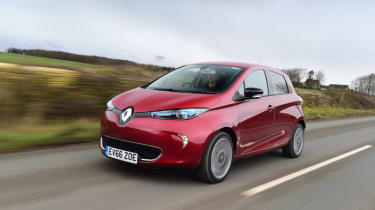 Renault ZOE
As affordable electric cars go, the Renault ZOE is arguably the most stylish of the lot. With its smooth, pebble-like shape and clean detailing, the zero-emissions French supermini looks like it has just driven off the designer's drawing board. Neat details are everywhere, from the rear doorhandles hidden in the window frames to the translucent blue finishes for the front and rear lights. It's equally neatly finished inside, where you'll find a refreshingly minimalist approach, with a dashboard dominated by a touchscreen infotainment system. Better still, it's now powered by a new 108bhp electric motor delivering nearly 200 miles of range from a single charge.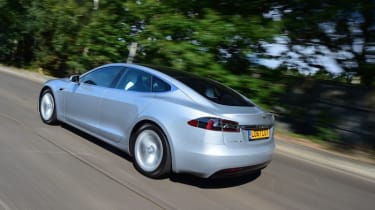 Tesla Model S
The Model S was Tesla's first mass-produced model – and nearly eight years on, it's still turning heads. Low, wide and clearly styled for aerodynamic efficiency, the big five-door hatchback is always an unmistakable presence on the road. Yet the interior is the real highlight, as it blends clean simplicity with cutting-edge tech. Where most executive cars favour numerous buttons, the Model S groups all of its controls together on a vast 17-inch portrait touchscreen mounted on the centre console, giving the interior an airy, uncluttered feel.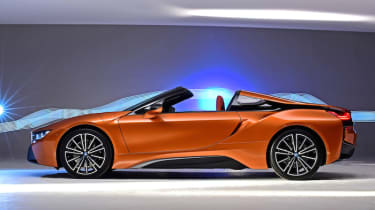 BMW i8
Technologically and visually audacious, the BMW i8 is one of the most distinctive cars on the road. Heavily influenced by the 2009 Vision Efficient Dynamics concept car, the i8 looks futuristic even among rivals that aren't exactly wallflowers. If you need it to stand out further, a number of two-tone paint finishes are available, all contrasted with the distinctive Frozen Blue trim inserts. Spectacular dihedral doors open to reveal an equally advanced interior, and also on show is the car's sophisticated carbon-fibre-reinforced plastic (CFRP) structure, which is formed – just like the similar underpinnings of the smaller i3 – at a factory powered by hydroelectricity. The i8 effortlessly mixes style and sustainability.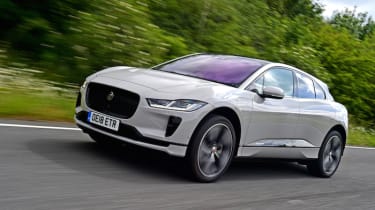 Jaguar I-Pace
Like most of the cars in our list, the Jaguar I-Pace was a clean-sheet design, with no compromises forced by an existing internal-combustion-engine architecture. Penned by design legend Ian Callum, its mix of coupe lines and SUV proportions is heavily influenced by the 2016 concept car, which featured a long wheelbase, short overhangs and large air vent in the bonnet. The I-Pace certainly stands out from the crowd, with its skilful blend of cutting-edge design and traditional Jaguar styling cues. This theme continues inside, where wood and leather sit side-by-side with slick touchscreens and a sleek, minimalist look.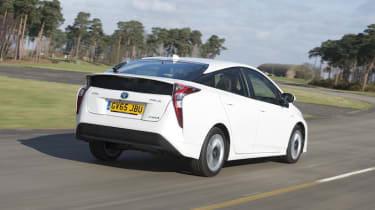 Toyota Prius
The petrol-electric Prius has always ploughed its own furrow, and nowhere is this more obvious than in the striking styling of the current car. Among the sea of conservatively designed family hatchbacks, the hybrid Toyota is a breath of fresh air; with its dart-like profile, bold lines and larger-than-life details, it's unlikely to be mistaken for anything else. Inside, the centrally-mounted digital dials and gloss-white trim finishes create a futuristic feel that perfectly complements the eye-catching exterior and the hi-tech running gear. Want to wear your eco-friendly credentials on your sleeve? Look no further than the Toyota.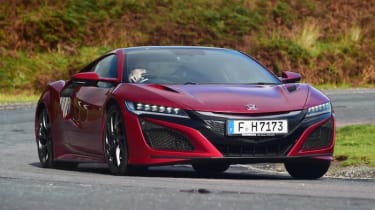 Honda NSX
If you had any doubts that hybrid and electric cars could be exciting, the Honda NSX will quickly dispel them. It doesn't matter where you go in this petrol-electric supercar, you'll turn heads and attract the attention of every smartphone camera. Styled by a team headed by Michelle Christensen at Honda's California design studios, the NSX looks simply stunning from any angle. Highlights include the sleek lines, vast air vents in the rear wings and the quartet of exhausts set in the carbon-fibre rear diffuser. Even sitting inside is an event; the interior cocoons you in a mix of luxury and technology, with cutting-edge TFT screens and touch-sensitive controls.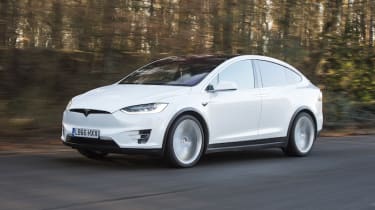 Tesla Model X
After the sleek Model S came the rugged Model X. Once again, Tesla did things its own way with its first SUV, mixing off-roader, coupe and MPV styling cues to create its imposing seven-seater flagship. Of course, the vast gullwing rear doors are the most distinctive feature of the Model X; they rise up, giving the SUV some serious car-park credibility. And, in keeping with other Tesla models, the interior is both spacious and an object lesson in sleek simplicity, the uncluttered dashboard dominated by that huge touchscreen infotainment system.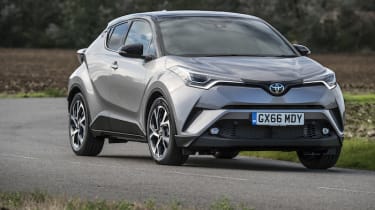 Toyota C-HR Hybrid
Few car manufacturers have pulled off the coupe-SUV look quite as well as Toyota with its bold C-HR. Designed from the outside to appeal to sophisticated European tastes, the daring C-HR features a body that's full of sweeps, slashes, creases and curves, allowing it to stand out from its more sensibly styled rivals. Highlights include the neatly integrated tailgate spoiler and the two-tone roof finish. The imaginative treatment continues inside, where slick design is enhanced by bright-coloured contrasting trim inserts for the dashboard.
Electric BMW iX2 is set to take the kidney grille to the next level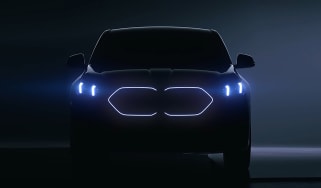 Electric BMW iX2 is set to take the kidney grille to the next level
BMW i4 facelift to topple Tesla with huge range and tech upgrades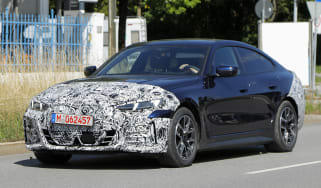 BMW i4 facelift to topple Tesla with huge range and tech upgrades
BMW Vision Neue Klasse is a future electric 3 Series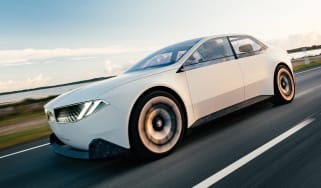 BMW Vision Neue Klasse is a future electric 3 Series
MINI Cooper Electric: pricing and specs for British-built electric supermini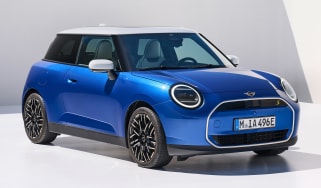 MINI Cooper Electric: pricing and specs for British-built electric supermini
MINI's latest electric hatchback introduces a revolutionary interior design, as well as larger batteries to provide a 250-mile range
Tesla Cybertruck: pricing and specs for Elon Musk's electric pickup truck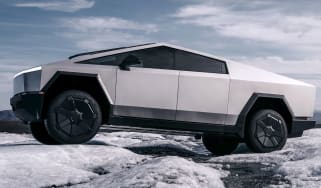 Tesla Cybertruck: pricing and specs for Elon Musk's electric pickup truck
The Tesla pickup truck is now on sale, with a range of up to 340 miles and a starting price of just over $60,000
Electric Renault 5: prices, 2024 launch date and teaser images of the MINI Cooper rival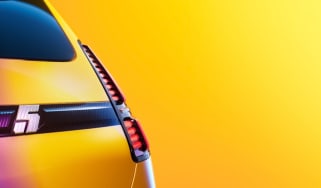 Electric Renault 5: prices, 2024 launch date and teaser images of the MINI Cooper rival
New official teaser pictures for Renault's electric supermini confirm the 5's reveal in February 2024