Micro Electric 'me' electric quadricycles launched
London-based Micro Electric unveils range of electric quadricycles designed for city driving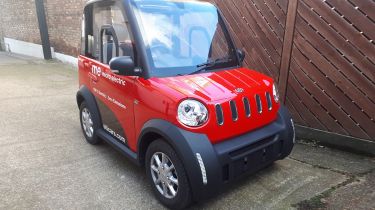 A range of small, electric quadricycles has been launched by start-up company Micro Electric.
The firm - which is based in East Finchley - has developed three new all-electric vehicles: the me city car, the Carry me box van and the Carry me pick up.
The me city vehicle is a two-seater measuring 2,245mm long, 1,290mm wide and 1,570mm tall. Micro Electric claims 93 miles of range from a 10kWh lithium battery, with a top speed of 48mph.
The me costs £11,499, although two other versions are available with lead acid batteries: a 'Low Speed' variant that costs £7,999, and a 'High Speed' model priced at £9,999.
The 'Low Speed' delivers a little more range, although its top speed is limited to just 28mph. Both lead acid versions are more than 100kg heavier than the lithium car, which weighs 518kg.
Lead acid batteries predate lithium cells, with the latter proving to be lighter, more durable and more energy dense. Micro Electric warns that lead acid batteries also take longer to charge, and require a certain amount of maintenance too.
Micro Electric says charging the lithium battery version should take between four and six hours via a household three-pin socket, with the lead acid battery needing between six and eight hours.
Meanwhile, the Carry me box van (£11,999) and pick up (£11,499) boast the same performance figures as the top-spec me city car, although there's no lead acid battery option.
Both variants measure 3,150mm in length and are the same width as the city car: the box van is slightly taller, however, with a height of 1,680mm.
The load capacity of both vehicles is unknown, and Micro Electric makes no mention of safety systems or crash test results on its website.
All vehicles come in right-hand drive, and get LED daytime running lights, a glass roof, power steering and a Bluetooth-equipped infotainment system as standard.
Prices include VAT, although Micro Electric's vehicles are classified as L7E heavy quadricycles, meaning they aren't eligible for the Government's £3,500 plug-in car grant.
Micro Electric hasn't announced when it's range will go on sale, with those wishing to reserve a me directed to a 'coming soon' page on the firm's website.
First contact: facelifted Kia EV6 will look even more like a UFO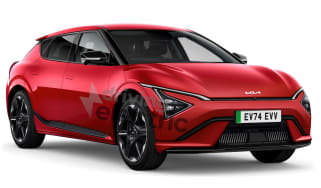 First contact: facelifted Kia EV6 will look even more like a UFO
Kia is readying an update for the EV6 crossover, which is set to include a new face and tech from the larger EV9
New Fisker Ocean Sport washes up in the UK: £36k for a 288-mile range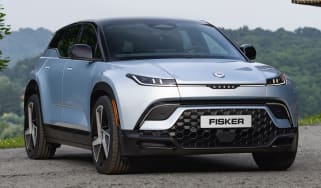 New Fisker Ocean Sport washes up in the UK: £36k for a 288-mile range
American EV startup Fisker has just launched its entry-level Ocean SUV in the UK, with a range of up to 288 miles
Electric Renault Twingo revealed as £17k rival to Citroen e-C3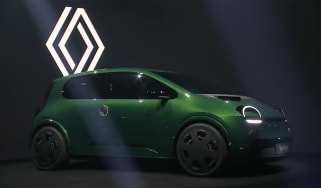 Electric Renault Twingo revealed as £17k rival to Citroen e-C3
Renault has unveiled its smallest EV yet; a sub £20k city car with a claimed high level of efficiency