Mercedes EQC 4x4 Squared hints at promised electric G-Class
Prototype sees electric SUV get rugged off-road tyres, wheels and suspension
The Mercedes EQC electric SUV has received an extreme off-road makeover from a team of the company's engineers, resulting in this EQC 4x4² prototype.
Based on the standard EQC 400 passenger car, the 'squared' prototype has over double the ride height of the regular car (293 versus 140mm) and a fording depth of 40cm – 15 more than the standard EQC. The huge ground clearance is made possible by the use of portal axles, which move the centre line of the car's 20-inch wheels below that of the axle.
Impressive departure angles of 31.8 degrees at the front and 33 degrees at the rear are claimed, compared to 28 degrees front and rear for the Mercedes G-Class off-roader.
The prototype also boasts what Mercedes describes as "an interactive, emotionalising driving sound" that is "influenced by various parameters such as the position of the accelerator pedal, speed or energy recovery rate". As part of this system, empty space in the headlamp housings is used as a loudspeaker.
Commenting on the prototype, Mercedes-Benz Cars chief operating officer Markus Schaefer said: "The EQC 4x4² shows how enjoyable sustainable mobility can be… This drivable study clearly shows that alongside a passion for e-mobility, we lay a strong claim to leadership in this sector and will heighten the emotional appeal of this even further in the future."
While the EQC 4x4² is just a technology demonstrator for now, with no plans for a production model, it shows that Mercedes is pursuing electric power for more than just road-going passenger cars. In a recent presentation, parent company Daimler's chairman Ola Kaellenius promised an electric version of the tough G-Class off-roader was in development; it could use some of the technology solutions developed for the EQC 4x4² prototype.
Living with a Mercedes EQC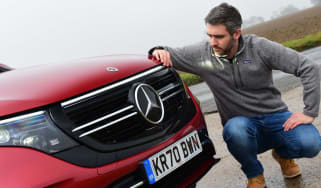 Living with a Mercedes EQC
Top 7 best hybrid and electric sports cars 2021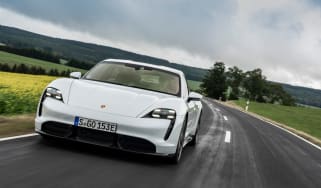 Top 7 best hybrid and electric sports cars 2021
Bringing thrills and performance with their powerful electric motors, these are the best electric and hybrid performance cars to buy in the UK in 2021
Are electric cars expensive to insure?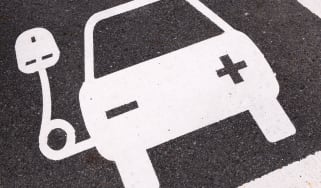 Are electric cars expensive to insure?
Everything you need to know about insuring an electric car, including how expensive it is and why
2021 Audi Q4 e-tron and Q4 e-tron Sportback: specs and prices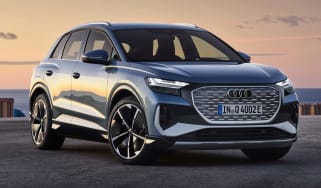 2021 Audi Q4 e-tron and Q4 e-tron Sportback: specs and prices
The pure-electric Audi Q4 e-tron and Q4 e-tron Sportback are on sale now, with prices starting from £40,750 for the regular SUV and £42,250 for the Sp…