Kia Soul EV (2014-2018) electric motor, drive & performance
Quiet, refined and responsive at low speeds, the Soul EV is at its best around town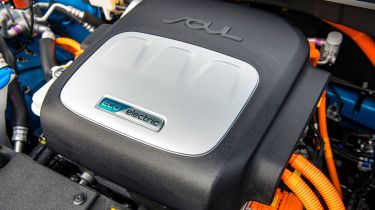 | 0-62mph | Top speed | Driven wheels | Power |
| --- | --- | --- | --- |
| 11.0 secs | 90mph | Front-wheel-drive | 109bhp |
The Soul EV drives much like other models in the Soul line-up. That is to say it handles and rides competently, but offers little in the way of fun with rather lifeless steering and a lot of weight causing body roll while cornering.
Kia Soul EV electric motor, 0-62mph and acceleration
There's only one powertrain option for the Kia Soul EV, and it consists of a 109bhp electric motor driving just the front wheels, plus a 192-cell 81.4Kw battery pack that weighs a hefty 275kg. It's that weight which helps to blunt the Soul EV's performance at high speeds, although the instant torque characteristics of the car's electric motor make it feel pretty quick off the line and up to around 40mph. It's enough to make the Soul EV feel pleasingly nippy around town.
The 0-62mph sprint comes up in 10.8 seconds, which isn't particularly fast. Things tail off after that, with the Soul EV feeling a little breathless around the motorway speed limit and beyond. The top speed is 90mph, but the car's performance characteristics lend themselves better to relaxed cruising than straining every fibre for maximum acceleration or speed.
Handling
The Soul EV feels well planted and stable on the road at moderate driving speeds, thanks to its bulk and a design that puts a wheel at each corner. The steering feels rather inert and lifeless, but isn't over-light at least. You can adjust the level of steering response by the Flexsteer system, although the car's Normal, Comfort and Sport settings all seem disappointingly similar.
Anyway, the Soul EV doesn't lend itself well to sporty driving. Press on through corners, and the weight makes itself known through a tendency to push the nose wide – so-called understeer.
Drive with a more restrained attitude and the Soul EV rewards with a comfortable ride and a relaxing hushed interior, making the car an oasis of tranquillity in the hubbub of a bustling city.