Kia Soul EV (2014-2018) running costs
Company-car drivers do best, but everyone will save a packet at the pumps with the Soul EV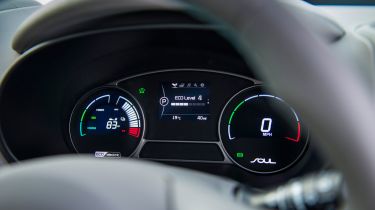 | Insurance group | Warranty | Service intervals | 2018/19 company car cost (20%/40%) |
| --- | --- | --- | --- |
| 18A | 84 months / unlimited miles | 12 months / 10,000 miles | £791.44 / £1,582.88 |
Current low build volumes mean electric vehicles are more expensive than their internal-combustion-engined counterparts. In the case of the £30,495 Kia Soul, you'll pay a cool £8,000 more than for the luxuriously equipped Soul 3 diesel – and over £12,000 more than for the entry-level Soul 1. Fortunately, the Government's plug-in car grant redresses the balance to the tune of £3,500, but going electric is still an expensive option.
The Hyundai Kona Electric with its 194-mile range undercuts the Soul EV by a few hundred pounds, but isn't so well equipped. You'll need to find an extra £3,000 or so for the upgraded 312-mile range Kona, too, which could rule it out for some.
While everyone can benefit from the savings at the fuel pump, it's company car drivers who'll reap the biggest dividends of Soul EV 'ownership'. Thanks to zero-rated tailpipe emissions, company drivers will pay just 13% in Benefit-in-Kind, and of course they won't be exposed to the predicted high level of depreciation, either.
Kia Soul EV insurance group
The Kia Soul EV falls into insurance group 18, so shouldn't be overly expensive to cover. The Nissan Leaf is group 21.
Warranty
The full seven-year/100,000-mile warranty across the Kia range also applies to the Soul EV and its battery.
Servicing
With fewer moving parts than an internal-combustion-engined car, the cost of servicing your Soul EV should be competitive. Kia recommends a schedule of 10,000 miles or 12 months for servicing, whichever comes first.
Road tax
The Soul EV is also zero-rated for road tax and driving one will exempt you from the London Congestion Charge, too.
Depreciation
When it comes to depreciation, the Soul EV doesn't perform terribly well, but then neither do other models in the Soul range. We reckon you'll be looking at a resale value of around 40% of your purchase price after three years and 36 months. That's not great, but the Nissan Leaf is likely to be worth between 35-40%.