Kia Soul EV (2014-2018) range, battery & charging
Less range than newer rivals makes the Soul EV an instant compromise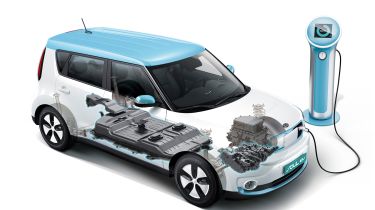 | Range | Slow charge | Wallbox charge | Rapid charge |
| --- | --- | --- | --- |
| 155 miles (NEDC) | 14 hours (2.3kW) | 5 hours (6.6kW) | 33 minutes (50kW, 0-80%) |
With Hyundai's Kona Electric SUV/crossover offering battery options that more than double the Soul EV's range, buyers picking the Soul need to really like the way it looks. Even the lowest-spec Kona Electric will do a claimed 194 miles, which is a significant extra margin of reassurance for anyone on a long drive.
Kia Soul EV range
Only a few months ago the Kia Soul EV looked like a pretty decent bet when it came to available range from its 27kWh lithium-ion battery pack. Its 155-mile range is way more than the 30 miles most drivers notch up on a daily basis, and even looks enough to dispel some of the so-called 'range anxiety' on a long trip.
Unfortunately, the quoted range is under a discontinued test regime, which flatters the figures somewhat. Indeed, our own experience with the Soul EV is that a more realistic range on a full charge is in the region of 95 miles. It's less in cold winter weather when you're forced to run with headlamps, wipers and the heater on full blast.
At least Kia doesn't charge you extra for an onboard heat pump, which is a piece of tech designed to harvest waste heat from the running gear, coolant and ambient air in an effort to save battery energy. It also has a Brake mode, which regenerates extra energy while slowing down in normal driving – at the expense of slightly blunted acceleration. Other energy-saving measures include a heater that has a 'driver-only' mode, while the sat-nav will automatically route you via a suitable public charger if your batteries aren't going to make the distance on any given journey.
Charge time
The Kia Soul comes with a cable and standard three-pin plug so you can connect to any normal socket at home or work, but this is by far the slowest means of charging. From a flat battery to a full one can take a solid 14 hours on your standard domestic supply, unless you upgrade to a specially installed wallbox at home and connect via the – also supplied – CHAdeMO Type 2 fast-charging cable. Kia offers 3kWh and 7kWh wallbox options to Soul buyers, dropping charge times to 10-11 hours or four-five hours respectively.
Visit a rapid charger such as the ones found on motorways, and you can get back to 80% charge in 30 minutes.
Battery warranty
The Kia seven-year warranty is already an industry-leading offer, and it applies to the Soul EV, too. There's a mileage cap, but as it's set at 100,000 miles, it shouldn't be too troubling