Jaguar creates portable EV charger from recycled I-Pace batteries
Repurposed batteries from the I-Pace electric SUV have been used to create a portable EV charger, which holds enough energy to power a house for a week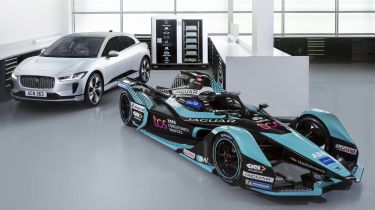 Jaguar Land Rover (JLR) is investigating new ways to extend the life of its electric-car batteries, with the latest being a portable EV charger that uses decommissioned battery packs from the Jaguar I-Pace luxury SUV.
The new Off-Grid Battery Energy Storage System (ESS) is designed for situations when access to mains electricity is limited or unavailable, with integrated solar panels used to top it up. The unit has a capacity of up to 125kWh, which JLR claims is enough energy to power a typical family home for a week.
The portable power station can recharge an electric car at speeds of up to 22kW through its Type 2 connector. Around 85% of the I-Pace's battery, including its wiring and modules, is reused to create each ESS, with any leftover materials and components recycled as well.
To demonstrate the capability of the ESS, one was used to power the Jaguar Formula E team's diagnostic equipment and to supply auxiliary power to the pit garage during testing for the 2022 championship.
JLR's partner for the project is commercial-equipment manufacturer Pramac, which acquired second-life battery specialist Off-Grid Energy last year. The Off-Grid Battery ESS will be available for commercial hire in the near future, but first it'll be deployed to the Jaguar Land Rover Experience Centre in Johannesburg, South Africa, to help the site cope with inconsistent power delivery from the mains.
Developing applications like the ESS for second-life batteries, which are no longer healthy enough for use in electric cars, will become increasingly important as the number of used electric cars continues to climb. According to JLR, stationary applications, such as renewable energy storage, could exceed 200 gigawatt-hours per year by 2030, with a potential global value of over £23 billion.
François Dossa, JLR's executive director for strategy and sustainability, said: "The transition to an electric future, with Jaguar becoming all-electric from 2025 and the first all-electric Land Rover model expected in 2024, is integral to our sustainability strategy through the development of a comprehensive EV ecosystem from batteries to charging. 
"This includes our effort to enable technical and business innovations for battery reuse for second-life applications. Our collaboration with Pramac is a proof point in this direction, showing how it's possible to supply zero-emissions power through the combination of renewables and second-life batteries."
The portable EV charger is part of JLR's efforts to become net carbon neutral by 2029. Several other manufacturers, including Volvo, BMW, Nissan, Tesla, Mercedes and Honda, are also investigating ways for electric vehicle batteries to be recycled or repurposed.
New Fisker Ocean Sport washes up in the UK: £36k for a 288-mile range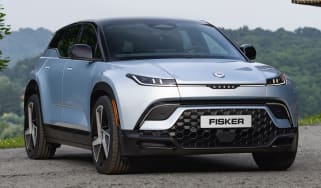 New Fisker Ocean Sport washes up in the UK: £36k for a 288-mile range
American EV startup Fisker has just launched its entry-level Ocean SUV in the UK, with a range of up to 288 miles
Big price cut: Electric Renault Megane prices slashed in time for Christmas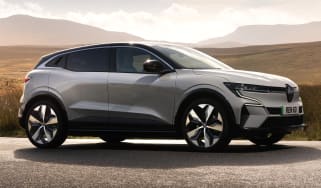 Big price cut: Electric Renault Megane prices slashed in time for Christmas
Renault Megane E-Tech gets a price drop of up to £3,500, bringing the starting price to just £34,495