Hyundai Veloster N electric racing car begins testing programme
Electric race car based on roadgoing Veloster N hot hatchback prepares for race debut in 2020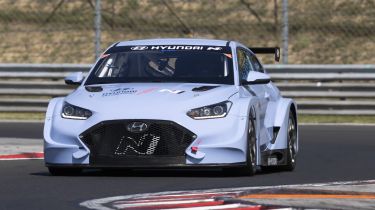 Hyundai has begun testing its Veloster N ETCR electric touring car, which was revealed earlier in September at the Frankfurt Motor Show.
The car recently completed two days of running at the Hungaroring Grand Prix circuit near Budapest, as an intensive preparation period ahead of its competition debut in 2020 kicks off.
Hyundai reported trouble-free running at the test, which its engineers used to learn more about the chassis balance on the technical circuit, as well as starting to harness the power from the electric motor to maximise performance and efficiency.
Team director Andrea Adamo said: "We are eager to learn about this new package before the racing starts in 2020. The next few months will be very busy – we essentially have two challenges; we have to develop the chassis, but also work to use the power from the batteries and motors effectively."
The Veloster has been designed to compete in the forthcoming ETCR racing championship, a new international series for electric touring cars. The season is expected to start in summer 2020 and will initially consist of up to four events. All cars will use the same battery, supplied by Williams Advanced Engineering to ensure an even playing field.
The Veloster N ETCR is rear-wheel drive with a mid-mounted electric motor. It'll race alongside the Cupra e-Racer, which has been used to set the technical regulations for the championship, so it's expected to produce similar power and performance: 680bhp, 0-62mph in around three seconds and a top speed of 168mph.
Recharging takes 40 minutes. While the ETCR races may be short, Hyundai believes its electric entry will help promote its electrified range. Its all-electric line-up currently consists of the Kona Electric and recently updated Ioniq Electric, with hybrid and plug-in hybrid models also on sale.
The project started in November 2018, with the car having recently completed its first shakedown in August. Two Veloster N ETCRs will be built initially for a test programme.
Hyundai already has a successful motorsport programme, competing in the World Rally Championship and World Touring Car Cup, and says its commitment in those areas won't be affected by the ETCR project.
The Veloster N ETCR is being built at Hyundai Motorsport's Alzenau headquarters in Germany. Drivers for the programme haven't been announced yet, but Hyundai works driver and ex-Formula One racer Gabriele Tarquini played a big part in the car's development.