Honda CR-V Hybrid: Living with it
The Honda CR-V is a popular family SUV, and starting in 2019 gets a high-tech hybrid powertrain. So what's it like to live with?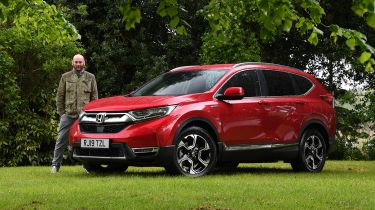 Report 3: Preaching to the converted
It'd be easy to sneer a bit at the CR-V's reputation for appealing to a more mature audience, but the older I get, the more I appreciate the knowledge and wisdom that comes with age. So I've enrolled a Honda CR-V expert, my stepfather Peter Woolger, to give me his opinion on our long-termer. Peter is now on his fourth CR-V, so he knows a thing or two about the company's products. 
It's fair to say that if there's a problem, Peter'll spot it. So what did he make of our hybrid CR-V? First impressions were good. Peter liked the interior. It felt familiar enough compared to his own 2017 CR-V, but a bit more upmarket. Already a fan of the CR-V's traditional high driving position and good visibility, Peter found our car comfortable and quickly felt at home.
The larger infotainment screen ticked a big plus box on Peter's wishlist and the materials also got a mention. Interestingly, they split opinion. I'm not a fan of the wood trim: to me it feels a bit fake and makes the interior less appealing. But Peter and my mother, Tina, were fans and thought it looked smart set against the chrome trim. They felt it was right for the car, and I'm not going to argue with my mum!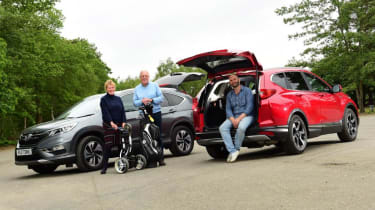 Peter fully expected a smooth ride – that's one of the reasons why he has stuck with the CR-V – but he remarked on our hybrid's quietness. I explained to him why it was so refined by showing him the car's digital displays. At low to medium speeds, the petrol engine only ever tops up the battery to drive on EV power, creating that smooth, quiet, fuel-sipping experience.
Peter and Tina are retired and live in leafy Surrey, and their journeys are usually short and outside of rush hour, so hybrid power would suit them. They could improve on my average economy of 41mpg, too.
But there's one burning question from the Woolger household still to be answered; Is there room for Peter's golf clubs? With 497 litres of space, the answer is a resounding yes. In fact there's also room for a cart, while lowering the seats means there's 1,697 litres of space, which is ideal if Tina's playing too.
The lack of boot lip in the CR-V makes loading a lot easier than in Peter's current car, although he would like a powered tailgate. That means he'd need to move up to a higher spec EX version, which would also add a head-up display.
Asked why he keeps buying CR-Vs, Peter singles out Honda engines. "All these years, they've never let me down," he told us. So would he consider hybrid? "Yes, if they can do me a deal!" Peter can buy outright or upgrade when his current deal ends next year. And I think his head has been turned by the hybrid.
Date: 14 October 2019Mileage: 2,140 milesEconomy: 41mpg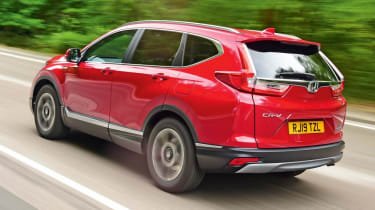 Report 2: Feeling cool, calm and collected
I've been living with our Honda CR-V for a couple of months, now, and I'm really feeling a sense of relaxation that seems to go hand-in-hand with driving a hybrid SUV. Is it exciting? Nope. But it does promote a very contented feeling when behind the wheel.
Partnership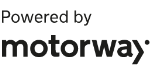 Need to sell your car?
Find your best offer from over 5,000+ dealers. It's that easy.
I've covered some decent mileage, too, with a good mix of A-roads and motorways, as well as my usual daily commute through South London.
The hybrid Honda is ideal for coasting on pure-electric power at the low speeds enforced around the city, and if you play the acceleration game well, you hardly need to use the pedal – a light touch is all that's needed to get up to speed. I must confess I'm enjoying the driving experience on these uninspiring roads.
There's no gearshift, just four drive-mode buttons to press on the main console (Park, Drive, Neutral and Reverse), and pulling away in near-silence starts every journey that I make with a sense of calm. Mind you, on cold starts the petrol engine does rev quite loudly to get things warmed up, and takes a minute or so to calm down and allow the electric motor to take over.
The clever powertrain in the CR-V means that it runs on electric power most of the time in town, while (once warmed up) the engine fires up sparingly to top up the battery. The car only really uses the engine to drive the wheels under hard acceleration or at higher speeds - the rest of the time it's functioning as a generator for the battery that in-turn powers the electric motor.
I've also enjoyed playing with my driving style to eke out better fuel economy from the Honda. On shorter urban journeys I find that accelerating up to speed, then coasting until the little green EV icon kicks in, allows me to just cruise along maintaining speed with an occasional dab of the pedal.
On a recent longer motorway trip, I worked out that I could just about maintain EV power in lane one, even at speeds in excess of 60mph, for short bursts. Mind you, I'm only returning an average 43.5mpg despite playing around with ways to get the most of the CR-V's electric running, which is lower than you'd hope for in an efficiency-first SUV like this. The big Honda goes some way to making up for that with some family-friendly practicality, starting with the fact that there's loads of leg and headroom in the back for tall teenagers.
Add in the twin USB charging points back there, and it almost stops them being moody, too. When I'm taking younger ones, I like the ability to monitor them using the clever wide-angle mirror that's set into the lid of the sunglasses holder. There are also ISOFIX points on both of the outer rear seats and enough room to get an adult in between them. 
The tech has been a pleasant surprise. My first impressions of the CR-V's display and graphics weren't great, but I do like the simple sat-nav directions and the calm voice giving guidance. I'd usually turn off spoken directions immediately, but this time I haven't bothered because it doesn't badger me with constant orders. It's all very civil. In my next report, I'm going to take our hybrid to my CR-V-owning parents to see if the Honda can win them over, too.
Date: 14th August 2019Mileage: 1,759 milesEconomy: 44mpg
Report 1: Introducing our Honda CR-V
I was excited to get the keys to our CR-V Hybrid. I don't have a driveway at home, so a pure-electric car is tricky for me, but I do want to save money on fuel, so I'm hoping the hybrid Honda can help with that. Average economy of 37mpg so far is a little disappointing, but I'll be doing a lot of urban miles for the foreseeable future, which is where the car's hybrid powertrain really shines, so hopefully that'll improve. 
As is so often the way, once you're driving a new model, you're amazed by how many of the same type you see on the road. I've spotted plenty of previous-generation examples around London recently. My new car seems considerably larger than that old version, and I've found that it's really practical as a result. The hatch opens high and the doors open wide, with easy access to the rear seats and a large load area.
The CR-V range moves up from S to SE, past SR and on to the range-topping EX. Our SR doesn't have the EX's powered tailgate that you can wave your foot under to open, but that's really no problem. What I do like are the simple handles on both sides of the boot, which enable me to drop the rear seats without having to come around to the doors.
I may have had the car for only a few weeks, but I've already made use of its spacious interior by loading in some 2.4-metre lengths of wood for a building project my eldest son George has started. We've also freed up the full 1,697-litre boot by dropping all the rear seats to move some paintings for an artist friend.
Of course, the CR-V gobbles up even the largest of family supermarket shops with ease, and I'm sure that the big rubber mat will protect the carpeted load area on the inevitable trips to the allotment or rubbish dump. The CR-V is proving comfortable so far, with a high seating position and plenty of space in the back for my teenage boys, who need a lot of legroom. Both kids are six-footers, and they've each remarked on the room they're enjoying, although they're even more pleased with the twin front and rear USB ports that come as standard.
Looking through our car's spec sheet, the amount of standard safety tech included across the range impresses. Brake assist, forward-collision warning, lane-keep assist, traffic-sign recognition and adaptive cruise control are all present, which is great. There's even vehicle and trailer-stability assist, should towing be your thing, although the maximum towing capacity of 750kg means that the CR-V Hybrid is no caravanner's car. 
The infotainment system has been reasonably easy to use; George synced his phone within a matter of seconds through the dash display. The screen is bigger than in previous CR-V models, but it struggles when compared with both the size and style of the unit in the Mercedes A-Class I ran before the Honda. I know they're different cars and in different classes, but they're similar in price.