Opinion: Enthusiasts can get their kicks in electric cars
Electric cars have just as much to offer petrolheads as ICE cars, writes Vicky Parrott…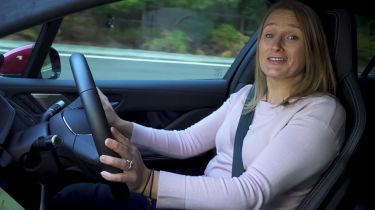 Welcome to the first of DrivingElectric's shiny new opinion articles. In these posts, you'll find musings from myself and others on the team and in the industry, on all matters electric and hybrid.
I couldn't help but kick off with a matter that is a very personal obsession of mine: the question of whether people who love cars and love driving are facing some kind of bleak wasteland of boring and samey cars now that the days of the combustion engine seem numbered.
After all, I've heard a number of people suggest that a pure electric car can't really have character. No noise, no gears… it's easy to see the theory. But it's wrong: electric cars can, and in fact do, have character.
To clarify something else here, I'm one of those people who love cars and love driving. I currently own a 26-year-old Mercedes SL, I have owned a string of interesting things from hot hatches and sports coupes to splendid, thirsty old saloons. I'm not an electric car zealot and I love the combustion engine and the seemingly endless breadth of variety that it offers. I'll miss it. But I also get a genuine thrill from electric cars, and I see a bright future in them for enthusiasts.
Not just in the expensive stuff like the Teslas and Jaguars (although I do feel that they've both already proved the point that electric cars can be spectacularly, explosively entertaining). There's a more subtle and just as significant point to be made here in that the everyday electric stuff is also fun. I find the Renault ZOE more entertaining than the workaday Clio. I think the e-Golf is far more enjoyable to drive than a Golf GTD – more instant, smoother and more engaging. The GTI and R are on another level, no doubt, but they've had decades of development to get there.
I'll also admit that the Hyundai Kona Electric and Kia e-Niro are both fine but rather detached to drive, while the Hyundai Ioniq in any of its forms is so grey and tedious – if faultlessly effective in a white-goods kind of way – as to be almost repellent if you love a characterful car. The internal-combustion Kona and Kia Stonic are hardly scintillating, either, don't forget.
So don't tar the whole electric car genre with the 'electric cars are boring' generalisation. They're not, and it's a baseless claim. They'll never sound like a V8, and that's something we'll have to come to terms with, sure. As an aside, I don't believe that the combustion engine will go away entirely for many decades, if ever. It seems only right that petrol should always have a home in low-volume, dedicated trackday and flyweight cars, so hopefully we'll be able to get our fossil-fuel soundtrack that way.
But bear in mind that the electric car has only been heavily invested in by most manufacturers for the last decade or so, if that. Petrol engines have had over 100 years to get to where they are. And if there's anything that always helps me to believe in the automotive industry, it's the ability of engineers to find something to improve. To always want to better their last creation, for the sake of natural human curiosity and progression, even more than to contribute to the company's profit margin or comply with government legislation.
Partnership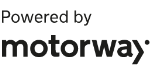 Need to sell your car?
Find your best offer from over 5,000+ dealers. It's that easy.
So, have faith, car lovers. Have faith in the engineers – they're enthusiasts as well, by the way. Have faith that an electric car can still be a textural, dramatic, engaging drive that you'll get up early to enjoy.
This year will see an unprecedented number of pure electric cars coming to fruition, and will also see manufacturers focus more resources than ever on improving the technology, so don't be downhearted that they don't have gears or an exhaust. Be happy that they're already brilliant, and optimistic that they're only going to get better.
Trust me. We, the enthusiasts: the ones who grew up idolising Clark, Hill, Senna, Schumacher, Röhrl, McRae, Mäkinen and more, not to mention their cast of remarkable machines. The ones who'd open the window as a kid to better smell the petrol fumes when your parents were filling up. We can absolutely find our kicks in the electric car. Have faith. The future is electric, and the future is fun.
Electric Renault 5: prices, 2024 launch date and teaser images of the MINI Cooper rival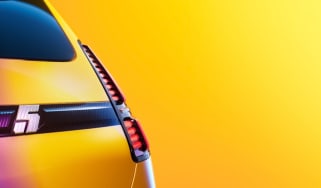 Electric Renault 5: prices, 2024 launch date and teaser images of the MINI Cooper rival
New official teaser pictures for Renault's electric supermini confirm the 5's reveal in February 2024
Big price cut: Electric Renault Megane prices slashed in time for Christmas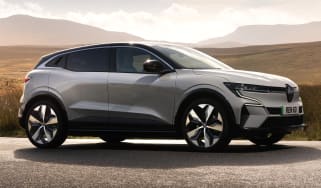 Big price cut: Electric Renault Megane prices slashed in time for Christmas
Renault Megane E-Tech gets a price drop of up to £3,500, bringing the starting price to just £34,495