Options are inevitable, but don't make charging essentials one of them
It's not the need to make it cheaper so much as the need to make it simpler that should encourage brands to make charging hardware standard
I've been having a chat with the guys at Porsche recently, not only because they let us drive their ecstatically brilliant Taycan in the UK, but also because I was a bit flummoxed by the charging options.
I queried the innocuous little £294 optional extra, listed as '150kW DC on-board charger', since it seemed odd to have to pay extra to charge at half the speed we all know the Taycan can charge at.
After all, this car was rightfully launched with all the fanfare owed to the fastest-charging electric car on sale. "All hail Porsche – even its plugs are fast!" we all cried, as we sprayed champagne carefully away from any exposed contact pins. Well, we didn't do that, but you know what I mean.
So after all the red-carpet affair over the Taycan's 270kW charging speed, to find out that you have to pay a few hundred quid to have it charge at more than 50kW when you plug into one of the 150kW DC CCS chargers that are becoming increasingly common in the UK seems utterly bonkers. These, after all, are way more common than the super-rapid chargers required for that 270kW charge speed, so not being able to make the most of them would be incensing.
The difficulty, it seems, lies in the Taycan's ultra-fast 800V electric system, which enables said super-rapid charges but is incompatible with some older 400V chargers.
Yet there's another twist in this tale. It turns out that, in fact, because legislation means that all the 150kW chargers in the UK have super-modern 960V, they'll charge the Taycan at the full 150kW even if you haven't added the optional DC on-board charging system. Or at least, according to research that Porsche has done, it will at some 95% or more.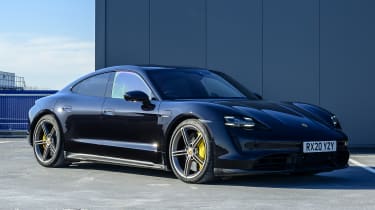 Honestly, I'm just as confused as you are. It seems that only early 150kW chargers in mainland Europe are likely to run a 400V system that's not compatible with the Taycan, and so will only charge it at 50kW if you don't tick that troubling little option box. 
Isn't all of this just exhausting and confusing? Don't you just know that the one charger you end up at on a raining, cold, charge-starved trip would be in the 5%. And don't you just know that you'll simply add it and forget about it, anyway?
Oh, and of course you have to pay £210 for the Type 2 cable, as well. Imagine this conversation (not that I've spent some time on the configurator):   "I'll take a Taycan 4S, please, in Frozen Blue, with the big battery, slate-grey interior with the Race-Tex steering wheel, Sport Chrono, aero wheels and all of the fancy active chassis stuff, but not the carbon-ceramic brakes. Oh, and adaptive cruise control, keyless entry, heated seats, power-folding mirrors and a reversing camera. Here's my £101,944."   "Fantastic, I'll just get you a coffee and pastry while you sign the paperwork. Oh, and would you like to be able to plug the car in?"   "Er, yes."
Partnership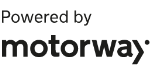 Need to sell your car?
Find your best offer from over 5,000+ dealers. It's that easy.
"That'll be £210."
I mean, come on. Really? I know that rapid chargers have the cable attached; I even know that you can specify your home wallbox with a cable tethered into it. But what about the wallbox at your office, the supermarket, or just about anywhere else you might want to get a cheeky slow charge while you shop or curse your personal trainer? You literally need the cable to make use of the car. And if Skoda can afford to include a Type 2 cable with the Citigo-e, Porsche can throw one in with the Taycan.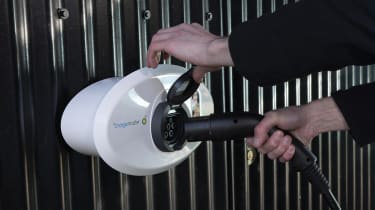 Do you know why this bothers me so much? More than Mercedes' cunning habit of blinding you with lengthy equipment lists stuffed with opulence as standard, only to ransom you for the price of a Burmester sound system if you want keyless entry or adaptive cruise control on a car with an active forward radar function as standard? More than how  Ferrari requires the deeds to your house if you want an alcantara-lined boot. More than how BMW fits Apple CarPlay to its cars and then, for no reason at all, makes it next to impossible to activate.   This annoys me more than all of that because the Taycan will attract hordes of people who've never had an electric car before. It'll carry the electric-car flag to enthusiasts and purists who wouldn't even have sniffed at Teslas until now. It truly is the poster-child of electric cars and, even if it weren't, I would love it because it evokes an involuntary grin whenever, wherever and however I drive it. This car will define a whole era of automotive history, it's that good.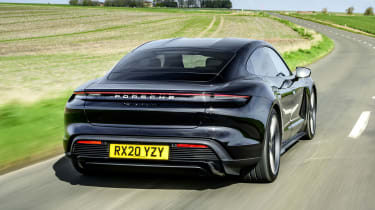 But charging is what freaks everybody out when it comes to electric cars. You've got these kilowatts and kilowatt-hours that everyone talks about, all the charging stations are different speeds and run by different providers, everyone says those clunky Ecotricity ones on the motorway never work and the range goes down really quickly on the motorway and, blimey, the salesman said something about 95% of rapid chargers and, gah, I think I'll just buy a Panamera… It's understandably daunting. The Taycan only makes it more so when the dealer starts explaining an optional on-board charger and charging cable.
So how about it, Porsche? I don't care at all if you stick an extra £550 on the price, and I suspect that your buyers care even less – this isn't about the money. I'm well aware that expensive cars come with expensive options; they always have and always will (although having to pay for power-folding mirrors is somewhat taking the proverbial).    It's making charging simple that's so critical right now, so make it simple by including all you need as standard. Then we'll know that the Taycan will basically charge as quickly as the station you plug it into will allow, and we can all get back to the champagne.
First contact: facelifted Kia EV6 will look even more like a UFO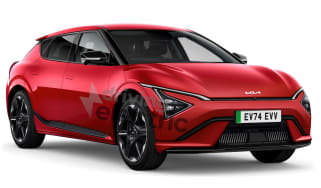 First contact: facelifted Kia EV6 will look even more like a UFO
Kia is readying an update for the EV6 crossover, which is set to include a new face and tech from the larger EV9
New Fisker Ocean Sport washes up in the UK: £36k for a 288-mile range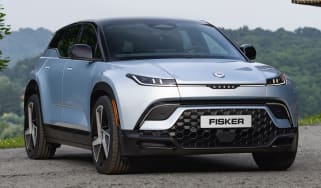 New Fisker Ocean Sport washes up in the UK: £36k for a 288-mile range
American EV startup Fisker has just launched its entry-level Ocean SUV in the UK, with a range of up to 288 miles
Electric Renault Twingo revealed as £17k rival to Citroen e-C3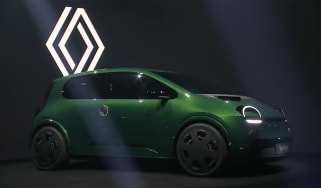 Electric Renault Twingo revealed as £17k rival to Citroen e-C3
Renault has unveiled its smallest EV yet; a sub £20k city car with a claimed high level of efficiency