New Citroen e-C4 X: fastback version of e-C4 electric hatch confirmed for UK
Bigger boot and enhanced passenger comfort promised by unique crossover model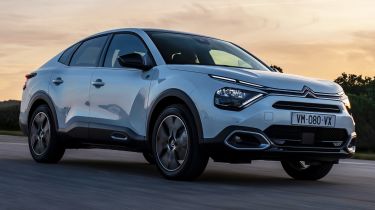 Citroen has revealed a four-door 'C4 X' fastback version of its C4 combustion-engine and e-C4 electric hatchbacks, with only the fully electric e-C4 X version coming to the UK. The 4.6-metre-long model will slot into the French brand's line-up between the e-C4 and the larger C5 X, which is available as a plug-in hybrid.
According to Citroen, the e-C4 X's design "combines the elegant silhouette of a fastback with the modern attitude of an SUV and the timeless refinement and spaciousness of a four-door". Under the metal, the e-C4 X uses the e-C4's familiar electric powertrain, consisting of a 134bhp electric motor and 50kWh battery pack. The car's official driving range is 224 miles on a charge – two miles more than the standard e-C4.
Maximum charging speed from a public rapid charger will be 100kW, while the e-C4 X's on-board charger also supports overnight home wallbox charging at up to 11kW – subject to your domestic electricity supply delivering that speed. Charging from a three-pin plug as an emergency backup option is also supported.
Practicality-wise, although the e-C4 X doesn't have a full hatchback tailgate, it does offer 510 litres of luggage capacity, up from 380 in the standard e-C4. Maximum boot width between the wheelarches is 1,010mm and maximum length is 1,079mm. There's also additional carrying space to be found under the boot floor, which can be used to house the car's charging cable, among other items.
The increased mass at the rear of the car has also boosted comfort for rear-seat passengers, according to Citroen, although the X has the same wheelbase length as the e-C4. Citroen says this increase has allowed for 198mm of rear-seat legroom for the new car, as well as a 27-degrees reclined rear seatback – more than in the standard e-C4. The brand says three people can comfortably sit shoulder-to-shoulder across the rear bench, with sufficient elbow and shoulder room on offer.
Occupants also get Citroen's 'Advanced Comfort Seats' – these incorporate thickened foam and strong posture support for greater comfort, with the experience described as akin to "sitting in a snug armchair", isolated from exterior noise and road imperfections. Heating and massage functions for the seats are available as options.
The e-C4 X also employs Citroen's 'Progressive Hydraulic Cushions' suspension setup, as used on several other models, including the C5 Aircross SUV. This incorporates both a traditional spring and shock-absorber element as well as hydraulic bump stops, in order to deliver what's described as "magic carpet" ride quality.
Up front, the e-C4 X will be fitted with Citroen's latest 'MyCitroen Drive Plus' infotainment setup, first seen on the C5 X. This is run through a 10-inch screen and includes a highly customisable interface made up of a series of 'widgets'. Voice commands and a smartphone-style 'digital assistant' are also incorporated. Up to eight user profiles can be stored in the system, so different drivers can access their settings instantly.
UK pricing for the e-C4 X hasn't been confirmed, but a small increase on the e-C4's starting figure of £29,995 is expected. The car will go on sale in autumn 2022, with some markets in Europe, the Middle East and Africa (but not the UK) being offered petrol and diesel engine options in addition to the electric e-C4 X.
Top 10 best electric family cars 2022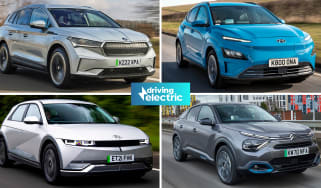 Top 10 best electric family cars 2022
Citroen e-C4 electric gets revised trim levels for 2022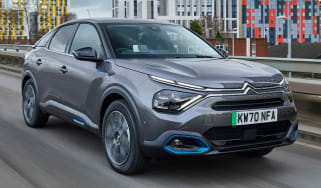 Citroen e-C4 electric gets revised trim levels for 2022
Volkswagen ID.3 facelift due in spring 2023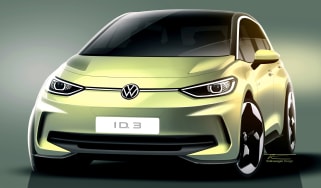 Volkswagen ID.3 facelift due in spring 2023
New sketches provide a glimpse at refreshed styling and cabin of Volkswagen's electric family hatchback
Tesla Semi truck showcases 500-mile range as first examples delivered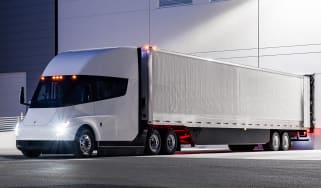 Tesla Semi truck showcases 500-mile range as first examples delivered
The Tesla Semi made its world debut in November 2017, and will become part of Tesla's own fleet