Citroen 19_19 Concept marks brand's 100th birthday
Fully electric Citroen 19_19 Concept showcases future technology as company celebrates centenary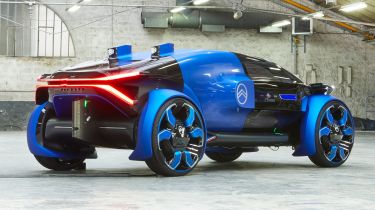 Citroen has marked its 100th year by unveiling the 19_19 Concept, an all-electric vehicle showcasing the technology and styling that could underpin the company's future.
A 100kWh battery returns a theoretical range of 497 miles, with a pair of electric motors producing 456bhp and 800Nm of torque. As such, the Citroen 19_19 Concept should hit 0-62mph in five seconds, en route to a top speed of 124mph.
A wireless induction charger under the floor allows the 19_19 Concept's battery to be replenished 'on the go' from roads fitted with the same technology.
Meanwhile, the exterior design has several unconventional features: an absence of bumpers at the front or rear, as well as rear-hinged doors and 'exposed' axles housing the electric motors.
Full-length LED headlights and tail-lights are more recognisable elements, while the sweeping roofline is similar to those of many existing SUVs.
The huge wheels and wheelarches move independently of the main body, with markers displaying the amount of suspension travel on rough terrain.
Sensors help the 19_19 Concept 'pre-read' the road ahead and adjust the suspension accordingly, while cameras facilitate autonomous driving.
Inside, the concept features three types of seat: a thick-padded, single seat for the driver, a chaise longue in the front passenger area, and a two-seat sofa in the rear.
The latter is backed by elastic strings designed to look like Citroen's logo, also allowing passengers to retrieve items from the boot.
Meanwhile, the striking purple-and-pink colour scheme used on most of the surfaces is joined by a white, marble-effect central storage pillar and steering wheel.
Citroen says real marble would be too heavy to use in the real world, however the resin material has a similar appearance that can also be shaped into buttons and controls – the gear selector being the most notable example.
The dashboard features a head-up display that incorporates augmented reality, while a clear opening in the front of the car lets light into the footwell and helps brighten the interior.
Autonomous mode activates the voice-operated 'Hello Citroen' system, which slides up from underneath the dashboard.
The 19_19 Concept wasn't designed alongside the AMI ONE – which was revealed at the Geneva Motor Show in March – however, it is meant to complement its smaller sibling by delivering greater long-distance ability and increased comfort.
This latest concept is unlikely to make production, although elements of the design could feature on a potential flagship saloon due to be revealed in 2021.
BMW i4 facelift to topple Tesla with huge range and tech upgrades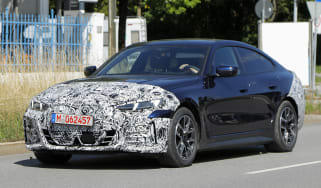 BMW i4 facelift to topple Tesla with huge range and tech upgrades
An updated version of the BMW i4 has been spotted testing, likely sporting a longer range and the latest technology
Electric BMW iX2 is set to take the kidney grille to the next level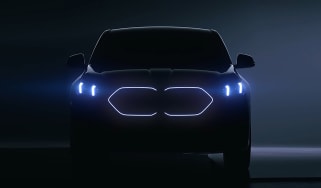 Electric BMW iX2 is set to take the kidney grille to the next level
BMW has teased the highly-rumoured iX2 coupe-SUV, which has been revealed to get enlarged illuminated kidney grilles