Bentley Flying Spur Hybrid: special edition marks launch of plug-in luxury saloon
Limited-run Odyssean Edition marks the arrival of the plug-in hybrid version of Bentley's luxury executive limousine
Bentley has unveiled a limited-edition version of its new Flying Spur Hybrid plug-in executive limousine, called the Odyssean Edition. Inspired by the fully electric EXP 100 GT concept from 2019, the Odyssean Edition introduces new sustainable materials to the Bentley line-up and marks the arrival of the plug-in Flying Spur to the market.
Inside, the cabin of the Odyssean Edition has a new type of trim that uses 90% less lacquer than the high-gloss veneers found in Bentley's other models. In addition to the open-pore Koa veneer, the limited-edition Flying Spur also uses sustainable leather, tweed made from 100% British wool and other new materials.
For the exterior, the Odyssean Edition comes with exclusive 21-inch alloy wheels. Bentley has also selected six "recommended" paint colour palettes for the limited-edition model, but customers can still choose any of the usual paint colours if they want.
The Odyssean Edition also comes with the 'Touring Specification' package, which includes adaptive cruise control, lane-keeping assistance, night vision and a head-up display. There's also a leather headliner, diamond-stitched leather upholstery and a rotating dashboard display.
Both the limited-edition and regular Flying Spur Hybrid use a 2.9-litre V6 petrol engine and electric motor in place of a V8. Combined power output for both models is 536bhp and 750Nm of torque – 95bhp more than the electrified Bentayga. The result is similar power and torque figures to the petrol V8 Flying Spurs and a 0-62mph time of 4.5 seconds.
Bentley also claims the Flying Spur Hybrid is capable of over 25 miles of pure-electric driving, however that's pending certification, as are its fuel consumption and emissions figures. Regardless, the Flying Spur Hybrid will be the most efficient Bentley so far, able to cover over 435 miles on a full tank of fuel.
Instead of start/stop functions, the Flying Spur Hybrid features three E modes – EV Drive, Hybrid and Hold – which allow you to manage battery usage on the road. The default mode when you start the plug-in hybrid limousine up is EV Drive.
Hybrid mode, meanwhile, maximises efficiency, and will switch between power sources during different parts of the journey based on data from the navigation system. Whereas Hold mode preserves battery charge for use later.
Additional information like the electric range and battery level is displayed on the central information screen, instrument panel or head-up display. According to Bentley, you can recharge the 14.1kWh battery that powers the electric motor in just two and a half hours, likely from a home wallbox charger. A Bentley-branded wallbox is available as a no-cost option as well. You can also use the My Bentley app to lock and find your car, heat or cool the cabin ahead of a journey, view the current charge level and schedule charging.
Bentley has yet to announce a price for either the standard version Flying Spur Hybrid or the Odyssean Edition, but orders for the regular car are being taken from summer onwards, with first customer deliveries expected before the end of 2021.
The Flying Spur Hybrid is the next step in Bentley's previously announced 'Beyond100' strategy. The Odyssean name is said to denote the long journey ahead for Bentley to become an all-electric brand, referencing Odysseus' 10-year journey home chronicled in Homer's Odyssey.
Bentley currently produces two electrified models – the plug-in hybrid variant of the Bentayga SUV and this Flying Spur. Its first fully electric model is set to arrive in 2025, followed by the end of production of its internal-combustion-engined models by 2026. The company aims to only produce plug-in hybrids and electric models until 2030, when it'll transition to an electric-only brand.
New 2022 Volkswagen Multivan eHybrid MPV: details, specs and prices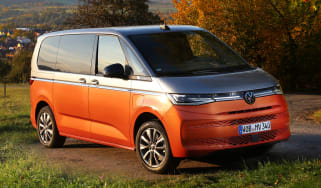 New 2022 Volkswagen Multivan eHybrid MPV: details, specs and prices
Top 10 best luxury electric cars 2022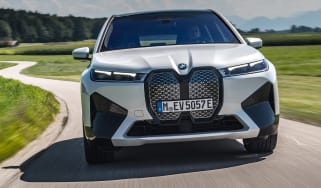 Top 10 best luxury electric cars 2022
From Audi to Tesla, here are our top picks of the most luxurious zero-emissions motoring options on the market right now
Top 9 best small electric cars 2022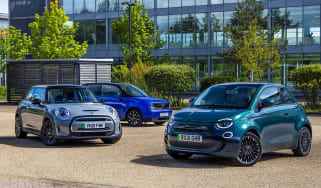 Top 9 best small electric cars 2022
Small electric cars make a lot of sense for commuting, city life and saving big on running costs. We pick out the best ones to buy in the UK right now
How much is the Benefit-in-Kind company-car tax on an electric car?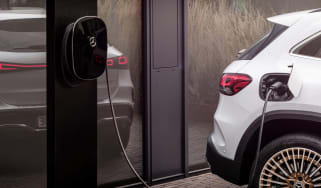 How much is the Benefit-in-Kind company-car tax on an electric car?
The company-car tax, or BiK, on electric cars is 1% during the 2021/22 financial year and will rise to just 2% in 2022/23, making a zero-emissions veh…