Audi PB18 e-tron concept could make production
Design team pushing for the Audi PB18 e-tron concept to become a reality, says insider
The electric Audi PB18 e-tron concept could pave the way for a flagship supercar for the German brand, if the design team behind it gets its way.
Andreas Mindt, head of exterior design at Audi, is lobbying bosses to put the car into production after a universally positive reception at the Pebble Beach car show where it was revealed earlier in 2018.
"We are pushing like hell, believe me – we are the engine in this, we want it," Mindt told our sister title Auto Express. "I believe all the electric cars from performance point of view will sit above everything."
If given the go-ahead, the PB18 would join the likes of the Tesla Roadster, Automobili Pininfarina PF0 and several other high-performance electric cars set to hit our roads in the next few years.
The car's striking, cab-forward design is combined with extended bodywork to make it look like a shooting brake, creating 470 litres of boot space.
It was inspired by the cars developed for Audi's now-defunct LMP1 programme, which famously dominated the prestigious 24 Hours of Le Mans race for several years.
Audi PB18 e-tron performance, electric motors and battery
With a 95kWh battery, the PB18 e-tron would offer more performance than the petrol-powered Audi R8 supercar, producing 671bhp and 830Nm of torque. Acceleration from 0-62mph would take just over two seconds.
The PB18 e-tron would feature three electric motors – one to power the front wheels and two more to drive the rears – allowing Audi to automatically enhance performance by diverting power to the rear wheel with the most grip at any given time.
At 1,550kg, the all-wheel-drive PB18 e-tron would be lighter than the rear-wheel-drive R8 RWS. It would feature an active diffuser and spoiler to increase downforce, and the open areas around the bonnet would smooth the airflow around the car.
Interior
The PB18 e-tron is designed to be a two-seater, although the driver's seat can electronically slide into a central position for track driving. This is possible because there's no mechanical connection behind the steering wheel and pedals.
As a driver-focused car, there'll be no autonomous features, although an OLED screen will display driving data and other information. Audi says the system will even be capable of superimposing racing lines onto the windscreen to help drivers set quicker lap times.
MINI Cooper Electric: pricing and specs for British-built electric supermini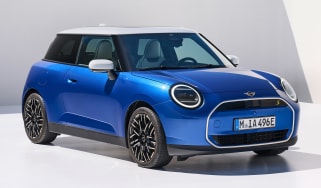 MINI Cooper Electric: pricing and specs for British-built electric supermini
MINI's latest electric hatchback introduces a revolutionary interior design, as well as larger batteries to provide a 250-mile range
Tesla Cybertruck: pricing and specs for Elon Musk's electric pickup truck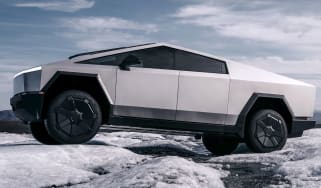 Tesla Cybertruck: pricing and specs for Elon Musk's electric pickup truck
The Tesla pickup truck is now on sale, with a range of up to 340 miles and a starting price of just over $60,000
Electric Renault 5: prices, 2024 launch date and teaser images of the MINI Cooper rival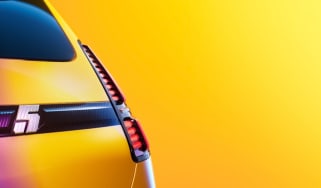 Electric Renault 5: prices, 2024 launch date and teaser images of the MINI Cooper rival
New official teaser pictures for Renault's electric supermini confirm the 5's reveal in February 2024