Audi Urbansphere concept car previews autonomous electric future
China-focused concept promises the most interior space of any Audi to date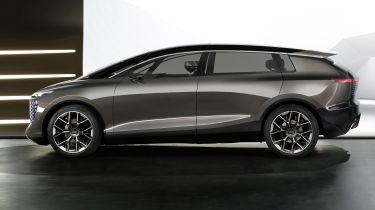 Audi has unveiled the third of its 'sphere' trio of electric concept cars. The Urbansphere follows 2021's Grandsphere luxury saloon and Skysphere two-seat roadster, and from outside looks less radical than its predecessors, with an elongated body shape blending elements of a large SUV and a luxury MPV.
There's no shortage of innovation inside, however. Audi says the aim of the Urbansphere is to offer as much 'personal space' as possible to residents of Chinese megacities in particular. To that end, it functions as a mobile lounge or office space, with 'Level 4' autonomous driving capability allowing the steering wheel and pedals to fold away when not needed for even more interior room.
The Urbansphere sits on the Audi PPE platform that'll underpin production models such as the forthcoming A6 e-tron. It's a generous 5.5 metres long, just over two metres wide and nearly 1.8 metres tall; Audi says it was designed "from the inside out" in order to prioritise passenger space.
Its 3.4-metre wheelbase is a key element of this philosophy, as well as the fact that it doesn't squeeze as many seats as possible into the available room. There's no pillar between the doors, which are both rear-hinged, to give wide and unobstructed access to the cabin when entering or leaving.
The four individual seats swivel outward when the doors open, to make getting into the Urbansphere as easy as possible. The rearmost pair can be tilted back 60 degrees and have extending leg rests, while all seats can swivel to allow conversation between passengers, or extend a privacy screen if a quieter experience is called for.
Passengers can use individual infotainment at each seat, or lower a large, transparent LED cinema screen from the roof for watching together. A centre console between the rear seats incorporates a water dispenser and glasses, while a 'stress detection' function uses face scans and voice analysis to determine how passengers are feeling and offer them individual ways of relaxing.
Audi also envisages digital services allowing occupants to take care of everyday tasks such as making dinner reservations or shopping online while on the move, while it also foresees the car being able to pick up and drop off passengers at home, then autonomously finding a parking space and ensuring it's recharged for the next journey.
Despite the extensive digital technology in the Urbansphere, the interior is not just a mass of blank screens when the car is inactive. Audi has used wood and wool, as well as synthetic textile fabrics, for the panelling, seat coverings and floor carpets, while the displays appear as projections on the cabin surfaces when the car is activated. Controls for each passenger built into the doors can be operated by hand when seated next to them, or using eye-tracking and gesture control from a distance.
On the outside, the Urbansphere has integrated visual displays within its huge single-frame grille and across the rear tailgate. These 'Audi Light Canvases' can be used to show digital projections to communicate with other road users. Short overhangs front and rear, along with large 24-inch alloy wheels, are other elements.
Partnership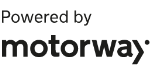 Need to sell your car?
Find your best offer from over 5,000+ dealers. It's that easy.
Although the Urbansphere is unlikely to go into production in its current form, Audi has given full technical details of the car, which include a circa-120kWh battery, a pair of electric motors for quattro four-wheel drive putting out 396bhp and 690Nm in total, plus up to 270kW rapid-charging speed.
Charging at that speed, it's estimated 186 miles of range can be added in 10 minutes, while a maximum range of over 460 miles is anticipated. Finally, air suspension and rear-wheel steering promise to enhance the car's comfort and handling.
Audi Activesphere concept previews luxury off-road EV coupe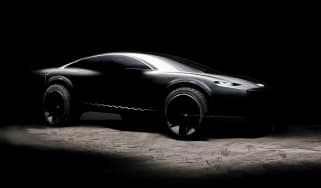 Audi Activesphere concept previews luxury off-road EV coupe
Electric Ford Puma could become the UK's best-selling EV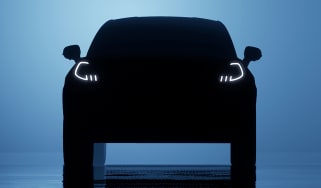 Electric Ford Puma could become the UK's best-selling EV
The Ford Puma EV is set to arrive in 2024 with a range of over 200 miles and a tweaked exterior design
Vauxhall Corsa Electric facelift brings sharp new look and tech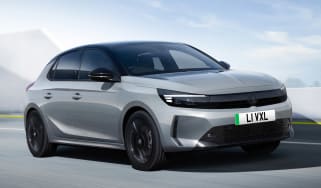 Vauxhall Corsa Electric facelift brings sharp new look and tech
Vauxhall's top-selling electric supermini has been updated for 2023, now getting the 'Vizor' from the Mokka Electric
BMW i5 breaks cover as 5 Series EV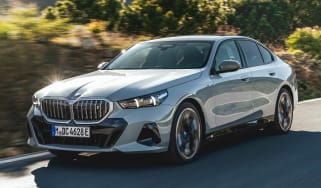 BMW i5 breaks cover as 5 Series EV
BMW has unveiled an all-electric version of its long-running 5 Series, with a range of up to 362 miles