New Abarth 500e electric hot hatch: prices, specs and range
The hot version of Fiat's electric city car does 0-62mph in seven seconds, and will be offered as a hatchback and convertible
The Abarth 500e is a hot take on the award-winning Fiat 500, with more power, unique styling and a novel 'Sound Generator' designed to mimic the outgoing petrol-powered city car. Prices of the launch model start from £38,695, with cheaper versions due later.
Abarth's souped-up versions of the Fiat 500 city car have been part of hot hatch lore since the 1960s, but despite being electric, its makers say the 500e is "more Abarth than ever." 
In traditional style, the Abarth 500e is front-wheel drive only, but its single electric motor produces 153bhp and 235Nm of torque, compared to the regular Fiat 500's 116bhp. The result is a 0-62mph time of seven seconds dead, compared to nine seconds in the Fiat.
Styling-wise, there are plenty of details designed to separate the Abarth from its Fiat sibling. There's Abarth lettering front and rear, wider bumpers and a honeycomb lower grille. Grey mirror caps and 18-inch wheels feature, while limited-run Scorpionissima launch models get unique graphics on the doors.
Inside, there's a new three-spoke steering wheel, sports seats and leather upholstery with Alcantara trim. You get the same seven-inch digital instrument cluster and 10.25-inch touchscreen as the electric Fiat 500, but Abarth has added 'performance pages' for displaying more detailed driving data.
There's a new set of drive modes for the Abarth called Turismo, Scorpion Street and Scorpion Track. The first is the equivalent to eco mode, restricting the performance of the electric motor to 132bhp and 230Nm, while Scorpion Track is for when you want full power and less regenerative braking. One-pedal driving is still available in the Abarth 500e, but only in Turismo and Scorpion Street modes.
The sound of Abarth's hot hatches is part of their identity, so in the absence of any exhaust note, the Abarth 500e features a 'Sound Generator' that the maker says is capable of "faithfully reproducing the sound of an Abarth petrol engine". Owners can switch the synthesised 'roar' off when stationary, replacing it with the strum of a guitar that plays when the car is switched on or off.
The maker claims that the electric 500's bespoke platform – which to date hasn't been used by any other EV – gives the model a wider track, longer wheelbase and better weight distribution than the old petrol-powered Abarth 695. The 500e is also a full second faster around the brand's Balocco test track than its combustion-engined predecessor, thanks to those chassis gains and punchier acceleration.
Abarth 500e price and specs
So far, Abarth has only revealed specifics on the limited-run 500e Scorpionissima. This version costs from £38,695, with the convertible commanding a £3,000 premium. Abarth insiders have suggested cheaper models will be available at a later date.
Scorpionissima means scorpion 'plus' or scorpion 'extra' – the 'issima' suffix is a superlative that, in effect, means this version is the best of the best. Limited to just 1,949 units globally, it's thought the UK will get a around 350 cars thanks to strong initial interest and its loyal customer base. 
Buyers of the launch edition model get a choice of Acid Green or Poison Blue paint, plus exclusive 18-inch wheels and unique side graphics. Inside there's a large 10.25-inch infotainment screen, plus Alcantara sports seats. Every model features LED lights and a revised version of the brand's iconic 'scorpion' logo – now with a lightning bolt through it. Convertible versions also get an integrated roof spoiler.
Range and charging
The Abarth 500e uses the same 42kWh battery as the Fiat 500, but while the Fiat offers up to 199 miles of range, the electric hot hatch can only cover 155 miles on a charge.
The Abarth's 85kW maximum charging rate is enough to add around 30 miles of range in five minutes, and a 10-80% top-up in 35 minutes from a suitably fast rapid charger. Alternatively, it'll take around six hours to fully replenish the 42kWh battery using a typical 7.4kW wallbox at home.
It appears 2023 is already shaping up to be the year of the electric hot hatch. Along with the Abarth 500e, the Volkswagen ID.3 GTX is due to arrive within the next 12 months, as is a spicier version of the Cupra Born we saw undergoing testing in September last year. MG has also confirmed it's introducing a 443bhp dual-motor MG4 in 2023.
​Top 10 fastest-depreciating electric and hybrid cars 2023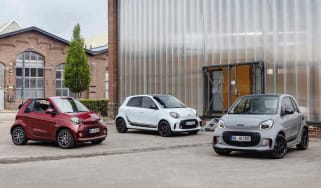 ​Top 10 fastest-depreciating electric and hybrid cars 2023
New Kia EV9 seven-seat SUV: specs, range and price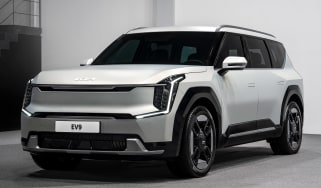 New Kia EV9 seven-seat SUV: specs, range and price
Electric Smart #3 SUV will be the biggest Smart ever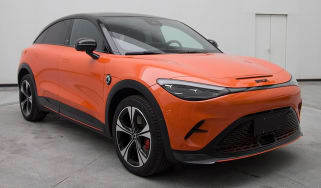 Electric Smart #3 SUV will be the biggest Smart ever
Smart is working on a rival to the Tesla Model Y, set to make its debut at the Shanghai Motor Show in April
Top 10 best 4WD electric cars 2023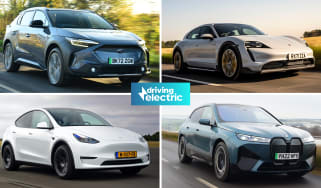 Top 10 best 4WD electric cars 2023
Whether you're looking to venture off-road, or just want some extra assurance in the winter months, we list the best four-wheel-drive electric cars on…
New Fisker Ocean Extreme will have longest range of any electric SUV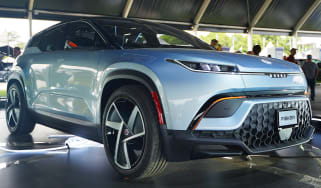 New Fisker Ocean Extreme will have longest range of any electric SUV
The latest rival to the Tesla Model Y, the Fisker Ocean boasts a 440-mile range and a revolving touchscreen