Inside the Hyundai IONIQ 5's unique cabin
The interior of the IONIQ 5 is different to any other EV and contains some surprising materials
Advertisement feature from

The Hyundai IONIQ 5 doesn't just set itself apart from the competition in the way it looks from the outside - it also has an interior quite unlike any other car on the road. 
Opening a door reveals an airy cabin with a flat floor, with a flexible space in the front thanks to an adjustable centre console that can be moved back and forth as desired. This part of the interior also features a large storage area, cupholders, a wireless charging pad and USB sockets. 
The optional 'relaxation seats' in the front can fully recline - perfect for taking a well-earned break while recharging the car. The rear seats, meanwhile, can slide forwards or backwards, depending on whether you want to maximise rear legroom or boot capacity. There's also an optional vehicle to load function, which allows the IONIQ 5 to be used as a power source, supplying up to 3.6kW via a three-pin socket under the rear passenger seat and another available via an adaptor that plugs into the charge port. 
Along with its layout and features, the IONIQ 5's cabin sets itself apart through its use of materials. Let's start with the upholstery fabric on the seats and the door armrests. To both the eye and the touch, it may not seem out of the ordinary. In reality, however, much of it is made from plastic bottles. Each IONIQ 5 contains fabric crafted from up to 32 PET (polyethylene terephthalate) bottles, which are shredded into tiny chips, melted, and then spun into threads. The seat covers also feature environmentally-friendly twisted wool. 
Chanki Park, Hyundai's senior colour and trim designer, says: "Using recycled PET bottles can inspire people to think about how products that are easily thrown away could be turned into something new."
Further fabric, including that used for the headlining and carpet, contains a mix of sugar cane and corn. Oil extractions from the latter plus rape flowers also help create a special bio paint for the dashboard, various switches, the steering wheel, and the door panels. 
The leather - where fitted - is dyed using 200g of flaxseed oil rather than animal-derived oils. Finally, there's 800 square centimetres of recyclable HDPE (high-density polyethene) paperette for the detailing on the door panel. This material has the same properties as traditional Korean paper. 
Finally, special optional floor mats feature a material called ECONYL - a recycled nylon derived from fishing nets and marine waste. Although created from recycled materials, it can be treated as brand new nylon, and can be recycled, recreated, and remoulded again and again. 
All of this provides an incredible interior environment and marries perfectly with the IONIQ 5's powertrain's eco-credentials. 
Learn more about the IONIQ 5 here
BMW i4 facelift to topple Tesla with huge range and tech upgrades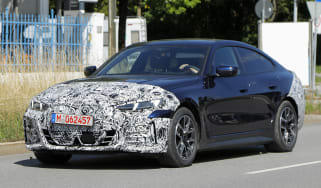 BMW i4 facelift to topple Tesla with huge range and tech upgrades
An updated version of the BMW i4 has been spotted testing, likely sporting a longer range and the latest technology
Electric BMW iX2 is set to take the kidney grille to the next level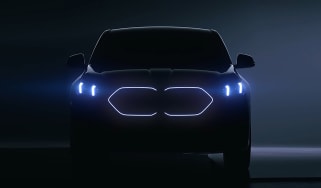 Electric BMW iX2 is set to take the kidney grille to the next level
BMW has teased the highly-rumoured iX2 coupe-SUV, which has been revealed to get enlarged illuminated kidney grilles