Celebrating the past with the technology of the future
With the Heritage Series Pony, Hyundai has brought a near-50-year automotive journey full circle
Advertisement feature from

While Hyundai has its sights set firmly on the future, it has a rich history to celebrate, and one that goes back further than many will realise. No car encapsulates this better than the Heritage Series Pony. 
But before we get there, we need to wind the clock back over 50 years. The Hyundai Motor Company was first established in 1967, spending its formative years producing cars in partnership with Ford. Approaching the mid-70s, Hyundai embarked upon an ambitious journey to making a car of its own. The result was the Pony – not just the brand's first mass-produced vehicle, but the first South Korean car to be made in big numbers.
Getting it off the drawing board was a global effort, however. Hyundai looked to Britain for chassis expertise, Japan for the car's Mitsubishi engines, and to Italy for styling, with a design penned by Giorgetto Giugiaro's Italdesign. The wedge-shaped 1974 Pony concept would also go on to inspire another Giugiaro design, the DMC DeLorean. 
Launched in 1975, the production Pony quickly became South Korea's most popular car, and found sales success in other nations too, particularly Canada. After 15 years in production and two generations of Pony, nearly 300,000 were made. 
The Pony set Hyundai on a path to where the brand finds itself now – leading the charge into our electric future with world-beating plug-in vehicles. It's only fitting, then, that the Pony's legacy is woven throughout the angular styling of the award-winning IONIQ 5, linking Hyundai's future with its past. 
Bringing things full circle, Hyundai revealed the Heritage Series Pony in 2021, incorporating elements of the car it inspired, the IONIQ 5. To create it, a team headed up by Hyundai's chief interior designer Hak Soo Ha completely dismantled an original three-door, first-generation Pony, and rebuilt it in a way that celebrates where Hyundai is going – and where it's come from. 
Gone is the original internal combustion engine, replaced with an all-electric powertrain. The wing mirrors are cameras in retro housings, while at the front and rear are 8-bit-inspired 'Parametric Pixel' light clusters – a nod to the IONIQ 5. 
The exterior changes are subtle but effective. But inside, the transformation is far more comprehensive, with a thoroughly redesigned retro-futuristic cabin. Of particular note is the instrument cluster, filled with illuminated vacuum tubes that act as a gauge for the car's speed. 
At the time, SangYup Lee, Vice President and Head of Hyundai Global Design Centre summed up the ethos nicely. "With the introduction of dedicated EV design of the IONIQ 5 we want to rekindle the pioneering spirit of the original Pony."
Learn more about the Hyundai IONIQ 5 here
BMW i4 facelift to topple Tesla with huge range and tech upgrades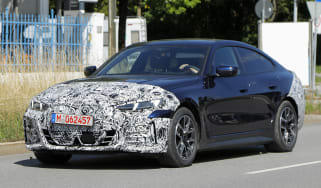 BMW i4 facelift to topple Tesla with huge range and tech upgrades
An updated version of the BMW i4 has been spotted testing, likely sporting a longer range and the latest technology
Electric BMW iX2 is set to take the kidney grille to the next level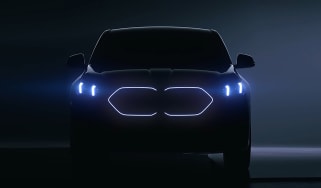 Electric BMW iX2 is set to take the kidney grille to the next level
BMW has teased the highly-rumoured iX2 coupe-SUV, which has been revealed to get enlarged illuminated kidney grilles