Everything you need to know about the Nissan LEAF
A look at the design, range, tech and safety features of Nissan's celebrated electric car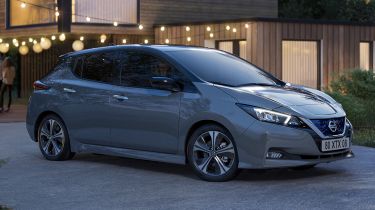 Advertisement feature from

 When the Nissan LEAF launched in 2010 it gave the fledgling EV market an affordable, fully electric hatchback for drivers looking to make a move away from fossil fuels when driving the vehicle. Today the LEAF, now in its second generation, is something of an institution in the electric car space thanks to its longevity and continuing popularity. The car recently marked its 10th anniversary in the UK by passing 40,000 sales (achieved at the end of November 2020), cementing its position as the country's best-selling electric car to date.
What makes the Nissan LEAF such a compelling choice for those looking to go electric? We take a look at some of the car's key features to uncover everything you need to know about Nissan's iconic EV.
Range and charging times
Technology evolves quickly in the EV market and batteries are no different. The LEAF 40kWh has an all-electric range of up to 168 miles[1], ideal for city driving or if you're making shorter local trips or doing the school run. Opt for the LEAF e+ 62kWh and that range increases to 239 miles[1]; more than enough for most people's long-distance needs.
For charging at home or a public charging station, a Type 2 connector can slot into the charge port at the front of the vehicle and get the battery back up to full charge from flat in seven and a half hours. Fast charging can be done by plugging the LEAF into a CHAdeMO 50kW rapid charger, and that can take the LEAF 40kWh battery from 20% to 80% in as little as 60 minutes.[2]
Driven by the latest technology
The Nissan LEAF is equipped with cutting-edge driving technology to ensure as smooth a ride as possible. Its electric motor responds quickly and smoothly, controlled by the revolutionary e-Pedal system that allows you to accelerate, decelerate or stop using just one pedal. When decelerating, the regenerative braking engages, storing up energy in the battery and helping to maximise the car's efficiency.
Inside, the LEAF brings NissanConnect technology to your fingertips. The infotainment system, which syncs with the NissanConnect Services app, makes it straightforward to check your remaining range, control cabin temperature and connect a smartphone with Apple CarPlay or Android Auto.[3] What's more you get an eight-inch touchscreen display to help with navigation and access to apps, Bluetooth connectivity to stream music wirelessly and conveniently placed USB points for charging devices.
First-class safety features
If you're using the LEAF as a family car then safety is paramount. It has comfortable seating for up to five people, with Isofix points in the rear seats to allow child car seats to clip in with ease.
Depending on which model you choose, the LEAF also has ProPILOT technology on hand to help take some of the stress away from driving. With the push of a button, ProPILOT activates and can adjust your speed to keep you at a distance from the car in front. It can even judge the flow of traffic and bring you to a stop before getting back up to speed again. It has benefits on the motorway too, as ProPILOT keeps the car centred in its lane even through gentle curves. Further driver assistance features include Intelligent Cruise Control, Intelligent Lane Intervention and Intelligent Emergency Braking. These are part of the Nissan Intelligent Mobility suite; there to take action should the unexpected happen.[4]
Cost of ownership benefits
One obstacle that often gets in the way of electric ownership is cost. A recent survey by Auto Express' sister title DrivingElectric found that 48% of readers had concerns about buying an electric vehicle because of the expense. However, the total cost of ownership of an electric vehicle can actually be lower than a combustion vehicle. That's because after the initial outlay you begin to save money with lower running and servicing costs.
Partnership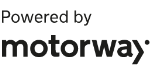 Need to sell your car?
Find your best offer from over 5,000+ dealers. It's that easy.
There are other benefits that come with going electric, too. For example, getting a home wallbox charger is an investment that will quickly start paying for itself as a home electricity tariff works out cheaper than using public charging stations. The Government currently offers up to 75% (up to £350) towards the installation of your charging unit at your home.
A fully electric car like the Nissan LEAF will also be exempt from road tax, so there's no annual Vehicle Excise Duty (VED) to pay, and company car tax is only 1%.[5]
A car like the LEAF will be cheaper to service and maintain, because electric vehicles have fewer moving parts and fewer items that wear over time. The LEAF also comes with an eight-year or 100,000-mile battery warranty for added peace of mind.[6]
A choice of model
The Nissan LEAF comes in five different models, with the base-level Acenta starting at £25,995 MRRP. That has a host of great features such as e-Pedal, NissanConnect services with Apple CarPlay and Android Auto, rear view camera and safety systems, while the N-Connecta (from £27,995 MRRP) adds more safety features, Intelligent Around View Monitor, part synthetic leather trim and heated seats and steering wheel.
Move up to the Tekna (from £29,995 MRRP) and additional features include ProPILOT driver assistance, a seven-speaker Bose audio system and LED foglights with cornering function. The LEAF e+ range consists of the e+ N-Connecta (from £30,445 MRRP) and e+ Tekna (from £32,445 MRRP). The major benefit here is the larger battery, 62kWh versus the standard 40kWh, bringing an impressive range of up to 239 miles.[1]
If a switch to electric is starting to look appealing, then the Nissan LEAF has the comfort, safety features and cutting-edge technology to make it a compelling choice for first time EV buyers. Plus, with more than a decade on the road, the LEAF is an electric car that's stood the test of time.
Discover more about the Nissan LEAF at nissan.co.uk. Download a free guide for more on electrified vehicles.
[1] WLTP figures shown are for comparability purposes. Actual real-world driving results may vary depending on factors including the starting charge of the battery, accessories fitted after registration, weather conditions, driving styles and vehicle load.
[2] Indicated rapid charging time requires use of a CHAdeMO 50kW rapid charger and may vary depending on factors including charging conditions, battery, and ambient temperature at point of use and if the battery safeguarding technology is activated. Visit nissan.co.uk to find out more.
[3] To use NissanConnect services you need a smartphone with compatible iOS or Android operating system. Services subject to mobile network coverage. NissanConnect Services available for an additional charge on subscription after the 3rd year. For further information, please visit www.nissan.co.uk or contact your local Nissan Dealer.
[4] It is your responsibility to stay alert, drive safely and be in control of the vehicle at all times. Driver assist features have speed and other limitations and should not be solely relied on. For more information, please refer to the owner's manual or visit nissan.co.uk/techterms.
[5] Please seek independent tax advice.
[6] Whichever comes sooner.
What is fast charging? What is rapid charging? What is ultra-rapid charging? EV charging speeds explained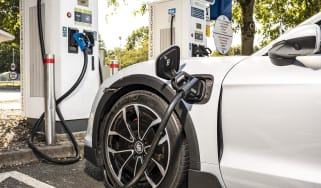 What is fast charging? What is rapid charging? What is ultra-rapid charging? EV charging speeds explained
How much is the Benefit-in-Kind company-car tax on an electric car?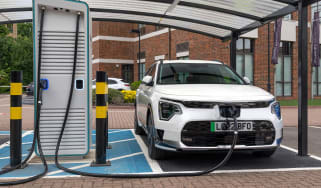 How much is the Benefit-in-Kind company-car tax on an electric car?
First contact: facelifted Kia EV6 will look even more like a UFO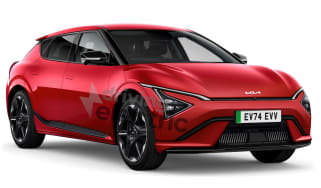 First contact: facelifted Kia EV6 will look even more like a UFO
Kia is readying an update for the EV6 crossover, which is set to include a new face and tech from the larger EV9
New Fisker Ocean Sport washes up in the UK: £36k for a 288-mile range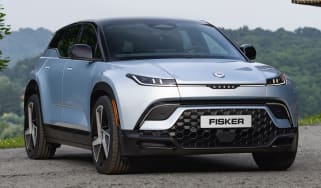 New Fisker Ocean Sport washes up in the UK: £36k for a 288-mile range
American EV startup Fisker has just launched its entry-level Ocean SUV in the UK, with a range of up to 288 miles
New Vauxhall Vivaro Electric is cheaper, yet has more range and tech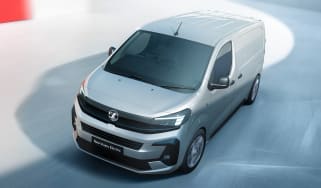 New Vauxhall Vivaro Electric is cheaper, yet has more range and tech
Vauxhall has given its Vivaro Electric panel van a mid-life refresh with a new face and some of the latest tech