What's next for BMW's electric revolution?
The world of electrified cars is changing at an unprecedented rate. We preview the models that will transform BMW in the coming years
The motoring landscape has never changed more rapidly. The necessity to act quickly to address climate change has led to huge advances in technology, responsible manufacturing, and a greater awareness of sustainability and recycling. BMW is tackling these challenges with an innovative and broad range of electric and plug-in hybrid vehicles.
2020 will be a key year for BMW, as the brand launches more alternative-fuel models and puts the finishing touches on its groundbreaking all-electric i4 saloon, iX3 and iNEXT SUVs. These will help the BMW Group realise its ambition that a quarter of its European sales must come from electrified vehicles by 2021, a third by 2025 and half in 2030.
BMW's new generation of models will take over from the BMW i3 and the i8 Coupe and Roadster – the world's most successful plug-in hybrid sports car. Both made their global debut at the IAA motor show back in 2013 and set the theme for the BMW i philosophy. For instance, each i8, built in Leipzig, Germany, was manufactured using the electricity from four wind turbines, while the carbon fibre, crucial for its lightweight construction, was produced using only hydropower.
Looking to the 2020s
In 2020, BMW customers already have a huge choice, with even more options coming down the line. That's epitomised by the popular BMW X3 SUV: for the first time in the firm's history, this family-friendly model will be available with four types of powertrain: diesel, petrol, plug-in hybrid, and pure electric.
Plug-in hybrid technology – where the vehicle is fitted with both an efficient combustion engine, an electric motor and a battery pack – is being rolled out across the majority of BMW's line-up. In fact, it's fitting that BMW Group's landmark 500,000th electrified vehicle was a plug-in hybrid 3 Series; an ultra-efficient version of BMW's most iconic model. The 330e can travel up to 36 miles on electric alone, and offers great performance and class-leading dynamics besides.
In a special handover at BMW Welt, the car's new owner Florian Merk said: "For me, the BMW 330e – the plug-in hybrid 3 Series – combines the best of both worlds: for the most part, I can drive emission-free – especially in the city – but, on longer trips, I still have the flexible range of a combustion engine."
The latest generation of plug-in hybrid models with eDrive technology offer owners numerous benefits. Of course, there are significant cost savings when running on electricity, and plug-in hybrid owners face reduced taxation. This is particularly the case for company car drivers in the UK, where benefit-in-kind payments are based on a sliding scale of CO2 emissions.
On the move, drivers can harvest energy to top up the battery pack when their car decelerates, and can be comfortable in the knowledge that their BMW is future-proofed for access to many low emission zones and tolls. Plug-in hybrids are currently exempt from the London Congestion Charge, too. Owners can activate their BMW's electric driving mode to help reduce pollution and noise in urban areas, and plug-in hybrid models can be preheated in winter and cooled in summer ahead of each journey, to save energy, preserve electric range and improve comfort.
BMW's electric future
2020 will see the arrival of BMW's next-generation of electric cars. The BMW iX3, an all-electric SUV with a range of more than 273 miles, will be the first model to receive BMW's pioneering fifth-generation eDrive technology.
Partnership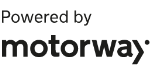 Need to sell your car?
Find your best offer from over 5,000+ dealers. It's that easy.
Its electric motor, electronics, and transmission are brought together into a single enclosed unit that's lighter and more compact, designed in-house by BMW. Yet it still packs a punch – the iX3 will have 282bhp for impressive acceleration. Its battery technology is also new; energy density is around 20% higher and cobalt use has been reduced by two thirds, in a move towards more responsible use of raw materials.
In 2021 it will be followed by the BMW i4, a car based on the 4 Series Gran Coupé but with a purely electric powertrain and its own distinctive style. EV efficiency and BMW driving pleasure may have been seen as polar opposites in the past, but featuring a powerful 523bhp electric motor, the i4 will deliver on both. Not only will it boast a 373-mile zero tailpipe emissions range for low running costs, but also acceleration from 0-62mph in four seconds.
The BMW i4 Concept has teased a revolutionary interior for the production car, hinting towards a curved widescreen display that spans the dashboard, providing driver information and media with pin-sharp graphics.
It will be joined by the iNEXT, a large SUV similar in size to the X5 plug-in hybrid. With a targeted driving range of 360 miles, it will be able to drive from London to Land's End, Cornwall, on a single charge. And it's not only its eDrive drivetrain that'll be pioneering. Robert Irlinger, head of BMW's i department, says: "iNEXT will be 'all-in' – everything we can do technology-wise in 2021 you will see in iNEXT. People have been asking why we've waited so long, but we waited for the next step in technology – it's not only battery, it's autonomous driving and it's also new systems for communication and connection. All this technology will be new in 2021."
New electric cars coming in 2023 and beyond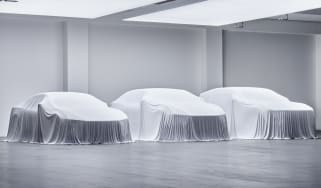 New electric cars coming in 2023 and beyond
With electric cars making up an ever-increasing proportion of sales, the industry is working flat out to launch new models – here's what's on the way …
Volvo EX30 electric SUV: prices, specs and ride review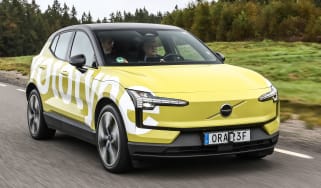 Volvo EX30 electric SUV: prices, specs and ride review
We ride shotgun in Volvo's smallest electric car, which is set to undercut rivals like the Kia Niro EV
"Everyone wins in the switch to EVs. We must hold our nerve on the 2030 ICE ban"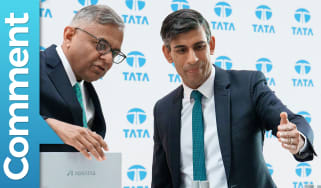 "Everyone wins in the switch to EVs. We must hold our nerve on the 2030 ICE ban"
DrivingElectric's Tom Jervis thinks the government's rollback on the 2030 petrol and diesel ban is a blunder that could kill EV consumer confidence