Volkswagen e-up! (2014-2019) electric motor, drive & performance
The Volkswagen e-up! is fun to drive around town but struggles a bit on faster roads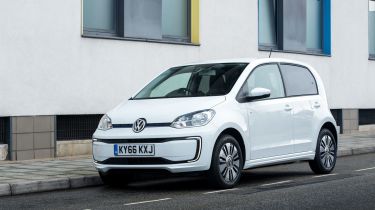 | 0-62mph | Top speed | Driven wheels | Power |
| --- | --- | --- | --- |
| 12.4 secs | 81mph | Front-wheel-drive | 120bhp |
Like the petrol Volkswagen up!, the e-up! is agile and fun to drive thanks to the electric motor's instant response. Performance is good, while comfort and refinement are up there with the best cars in this class. You can ignore the numbers: a single drive in the e-up! will have you hooked on electric cars.
Volkswagen e-up! engine, 0-62mph and acceleration
There's only one battery and electric motor combination in the e-up!, but it's a peppy performer, and is almost as fun to drive as the lighter, slightly nimbler-feeling petrol-powered siblings.
With only 81bhp, you'd be forgiven for thinking the e-up! would feel slow. However, a juicy amount of torque means, in fact, the opposite is true. It sprints away from junctions, roundabouts and traffic lights with real urgency. The 0-62mph time of 12.4 seconds is deceptive as all of the torque is available from standstill.
The regenerative braking system is a clever piece of technology, too. There are five different levels, ranging from D through to D1, D2, D3 and B, which determine how aggressively the e-up! recoups lost energy from lifting of the accelerator. This slows the car to a halt without you having to touch the brakes, and while it feels strange at first, it's very easy to get the hang of.
The 80mph top speed is identical to that of the Smart EQ ForFour, but as this is a city car, it's unlikely to bother many potential buyers. There's more than enough grunt for the occasional motorway journey – although the batteries are likely to run out long before you feel the need for any extra power.
Handling
The e-up! weighs around 200kg more than the standard car, but the batteries are mounted along the floor, which results in a low centre of gravity. This means it feels agile and is certainly easy to thread through traffic.
It rides nicely, too, dealing admirably with the UK's bumpy city streets. As this is an electric car, there's no engine noise to distract you from the inevitable wind and tyre noise at higher speeds.