Volkswagen e-up! (2014-2019) running costs
The Volkswagen e-up! is slightly pricier than a Smart EQ ForFour, but like that car it'll cost you very little to run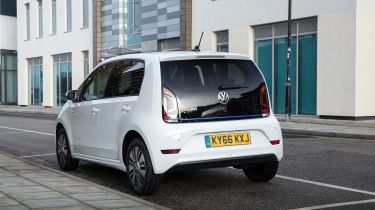 | Insurance group | Warranty | Service intervals | 2018/19 company car cost (20%/40%) |
| --- | --- | --- | --- |
| 10E | 36 months / 60,000 miles | 12 months / 10,000 miles | £665.21 / £1,330.42 |
Being electric doesn't change the fact that people are still prepared to pay a little bit more for a Volkswagen badge. At almost £23,000, the e-up! commands a premium of around £10,000 over the flagship GTI petrol. You'll slash £3,500 off the electric model's list price with the Government's Plug-in Car Grant, however.
For comparison, the Renault ZOE (excluding the mandatory battery lease, granted) costs from £22,920 – despite being a bigger car with a longer electric range. After the grant, the ZOE starts from £19,420.
However, like all electric cars, once you've bought your e-up!, it'll cost very little to run. As there's no petrol or diesel engine, the Volkswagen emits 0g/km of CO2 and is therefore exempt from road tax (VED) and the London Congestion Charge. No CO2 emissions means it sits in the very lowest Benefit-in-Kind company-car tax band, too.
Volkswagen e-up! insurance group
The Volkswagen e-up! is more expensive to insure than its entry-level petrol equivalent, but a group 10 rating is unlikely to break the bank. For comparison, a Smart EQ ForTwo sits in group 12.
Warranty
The Volkswagen e-up's warranty is identical to the one offered on the normal petrol car. The standard three-year/60,000-mile manufacturer warranty covers all the usual bits and bobs, and excludes consumables like tyres. All this comes in addition to the eight-year battery warranty, three-year paintwork warranty, and 12-year body protection warranty.
Servicing
Volkswagen claims the simplicity of an electric car means it'll cost less to service. As such, the e-up! only requires servicing after 18,000 miles or two years. After its initial check-up, the service intervals are every 18,000 miles or 12 months.
In addition to all the usual points, Volkswagen will check your charging cables, the battery, and any unique high-voltage components every time it has a service.
Road tax
Being a zero-emissions vehicle, the e-up! is exempt from road tax.
Depreciation
Electric cars don't tend to fare particularly well when it comes to depreciation. As such, the Volkswagen e-up! will be worth just 37% of its original value after three years or 36,000 miles. That's a little bit better than a Smart ForFour (34%) but worse than most petrol up! variants (40-47%).