Volkswagen Tiguan eHybrid: details, pictures and release date
Plug-in hybrid Tiguan set to join Volkswagen's electrification push as popular SUV model is refreshed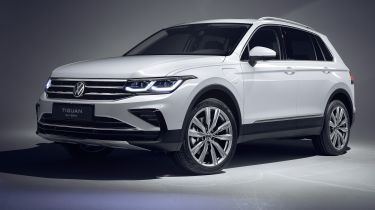 Volkswagen has revealed details of the new Tiguan hybrid SUV, which has been revealed alongside its petrol and diesel counterparts as part of a wide-ranging update to the big-selling SUV model's range.
The electrified family car will bolster the brand's plug-in hybrid (PHEV) offering to five distinct models, badged either GTE, eHybrid or R: Tiguan, Golf, Passat, Touareg and the recently unveiled facelifted Arteon.
The Tiguan eHybrid, as it'll be officially known, has a 242bhp petrol-electric drivetrain, comprising a 1.4-litre internal-combustion engine and an electric motor. The car will always start in fully electric mode as long as there's sufficient charge in the battery and an electric range of 31 miles is promised, at speeds up to 81mph.
Apart from the drivetrain, the Tiguan eHybrid features several other new technologies, including the 'Travel Assist' driver-assistance package. First seen on the latest Volkswagen Passat, this collection of camera and radar systems enables semi-autonomous driving at speeds up to 130mph.
This Tiguan also gets the latest incarnation of Volkswagen's infotainment software, known as MIB3, bringing with it a range of online services and functions thanks to an integrated SIM card. There's also digital climate-control operation and LED matrix headlights.
On the outside, the Tiguan's design remains broadly familiar, but has been tweaked with elements such as a higher bonnet, wider radiator grille, the new VW logo and redesigned bumpers at the front and rear.
Volkswagen has detailed four trim levels for the revised Tiguan, called Tiguan, Life, Elegance and R-Line, although it's not certain all four will be offered with the eHybrid engine, or on the UK market.
Best plug-in hybrid SUVs 2021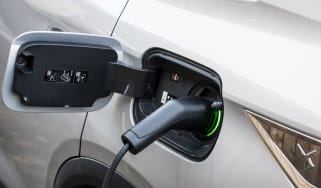 Best plug-in hybrid SUVs 2021
A good plug-in hybrid SUV should combine low running costs with excellent practicality. These are some of the best on sale right now
Best electric SUVs 2021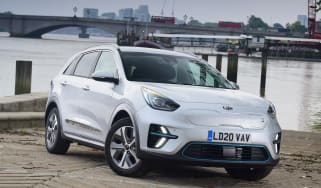 Best electric SUVs 2021
Our selection of the best electric SUVs you can buy features cars that promise to mix style, practicality and rock-bottom running costs
Where can I buy hydrogen and where is my nearest hydrogen filling station?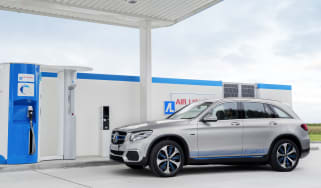 Where can I buy hydrogen and where is my nearest hydrogen filling station?
A guide to where you can find UK hydrogen fuel stations for filling up a hydrogen fuel-cell car