Electric Volkswagen Caddy: tuner ABT reveals e-Caddy
All-electric Volkswagen ABT e-Caddy is based on previous-generation van, but it won't be available in the UK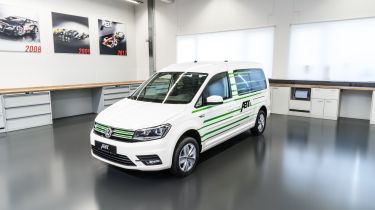 A racy electric version of the Volkswagen Caddy MPV and van was revealed at the Commercial Vehicle Show in Hanover, Germany, in 2019, but it has subsequently been confirmed the vehicle won't be coming to the UK.
The e-Caddy is the creation of licenced tuning company ABT, more famous for its ludicrously powerful versions of S and RS-model Audis. ABT took its hand to the previous-generation Caddy van, but hasn't engineered it for right-hand-drive markets.
With the e-Caddy, ABT has boosted performance by giving the vehicle a powerful electric motor. Energy is stored in a 37.4kWh battery that produces 108bhp and 200Nm of torque giving the model a top speed of 75mph; acceleration figures haven't been released yet.
ABT hasn't revealed range figures for the e-Caddy, either, but we expect it to be slightly better than that of the ABT e-Transporter, which was shown at the 2019 Geneva Motor Show and can manage around 80 miles between charges.
It takes less than an hour to recharge the e-Caddy's battery back to 80%, with a CCS rapid charger completing the task in 49 minutes. A larger 74.6kWh battery is also expected to be made available in Europe, with a range of up to 250 miles.
The ABT e-Caddy will be sold as an MPV or a van, with either seating for five or up to 4.2 cubic metres of load space.
The vehicle is also likely to feature some styling modifications like those seen on the e-Transporter. Expect side skirts, a roof spoiler, bigger wheels, lowered suspension and colourful stripes on the grille bars and up the side.