Volkswagen presents prototype of mobile charging robot for car parks
New 'roaming' robot concept can find and charge a parked car completely autonomously
A year on from first presenting the concept, Volkswagen has built a prototype of its autonomous charging robot that can bring an energy storage device to an electric car, charge it up and then collect the storage device and return to its base without any human intervention.
The concept is designed for use in large car parks, such as those at airports or shopping centres. It opens up the possibility of every parking space potentially becoming a charging point without the need for extensive infrastructure construction.
It's envisaged that owners would order a charging session using an app or their car's on-board infotainment system, and then go about their business while the robot goes into action. The robot pulls an energy storage device, known as a 'battery wagon', behind it; this would be connected to the car's charging port and left in place while the robot moves away to set up other charging sessions.
Once charging is complete, the robot would return, disconnect the charging lead and bring the depleted battery wagon back to a central location, where it would itself be replenished, ready to be taken to charge up another car. Owners would be informed through the app that their car had been charged.
Each battery wagon is envisaged to have a capacity of about 25kWh, and each robot can pull several behind it in a 'train'. The wagons can charge an electric car at speeds of up to 50kW using DC fast charging. The robots are equipped with ultrasonic scanners, lasers and cameras to help them navigate the car park.
Commenting on the concept, Mark Moller, head of development at Volkswagen Group Components, said: "The mobile charging robot will spark a revolution when it comes to charging in different parking facilities, such as multi-storey car parks, parking spaces and underground car parks, because we bring the charging infrastructure to the car and not the other way around."
Moller continued: "With this, we are making almost every car park electric, without any complex individual infrastructural measures. It's a visionary prototype, which can be made into reality quite quickly, if the general conditions are right."
"This approach has an enormous economic potential. The constructional work as well as the costs for the assembly of the charging infrastructure can be reduced considerably through the use of the robots. Even the well-known problem of a charging station being blocked by another vehicle will no longer exist with our concept."
Thomas Schmall, CEO of Volkswagen Group Components, added: "Setting up an efficient charging infrastructure for the future is a central task that challenges the entire sector. We're developing solutions to help avoid costly standalone measures. The mobile charging robot and our flexible quick-charging station are just two of these solutions."
Volkswagen says the flexible quick-charging station will be launched onto the market in early 2021, while the mobile charging robot has "successfully reached prototype status and will now be comprehensively further developed". The company goes on to explain that one of the prerequisites for being able to bring it to market is 'Car-to-X' communication technology, to facilitate the autonomous charging process.
BMW i4 facelift to topple Tesla with huge range and tech upgrades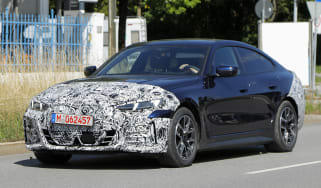 BMW i4 facelift to topple Tesla with huge range and tech upgrades
An updated version of the BMW i4 has been spotted testing, likely sporting a longer range and the latest technology
Electric BMW iX2 is set to take the kidney grille to the next level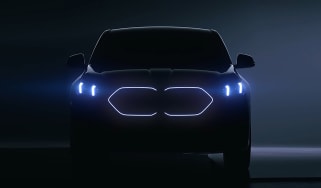 Electric BMW iX2 is set to take the kidney grille to the next level
BMW has teased the highly-rumoured iX2 coupe-SUV, which has been revealed to get enlarged illuminated kidney grilles