Vauxhall GT X Experimental concept: details, pictures and video review
All you need to know about the electric Vauxhall concept that previews the next Corsa
The Vauxhall GT X Experimental concept is a flag in the ground for Vauxhall as it enters a new era: New thanks to the influx of electric and plug-in hybrid cars that it'll introduce from next year, and new since the GT X points towards the design and technology the brand will adopt under the watchful eye of new owner, PSA (which also controls Peugeot and Citroen).
It's no flight of fancy, the GT X Experimental. Under the radical styling is a 50kWh battery pack provided by LG and arranged in 'skateboard' fashion along the car's floorpan, plus an electric motor powering the front wheels. 
This electric setup will feature on various cars, including the next-generation Vauxhall Corsa, Peugeot 208 and DS 3 Crossback – all of which will use the company's modular 'CMP' platform. It'll be a seriously mainstream powertrain, in other words.
While Vauxhall hasn't confirmed specifics of the setup and how it'll fare in the next-generation Corsa, it'd be fair to expect an official driving range of 250 miles, and power output of around 150bhp from the electric motor. Charging is likely to be done via Type 2 and CCS cables.
Vauxhall GT X Experimental driven
Driving the Vauxhall GT X Experimental concept car is a surreal experience. For a start, the single, clear panel that curves over your head to form the windscreen and roof, together with the huge, panoramic 'pure panel' touchscreen readout directly in front of you, make it feel as if you should be flying it rather than driving it. 
The GT X concept also points to a lot of design details that'll characterise the next generation of Vauxhalls. That single-piece, slanted grille is known as the 'Visor', and functions both as a neat way to incorporate an array of sensors and cameras for the Level 3 autonomy the company will introduce, as well as eventually becoming the brand's 'corporate face'.
The neat way the Griffin badge on the back of the car forms a centre point for a horizontal and lateral crease is known as the 'compass' and is also set to become standard Vauxhall design language.
It'd be easy to say the GT X feels as spaceship-like to drive as it does to sit in, but it's actually not the case. Gripping the super-slim steering wheel, with its 'floating' hub complete with LED Griffin logo that stays upright as you swing the wheel, the GT X feels rather lumpy as its chunky tyres squeal around the shiny warehouse floor we're driving it on.
Concept cars, as incredibly valuable, hand-built one-offs, nearly always feel a little brittle and odd to drive, and the GT X is no different. The electric powertrain, however, gives a predictably smooth build-up of power, with a hint of seriously aggressive acceleration should you want it. No official power output has been stated for the GT X (or the new e-Corsa), but it feels like an easy 150bhp, so a 'hot' electric Corsa wouldn't be a difficult leap to make.
Those tyres, too, promise good things for the Corsa. The clever alloy-wheel design extends around the sidewall of the tyre so it appears to be a larger wheel than it is – the GT X actually has 17-inch wheels but they look like 20s. So it promises the sort of cushy ride comfort that you'd want from a Corsa, while also looking appealingly aggressive. Here's hoping the wheel design makes it to full production models.
Partnership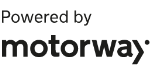 Need to sell your car?
Find your best offer from over 5,000+ dealers. It's that easy.
There are plenty of other design touches around the GT X Experimental that'll make it to future Vauxhalls, including the one-piece grille that has been dubbed the 'Vauxhall Visor'. That single large touchscreen in front of the driver and the buttonless interior are also no hollow design fantasies, but rather hint at the more minimal, more hi-tech interiors that Vauxhall is working on.
One neat design trick that we're hoping will make production on the electric Corsa is the GT X's exterior charge status indicator, which mimics a digital hourglass gradually filling up. It's useful, and also weirdly hypnotic to watch.
Sure, the cameras used in place of side mirrors, LED badges that change colour when the car is in autonomous driving mode and a clever system that uses a camera on the steering wheel to track your eye level and automatically adjust the seat to your driving position, are all unlikely to make production soon. Even so, they offer an interesting insight into more distant technology.
Other highlights of the GT X Experimental include Level 3 autonomy, where the car can effectively drive itself in certain road conditions, but the driver is still required to take control when necessary. Expect the next-generation Corsa to offer advanced autonomous emergency braking, adaptive cruise and lane-keeping assistance systems.
Inside the GT X, a slim steering wheel features an LED Griffin logo that self-centres as you turn the wheel – a neat trick that's mirrored by the LED logos in the car's alloy wheel hubs. There's also a single, large, panoramic colour touchscreen in an interior that's otherwise button-free, which hints strongly at the more minimal interiors being planned for production Vauxhalls.
Of course, the GT X Experimental also tells a tale of a small SUV. This concept is only just over four metres long, which is smaller than the current Vauxhall Crossland and Mokka, and while Vauxhall is adamant the next Corsa will be a straightforward hatchback and won't bear any of the GT X's SUV style aspects, it seems reasonable to speculate that Vauxhall and PSA might be considering a micro-SUV. 
While rear-hinged back doors, camera side mirrors and even inductive charging are features of the GT X that we won't see in the near future, there's plenty about this concept to suggest a full reinvention for the rather downtrodden British brand is finally here. Certainly, if the electric Vauxhalls due to start arriving from next year in the form of the eCorsa and plug-in hybrid Grandland X can capture something of the GT X's edginess and design appeal, it should be on to a winner.
Vauxhall Frontera to arrive as Crossland EV replacement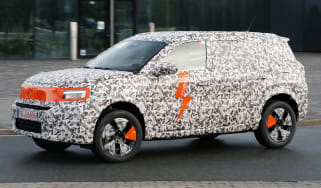 Vauxhall Frontera to arrive as Crossland EV replacement
Vauxhall Manta electric SUV previewed by new concept car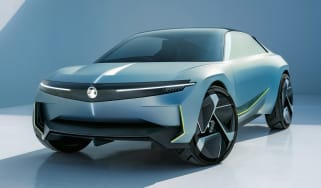 Vauxhall Manta electric SUV previewed by new concept car
New Vauxhall Grandland GSe joins Astra GSe in hot PHEV lineup
New Vauxhall Grandland GSe joins Astra GSe in hot PHEV lineup
BMW i4 facelift to topple Tesla with huge range and tech upgrades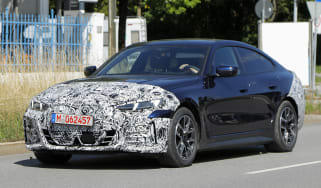 BMW i4 facelift to topple Tesla with huge range and tech upgrades
An updated version of the BMW i4 has been spotted testing, likely sporting a longer range and the latest technology
We've had a ride in the new electric MG Cyberster and it's NOT what we first thought…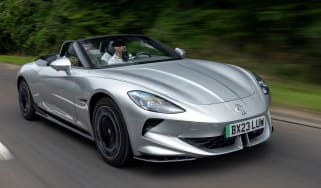 We've had a ride in the new electric MG Cyberster and it's NOT what we first thought…
The MG Cyberster is due to go on sale next year with up to 536bhp and scissor doors – and we've already had a ride in it