Toyota RAV4 Hybrid (2013-2019) engines, drive & performance
Dull steering, body lean and engine drone spoil the Toyota RAV4 Hybrid driving experience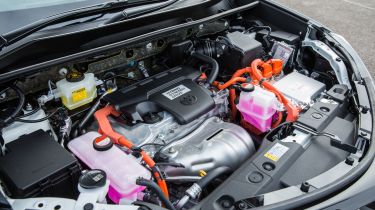 The petrol Toyota RAV4 is more of a cruiser than a sprinter and the hybrid is no different. Ultimately the promising notion of a big 2.5-litre engine doesn't result in perky performance and the RAV4 would rather not be rushed through corners, either.
Toyota RAV4 Hybrid engine, 0-62mph and acceleration
On paper, the relatively compact Toyota RAV4 reads like a relatively sporty machine. It's powered by a 2.5-litre petrol engine and an electric motor that work together to produce 194bhp in total – about 50bhp more than the standard 2.0-litre petrol. It's the same power system fitted to the Lexus NX.
Against the clock, the extra power manifests itself in a 0-62mph time of 8.4 seconds, which is over two seconds quicker than the RAV4 petrol. Unfortunately, though, the way the continuously variable transmission (CVT – basically an automatic gearbox with a single, variable gear) sends the engine revs soaring for a prolonged period when full acceleration is called upon, rather spoils the experience.
It makes spirited driving a rather laborious affair and makes life in the RAV4 noisier than passengers of the petrol model have to tolerate, although things settle down once cruising speed is reached.
Four-wheel-drive versions have an additional electric motor to power the rear wheels. It's rated at 68bhp, although there's no boost in overall power. Nor does it make the four-wheel-drive RAV4 a serious off-road car, but should help with traction on tricky surfaces such as snow or wet grass.
Handling
The first-generation Toyota RAV4 was billed as the first SUV that could reasonably be termed a 'driver's car'. However, that appeal has rather dulled over subsequent RAV4 generations and the latest is more of a comfortable cruiser. And, weighed down by an extra 175kg of batteries and electric motors, the RAV4 Hybrid feels notably less agile than the rest of the range.
The steering feels a little vague and 'mushy', offering little sensation of what's happening at the contact point between tyre and road. There's noticeable lean when you corner vigorously, too. Refrain from rushing, though, and the RAV4 proves itself smooth and relaxing. Its supple suspension soaks up all but the biggest of potholes and road-surface imperfections before they're passed to passengers.
Those looking for fun in a hybrid SUV would be better off with a MINI Countryman PHEV, while those for whom hybrid power isn't important will find rather more driving entertainment in a Ford Kuga or SEAT Ateca.