First UK Tesla Model 3 deliveries handed over to customers
DrivingElectric visited one of Tesla's London dealerships to meet some of the first UK customers picking up their Model 3s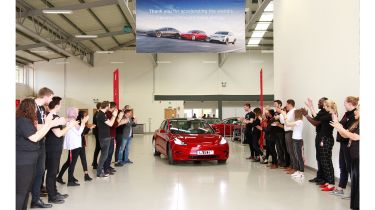 The Tesla Model 3's arrival in the UK has been anticipated for a long time now. The US brand promised it would be an affordable alternative to both conventionally powered and electrified models from other manufacturers, but a number of issues delayed its delivery to some global markets, the UK not least among them.
Finally, though, the wait for British customers is over, with the first UK customer cars being driven off dealer forecourts around the country last week by buyers who put their deposits down two to three years ago.
Tesla is confident enough in the quality of the Model 3 that it's giving customers a one-week grace period, at any point during which they can give the car back for a full refund. This goes some way towards explaining why a large number of people were happy to commit to buying a car they had never even seen in the metal, let alone driven.
To talk to some of those customers, we headed to Tesla's London Heathrow dealership in West Drayton, where a special handover event was being held in celebration of the 50 or so Model 3s set to be collected from the showroom that day.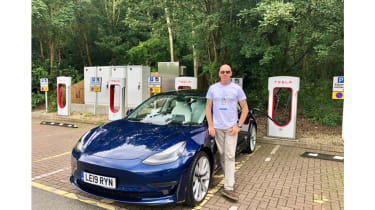 The first customer we spoke to was also probably the most excited. Mick Paul was practically jumping up and down with joy, having sold his SEAT Leon and just set eyes on his new Model 3 for the very first time.
"I'll keep this car now for as long as I can," Paul explained. "Could be 20 years. My girlfriend's got a Renault ZOE that she's had for about 18 months, but I've always wanted a Tesla. The Model S and Model X were too big for me, but when the Model 3 came out, it was a no-brainer, so I waited and waited until today."
Even though Paul is environmentally conscious and has a source of green energy at home, one key reason – other than performance – that he wanted a Tesla was for the Supercharger network.
"I'm getting a Zappi," Paul continued. "I've got it ordered and I've got solar panels, so I can charge from the sunshine. I have a road trip planned next year in Europe. It's all about the charging – although I've got the charging at home, it's having that option.
"Teslas work flawlessly on their charging system, they have a longer range than most of the other EVs, they're quicker, they look nicer – they're the pinnacle," he summarised.
This level of enthusiasm is commonplace among Tesla owners and Paul certainly wasn't the only person there keen to sing the brand's praises.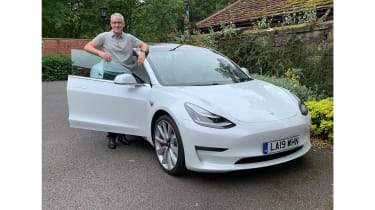 James Alty (above) told us how he'd been the proud owner of an Aston Martin V8 Vantage, before trading it in for a Tesla Model S P85D almost purely for the performance.
"The Aston was the most beautiful car to look at," he said, "but the Model S just left it standing, quite frankly."
"The days of the big V8 seem to be gone and it struck me that what you call a 'petrolhead' is going to realise pretty quickly that the most fun you can have on four wheels is an EV. That's why my aspiration is the Roadster, if Tesla ever builds it."
Partnership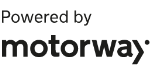 Need to sell your car?
Find your best offer from over 5,000+ dealers. It's that easy.
Around two years ago, Alty received an e-mail asking if he wanted to buy a Model 3. He admitted that he placed the order on his phone while lying in bed, causing his wife Fiona to raise an eyebrow.
The couple are happy they made the decision, though. Alty explained how he loves electric cars not just for the blistering acceleration they offer, but also for the environmental aspect.
"I was completely committed to electric cars as soon as I drove the Model S and we charge ours with green electricity," he said. "I'm a Green Party member and I'm sure it's not Green Party policy to drive high-value electric cars, but for me the ability to drive a clean car with no emissions at the point of generation and no emissions at the point of driving is brilliant.
"I get the joy of having a fabulous car that's easy to drive, high performance and looks great – it's just fantastic.
"We buy electricity from Ecotricity, so we pay to have it 100% generated by renewable sources. I buy an Economy 7 tariff, I plug the car in and it charges from midnight until 7am if it needs it, but most nights it only needs less than an hour. Plus, the Supercharger network is so widely available that we've never had range problems at all."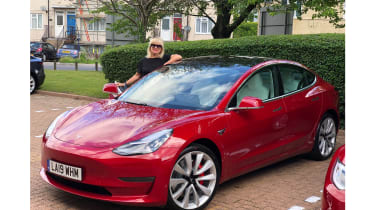 Swapping one Tesla for another is one level of enthusiasm, but Kevin Brown and Wanda Rokicki (above) have turned it up a notch. The couple already own a Tesla Model S – driven primarily by Brown – and a Model X. Now, they're adding a Model 3 to the collection.
"When they said 'We're ready to finalise your order and it'll be ready in July'," Brown said. "I thought 'yeah, right – more like September if I know Tesla', but they proved me wrong."
The Model 3 will be Rokicki's car primarily – its smaller size making life easier on her regular trips into London from the pair's home in West Sussex. We asked her what she loves most about Tesla.
"For me, I think, reliability," she answered. "I feel really safe in the cars. I've been driving them for two-and-a-half years now and they just feel so reliable. And with the Superchargers we've driven all the way up into the French Alps without a problem."
Having such a wealth of Tesla ownership experience, the couple were able to share some interesting insight into what it's like dealing with the brand on a regular basis.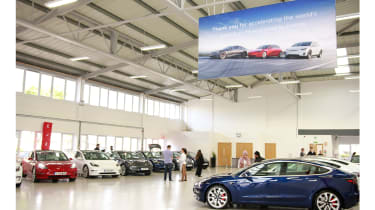 "We've got the Tesla-branded home charger," Brown told us. "It went wrong last year, but it was great – they just sent me a new one and said 'When you've fitted it, send the old one back'.
"We just insured both the Model S and the Model 3 with LV instead of Direct Line, who we were with previously. Direct Line's quotes were not good, in spite of being Tesla's partner.
"The reason I mention this is LV now covers loss or damage to your home charger and also, if you run out of juice, they'll get you to the nearest charging station, but Tesla will do that as well. And the price for the Model 3 was amazing – less than £300 fully comprehensive, which is extraordinary."
As much as they may like to, though, Brown and Rokicki admit they may not keep both the Model S and Model X permanently now that the Model 3 has arrived.
"We're keeping both of them for at least the week," Brown said. "But, of course, the extravagance of keeping all three has to be amended very shortly."
A very satisfied group of customers, then, for whom the long wait for the Model 3 seems to have been worth it.
We've had a ride in the new electric MG Cyberster and it's NOT what we first thought…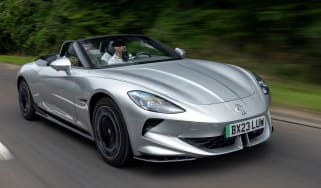 We've had a ride in the new electric MG Cyberster and it's NOT what we first thought…
The MG Cyberster is due to go on sale next year with up to 536bhp and scissor doors – and we've already had a ride in it
Has the UK given up on EVs? New government 'Plan for Drivers' says no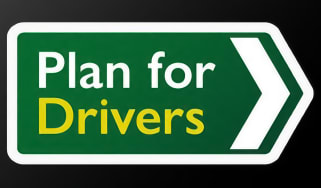 Has the UK given up on EVs? New government 'Plan for Drivers' says no
UK government has announced a new 30-point manifesto which, in part, focuses on electrifying Britain's roads