What's it like living with a Nissan LEAF?
Three Nissan LEAF owners from across the UK take us through their EV experiences
Advertisement feature from

As the UK's 2030 ban on the sale of new petrol and diesel cars approaches, more and more of us are starting to consider going electric. Car manufacturers are embracing this change, but some motorists still have reservations. Do they have enough range to get around? Where and when do you charge them? And how different are they to drive than traditional petrol or diesel vehicles?
Nissan has plenty of experience in the EV space having launched the all-electric LEAF in 2010. That market longevity has made it a popular choice for those who've made the switch. But what's it actually like living with a LEAF? We tracked down three owners to find out about their EV experiences.
Hazel bought her N-Connecta 40kWh LEAF in summer 2020, and uses it mainly as a day-to-day runaround and occasional longer journeys including a holiday in Cornwall. She's a mum of two and works within a few miles of her home in south London. "We do lots of other smaller journeys like taking the girls roller skating with their friends [and] going to youth clubs. I'm using the car many times every day," she says.
With a home wallbox charger installed on the driveway, charging the LEAF is straightforward – and Hazel is a fan of the car's tech features like syncing a smartphone to the car via the NissanConnect app, and e-Pedal driving.[1]
"Driving an EV feels massively different to driving a petrol or diesel [car]. It's so much fun, it's very smooth, it's quiet. It's a great city car, actually, especially with the e-Pedal – it makes driving much easier because it's just one pedal for the accelerator and brake," she says.
Photographing the UK in a Nissan LEAF
Environmental concerns were also a key factor for Hazel, who was drawn to the zero tailpipe emissions promised by EV ownership. The same is true for James, a graphic designer living on the south coast. His LEAF purchase (a Tekna 40kWh model in gunmetal grey) was prompted by a desire to stop spending so much money on petrol and "get a cleaner car that's better for the environment".[2]
Before purchasing his LEAF in 2018, James investigated several electric vehicle options and chose the LEAF because it offered him the most amount of range for the price, and tech features that competitors didn't have. One of James's big passions is photography, and as well as shooting the coastal views on his doorstep he'll often take the LEAF on longer drives to capture landscapes further afield. It's on these journeys where Nissan's ProPILOT driver assistance and the public charging network come into play.
"I've found it really easy to find public charging. Most service stations have at least a couple of chargers, there's route planning apps you can get that almost tell you automatically where to go and you don't have to really think about it," he notes.
The LEAF also comes with enough interior room for James to load up his camera equipment and any additional luggage needed for photography trips. "Inside the car, in terms of practicality, there's more than enough space for things I would take with me on an everyday trip," he says. "Most of my gear is fairly light, but even if I'm putting it alongside some other baggage it's absolutely very practical."
Sustainable living with a Nissan LEAF
For Jane-Anne, her N-Connecta LEAF is part of a larger personal commitment to sustainability. She and her husband have spent several years planning and building a fully-electric home in rural Hampshire, powered by solar panels and harvests energy in a battery storage system.
Partnership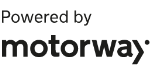 Need to sell your car?
Find your best offer from over 5,000+ dealers. It's that easy.
Buying an electric vehicle was the next logical step in Jane-Anne's carbon-cutting journey, particularly as she had previously owned a hybrid. "The best thing about [the LEAF] is that I can drive it with a clear conscience because I'm not adding to the pollution, especially as most of the journeys that I do are fairly short," she says.[2]
Jane-Anne predominantly uses her LEAF to visit friends and family, and to make trips in the local area like stocking up on supplies at the nearby garden centre. "The LEAF is ideal for that, I've got enough room to put my compost and my shopping in the boot, so it suits me very well," she says.
During the pandemic, Jane-Ann went long stretches of time without getting behind the wheel of her car. She credits the LEAF with helping her gain confidence on the roads again after some time away.
"I'm really pleased I bought the Nissan LEAF because it is a sustainable choice, and with our new sustainable house and our charging point, plugging it in has just been really easy to do. The fact that it's so easy to drive, it's given me back my confidence," she says.
Discover more about the Nissan LEAF at nissan.co.uk. Download a free guide to learn about electrified vehicles.
[1] Connecting a mobile phone to NissanConnect with Apple CarPlay and Android Auto should only be done when the car is parked safely. Use of the system should always be in accordance with the Highway Code. Users should be aware of the potential for hands-free technology to distract attention from the road which could impact on having full control of the vehicle. For compatible devices, visit www.nissan.co.uk/applecarplay-androidauto .
[2] Zero tailpipe emissions
What is fast charging? What is rapid charging? What is ultra-rapid charging? EV charging speeds explained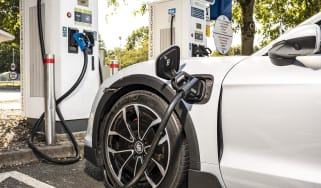 What is fast charging? What is rapid charging? What is ultra-rapid charging? EV charging speeds explained
How much is the Benefit-in-Kind company-car tax on an electric car?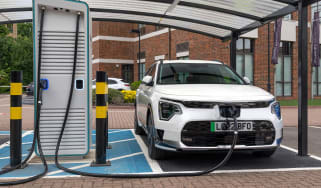 How much is the Benefit-in-Kind company-car tax on an electric car?
New Fisker Ocean Sport washes up in the UK: £36k for a 288-mile range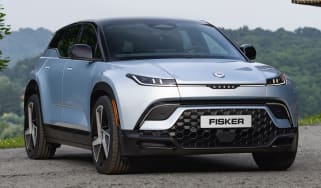 New Fisker Ocean Sport washes up in the UK: £36k for a 288-mile range
American EV startup Fisker has just launched its entry-level Ocean SUV in the UK, with a range of up to 288 miles
First contact: facelifted Kia EV6 will look even more like a UFO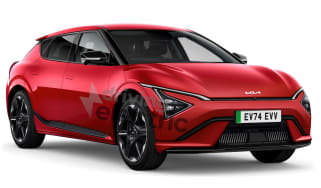 First contact: facelifted Kia EV6 will look even more like a UFO
Kia is readying an update for the EV6 crossover, which is set to include a new face and tech from the larger EV9
Big price cut: Electric Renault Megane prices slashed in time for Christmas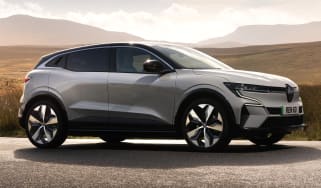 Big price cut: Electric Renault Megane prices slashed in time for Christmas
Renault Megane E-Tech gets a price drop of up to £3,500, bringing the starting price to just £34,495