Trading Places
Can an electric car be the ultimate driving machine?
Think of an electric car and no doubt images of eco-friendliness and efficiency spring to mind. With their zero emissions at the tailpipe and near-silent running, these vehicles appeal to those looking to reduce their impact on the environment by seeking a more sustainable four-wheeled future.
But what about drivers who like to get behind the wheel just for the thrill of it? Traditionally, these buyers have dismissed battery power in favour of the internal-combustion engine, which has always been associated with high performance.
Yet there are an increasing number of high-performance electric cars out there, including the new BMW i3s, which has been designed and built by the brand that's synonymous with the phrase 'the ultimate driving machine'.
To find out whether these models can deliver the sort of excitement keen drivers crave, we brought together a pair of petrolheads with the quickest version of BMW's electric car.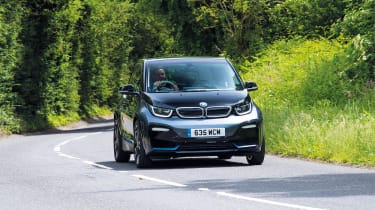 James Adler and Grant Taylor, both 43 years old, are avid car fans and have owned a string of performance vehicles     between them, including a number of hot hatchbacks. While both are interested in all types of automotive technology, neither has ever driven a pure-electric vehicle, and so both are keen to see if this kind of car can prove a viable alternative to fossil fuels when it comes to driving fun.
If any car can convince them to make the switch, arguably it's the BMW i3s. The flagship of the i3 range, it has been engineered to deliver all the efficiency and sustainability benefits of the standard car, but with an extra injection of performance, driver engagement and excitement.
Featuring a 120Ah battery pack, the BMW also packs a rear-mounted electric motor that makes 181bhp and, crucially, a muscular 250Nm of torque developed instantly from zero revs.
Factor in the car's lightweight carbon-fibre reinforced plastic (CFRP) construction, which results in the i3s tipping the scales at just 1,265kg, and it's no surprise to find the BMW is a strong performer, sprinting from 0-62mph in a very brisk 6.9 seconds.
Yet there's more to driving dynamics than straight-line pace, so BMW has also treated the i3s to a sportier suspension setup, 10mm lower than the standard car's. Plus, the rear track has been stretched by 40mm, there are wider tyres front and rear and the steering is quicker.
Finally, there's a more advanced and quicker-acting stability control system with a Sport setting (you can also choose from Normal and Eco Pro modes) that sharpens the accelerator response and adds extra weight to steering.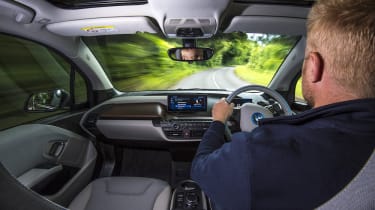 Yet before either James or Grant even so much as turn the wheel in the BMW, both spend time taking in the car's bold exterior and interior styling. "I like the way it looks," says James. "It's really distinctive and it's clear BMW has taken advantage of the packaging of the electric drivetrain.
"And the exposed carbon-fibre reinforced plastic structure looks really good – it reminds me of the components used in many supercars." Not only that, but the light and strong CFRP is formed from raw materials supplied by a facility that's 100% powered by renewable hydroelectric energy.
Partnership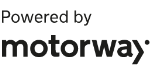 Need to sell your car?
Find your best offer from over 5,000+ dealers. It's that easy.
Once inside, both our testers are impressed by the quality, which is compared very favourably to BMW's other models. Grant also picks up on the use of materials, particularly the moulded kenaf panels on the doors and dashboard. "I like the look and texture," he comments. "As soon as I saw it, I thought it was something interesting."
He's right, of course: the kenaf is harvested from the mallow plant, which when used in this application, is around 30% lighter than traditional plastic. Other areas of note include seats with natural wool fabric and leather trim sourced from cattle herds close to the i3 factory in Leipzig, Germany.
Combined, these materials naturally cool or warm the occupants depending on the weather, making sure you're comfortable, relaxed and focused on enjoying the driving experience.
Of course, the acid test of any car like this is the driving, and after taking in a route that includes traditional twisting country roads and a swift motorway blast, both our drivers return impressed by the performance.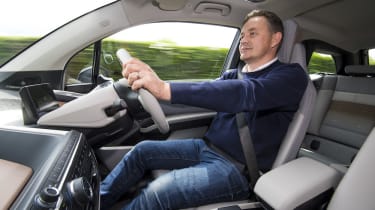 "It's quicker than I was expecting," reveals Grant. "I'd anticipated the smooth surge in acceleration, but not the speed with which it accelerates. Off the line, it feels incredibly strong, and up to the speed limit I suspect a lot of hot hatchbacks would struggle to keep up with it."
James is just as enthusiastic: "The way this thing sprints past slower traffic is really impressive, particularly in Sport mode," he says.
The tweaked handling of the BMW i3s is also highlighted, in particular the stability control system. "With this much torque going through the wheels, you'd expect to feel the systems cutting the power as you accelerate out of a bend," observes James. "Yet no matter how much throttle you use, the i3 just accelerates quickly and without any fuss."
Both drivers are a little surprised by the BMW's strong regenerative braking effect, which sends energy back into the batteries every time you slow down. But they quickly acclimatise and are soon avoiding the brake pedal altogether. "It's a new way of driving," notes Grant. "And that's all part of the fun."
So, did the run in the BMW convince our petrolheads to switch to electricity? "I suspect people who are thinking of making the change, particularly hot-hatchback owners, will be pleasantly surprised by the strong performance," says Grant.                      "If you've never considered an electric car as a fun choice, then the i3 is well worth your attention" reckons James. "Not only does it look great and feature traditional BMW quality, but it's quick and offers a different kind of performance driving experience."                      Sustainability and scintillating driving thrills? It looks like you can have your cake and eat it.
Electric BMW iX2 is set to take the kidney grille to the next level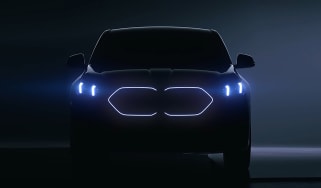 Electric BMW iX2 is set to take the kidney grille to the next level
BMW i4 facelift to topple Tesla with huge range and tech upgrades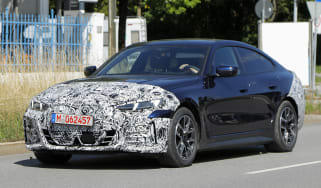 BMW i4 facelift to topple Tesla with huge range and tech upgrades
BMW Vision Neue Klasse is a future electric 3 Series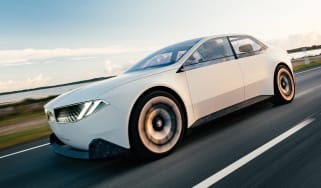 BMW Vision Neue Klasse is a future electric 3 Series
BMW i4 facelift to topple Tesla with huge range and tech upgrades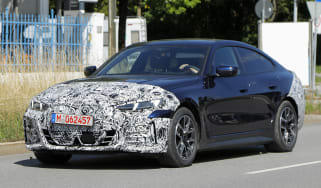 BMW i4 facelift to topple Tesla with huge range and tech upgrades
An updated version of the BMW i4 has been spotted testing, likely sporting a longer range and the latest technology
Electric BMW iX2 is set to take the kidney grille to the next level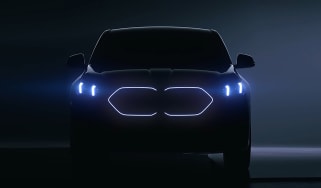 Electric BMW iX2 is set to take the kidney grille to the next level
BMW has teased the highly-rumoured iX2 coupe-SUV, which has been revealed to get enlarged illuminated kidney grilles