Electric MINI JCW: prototype zero-emissions hot hatch tests on Nurburgring
Fully electric model set to join line-up of high-performance John Cooper Works MINIs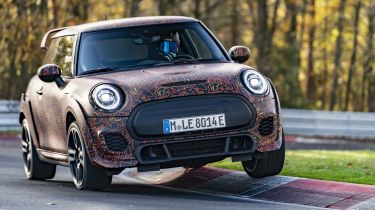 MINI is gearing up to launch a fully electric version of its John Cooper Works (JCW) hot hatchback, and has released official pictures of a prototype version of the car testing on Germany's Nurburgring Nordschleife racetrack.
No exact details as to power output, battery capacity, performance, expected range, charging times or a likely retail price have been released at this early stage, but these are expected ahead of the model going on sale in late 2021.
However, MINI brand head Bernd Koerber has stated: "With the MINI Electric, we've shown how well driving pleasure and electric mobility can be combined. Now's the time to translate the performance passion of the John Cooper Works brand to electromobility. So we're now working hard to develop concepts for John Cooper Works models with electric drive."
Koerber added that traditional petrol-engined JCW MINIs would continue alongside the JCW Electric, saying: "John Cooper Works models with conventional combustion engines will continue to have an important role to play in addressing the wishes and needs of our motorsport enthusiasts around the world."
When speaking previously to DrivingElectric, Koerber outlined his plan to turn JCW into an electrified sub-brand for MINI. He stated: "The perception, I would say, when you look at John Cooper Works, it's not the perception of a full-blown sub-brand. People very often perceive it as our top model or performance model. What we would like to do is make John Cooper Works a real electric performance brand."
Following on from the fully electric MINI JCW hatchback, John Cooper Works is expected to produce performance versions of a yet-to-be revealed compact electric MINI crossover model, as well as a larger MINI SUV that'll slot into the brand's range above the Countryman. A bespoke, standalone 'halo' model from JCW has not been entirely ruled out, but won't happen in the short term.
New BMW i4 2021: specs, range and on-sale date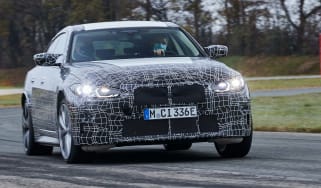 New BMW i4 2021: specs, range and on-sale date
The new pure-electric BMW i4 is coming soon, with the final phase of testing before its reveal currently underway
Best electric motorbikes 2021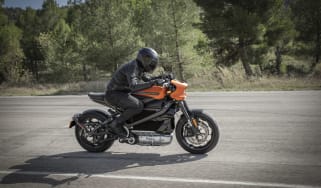 Best electric motorbikes 2021
More and more brands are getting in on the electric motorcycle action. Here's our pick of what's out there right now
Dacia electric car: new 2021 Dacia Spring production model revealed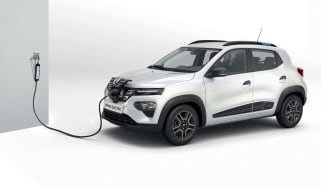 Dacia electric car: new 2021 Dacia Spring production model revealed
Cut-price Renault-based electric city car is set to be the cheapest zero-emissions model in Europe