Lexus electric car: Official teaser gives first glimpse of new zero-emissions SUV
Styling cues from LF-30 concept and advanced four-wheel-drive system expected to feature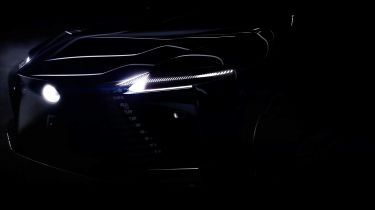 Lexus has revealed the first official teaser image of a new large pure-electric SUV model. Unlike the recently launched UX 300e, which shares a platform with the petrol-electric hybrid UX 250h, the new car will be built on a dedicated electric-car platform called e-TNGA. The platform is shared with sister brand Toyota, which developed it in collaboration with Subaru and is likely to use it for its own range of electric cars.
The shadowy image doesn't reveal much but does show styling cues that first appeared on 2019's LF-30 Electrified concept, including a more aggressive interpretation of Lexus' trademark 'spindle' grille, which appears on its NX and RX hybrid SUVs.
Further images revealed by Lexus show an almost totally camouflaged prototype version of the car lapping a testing facility in Japan. They give nothing away in terms of styling; even the large and boxy body shape may not be totally representative of the final design, as engineers may have fitted the electric drivetrain to a 'mule' body for evaluation.
Talking about electric-car design in general, Lexus' Design Division general manager Koichi Suga said: "Design is not only about styling. It's also based on engineering and expressing it as a shape. People said Lexus had no face, but after lots of trial and error, the spindle grille shape became the unique, functional expression of Lexus.
"But with electrification, the engine cooling radiator is eliminated. So [we're] making something new with our designs, something never seen before. I think it's a chance to express our unique designs."
Lexus's zero-emissions models will use a four-wheel-drive system, known as DIRECT4. This sees an electric motor located on each axle, with sophisticated computer control of the power and torque being sent to each wheel in order to maximise grip in any given situation.
2019 Lexus LF-30 Electrified concept
Lexus' LF-30 Electrified concept was first revealed at the 2019 Tokyo Motor Show, and was set to make its European debut at the 2020 Geneva Motor Show before it was cancelled due to the coronavirus pandemic.
When the LF-30 was revealed, Lexus said that it was targeting "a fundamental leap in vehicle performance, handling and control and driver enjoyment, even as mobility changes with the development of autonomous driving and electrification". The concept boasted a 110kWh battery, 150kW charging speed and an estimated driving range of 310 miles. Its 0-62mph acceleration time was given as 3.8 seconds and top speed was 124mph.
Outside, the LF-30's styling was influenced by the fact it has in-wheel motors, removing the need to accommodate the drivetrain under the body. An evolution of Lexus' signature 'spindle' grille spreads across the entire car. There are also wing-shaped headlights and window glass that extends continuously from front to rear. Aerodynamic and cooling requirements are taken care of by the sculpted body shape and side air intakes.
Inside, the LF-30 was influenced by a concept Lexus calls 'Tazuna', inspired by how a single rein can create a connection between a horse and its rider. Co-ordination between switches on the dashboard and graphics on the head-up display allow for the operation of numerous functions while keeping eyes on the road, while gesture control and augmented reality interfaces are also present.
In the back, occupants enjoy seats that mold to their exact shape thanks to artificial muscle technology and offer three positions: reclining, relaxing and alert. There's also a Mark Levinson stereo with speakers built into the headrests and an integrated noise-cancelling function. Sustainable materials have been used in the construction of the interior, including charred cedar for the floor and steering controller and recycled metal fibres in the door trim.
Wireless charging and AI-based energy management also feature on the LF-30, and it can co-ordinate its charging with a user's daily schedule. The car can also recognise different occupants and adjust things like seat position, infotainment settings and climate-control temperature to their individual preferences.
Best electric mopeds 2021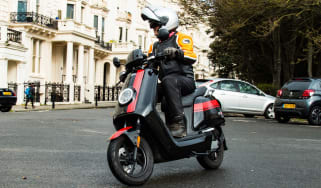 Best electric mopeds 2021
We run down the best electric mopeds you can buy, from some mainstream and some not so well known names
Best plug-in hybrid SUVs 2021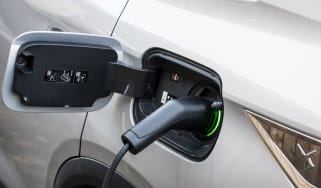 Best plug-in hybrid SUVs 2021
A good plug-in hybrid SUV should combine low running costs with excellent practicality. These are some of the best on sale right now
Best electric SUVs 2021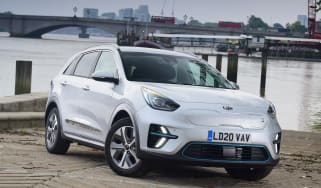 Best electric SUVs 2021
Our selection of the best electric SUVs you can buy features cars that promise to mix style, practicality and rock-bottom running costs