Infiniti Q70 Hybrid engines, drive & performance
The Infiniti Q70 Hybrid is the most powerful model in the range but it cannot offer the driving experience to match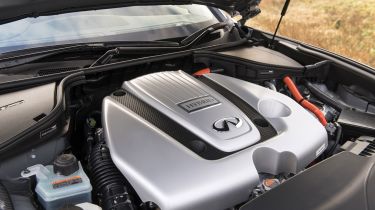 | Torque | Top speed | Driven wheels | Power |
| --- | --- | --- | --- |
| 546Nm | 155mph | Rear-wheel-drive | 364bhp |
With 355bhp on tap, this is the most powerful Q70 in the range and it has a 0-62mph time to match. But the weight of the battery pack removes the fun-factor from cornering and the seven-speed automatic transmission does its best to slow rapid progress.
Infiniti Q70 Hybrid engine, 0-62mph and acceleration
The Infiniti Q70 Hybrid pairs a 3.5-litre V6 petrol engine with an electric motor to deliver a combined total output of 369bhp, making it more powerful than the 3.7-litre V6 version. As a result, it'll complete the 0-62mph sprint in just 5.3 seconds (0.9 seconds faster than the 3.7-litre), before hitting a top speed limited to 155mph.
It's no slouch, then, but the Q70 Hybrid never really feels particularly quick. Hammer the throttle and there's a momentary pause before the car accelerates, with the seven-speed transmission doing its best to hold you back. The weight of the hybrid system is never far from your mind, making this better suited to relaxed and smooth progress.
That's when the Q70 Hybrid starts to shine. A gentle right foot will deliver effortless progress, while a featherlight touch should even allow you to set off in silence, although the electric motor will soon give way to the petrol engine.
On motorways where, let's face it, the car will spend most of its time, the Q70 Hybrid offers a cushion-soft ride, while the effective sound deadening makes it a quiet and comfortable cruiser. It's not in the same league as its German rivals, but this is a smooth operator over long distances.
Handling
It's good around town, too, especially if you're able to squeeze a mile or two of electric driving when you enter the city limits. However, the relatively big wheels and low-profile tyres are prone to crashing into potholes at slow speeds, but the hybrid fares better than the conventional Q70 Sport models riding on larger 20-inch alloy wheels.
While the Q70 Hybrid is undoubtedly quick at reaching corners, the fun stops when you get there. At 1,895kg in Premium Trim and 1,920kg in Premium Tech guise, the Q70 Hybrid is up to 94kg heavier than the 3.7-litre petrol, with the hybrid system responsible for the added weight.
As a result, the Q70 Hybrid feels bulky when cornering while the vague and imprecise steering means that enthusiastic cornering is out of the question. It might have the power, but it lacks the poise of say a BMW 5 Series.