Infiniti Q70 Hybrid running costs
Steep depreciation and high road tax give the diesel versions the edge over the Infiniti Q70 Hybrid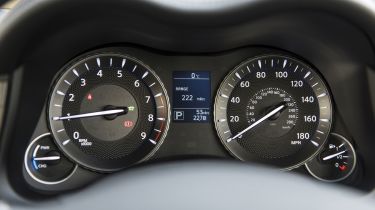 | Insurance group | Warranty | Service intervals | 2018/19 company car cost (20%/40%) |
| --- | --- | --- | --- |
| 43E | 36 months / 60,000 miles | 12 months / 9,000 miles | £2,625.30 / £5,250.60 |
Even though you'll be able to negotiate a healthy discount at the dealer, a list price of £44,000 to £48,000 means that, on paper, this is an expensive car, especially considering the lack of brand equity in the UK.
We should point out, though, that the Q70 Hybrid offers a generous level of standard equipment, especially in Premium Tech trim.
The hybrid's 149g/km CO2 emissions put it in the 28% bracket for Benefit-in-Kind (BiK) purposes, compared to 37% for the 3.7-litre petrol, making it an attractive proposition for company-car drivers.
Infiniti Q70 Hybrid insurance group
The Infiniti Q70 Hybrid falls into insurance group 43, making it the most expensive Q70 to insure (the 3.7-litre is group 42). The Volvo S90 T8 Twin Engine slots into group 44, while the Mercedes-Benz E 350e is either group 40 or 41, depending on trim.
Warranty
Infiniti offers a standard three-year/60,000-mile warranty, which is typical for cars in this segment. The warranty can be extended and transferred to a subsequent owner, if required.
Servicing
The Q70 Hybrid requires servicing every 9,000 miles or 12 months, whichever comes soonest. This is a shorter interval than the 2.2-litre diesel version, which requires servicing every 15,500 miles or 12 months.
Road tax
With CO2 emissions of 145g/km, it'll cost £195 to tax the Q70 Hybrid in year one, followed by five years of paying £440 from year two. That's because the list price nudges the road tax into a higher rate, with cars costing more than £40,000 attracting a £310 premium.
Buy a diesel-engined Q70 with a list price of less than £40,000 and you'll pay £205 in year one, but the rate drops to £140 in year two.
Depreciation
An Infiniti Q70 is expected to retain less than 40% of its original value after three years and 60,000 miles, with a lack of brand image and a small dealer network giving it a steeper depreciation curve than its German rivals.
Your biggest challenge might be finding one to buy. At the time of writing, there were 35 used Q70s for sale in the UK, none of which were the Q70 Hybrid models.