Infiniti QX Inspiration concept revealed at Detroit
Electric SUV points to looks and technology of future Infiniti models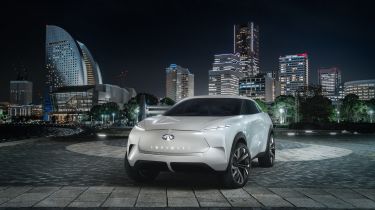 The Infiniti QX Inspiration concept electric SUV has made its public debut at the North American International Auto Show (NAIAS) in Detroit.
The luxury arm of Nissan says the concept previews its plans for a range of high-performance electrified vehicles, as well as signalling a new design direction for the brand. This move follows the announcement in January 2018 that Infiniti would be 'electrifying' its entire range from 2021 onwards, offering only pure-electric or hybrid models from that time.
Infiniti QX Inspiration electric powertrain
The QX Inspiration features an all-wheel-drive electric powertrain, with batteries under the floor sending power to two electric motors – one on each axle. Power is distributed intelligently between all four wheels to ensure maximum grip and stability.
Styling
Its exterior design is defined by straight lines, clean surfaces and concise graphics, and is said to indicate how Infiniti's 'form language' will change as the brand shifts to electrification.
Alfonso Albaisa, Infiniti senior vice president for global design, said: "The Infiniti design aesthetic has always been linked to the powertrain. Where a V8 engine might move the interior rearward, electrification has allowed us to the move the interior forward and provides for a balanced profile."
Interior
Inside, the QX Inspiration showcases the additional space freed up by electric powertrains compared to internal-combustion-engined cars. The spacious interior is described as 'lounge-like' and influenced by the Japanese approach to hospitality, known as 'omotenashi'.
There's a centre console made of Bianco Carrara marble, the dashboard is dominated by a widescreen monitor running from pillar to pillar, while there's also a monitor set into the rectangular steering wheel. The front seats rotate 30 degrees outwards, to make getting in and out easier.
In contrast to the front seats, the rear of the car has been deliberately left without technology, creating "a relaxing, screen-free space where occupants can sit back and watch the world go by".
Technology
The widescreen gives the front-seat passenger access to a range of functions, as well as dramatically cutting down on the number of buttons on the dashboard. The displays are also linked to rear-facing door-mounted cameras.
Autonomous driving capability is also a feature of the QX Inspiration concept, with the steering wheel and pedals able to retract into the dashboard. Infiniti says this reflects "the full range of autonomous drive technologies that may one day be available," but also that human control will "remain common to all Infiniti vehicles for the foreseeable future."
Commenting on the concept, newly appointed Infiniti president and chairman Christian Meunier said: "The QX Inspiration marks the beginning of a new generation of Infiniti cars and establishes a direct blueprint for the brand's first electric vehicle. [It] previews a product portfolio which will offer high performance, ultra-low emissions, and range confidence."
New Fisker Ocean Sport washes up in the UK: £36k for a 288-mile range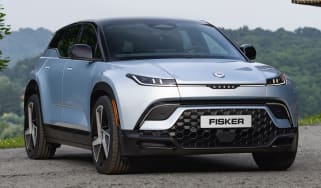 New Fisker Ocean Sport washes up in the UK: £36k for a 288-mile range
American EV startup Fisker has just launched its entry-level Ocean SUV in the UK, with a range of up to 288 miles
First contact: facelifted Kia EV6 will look even more like a UFO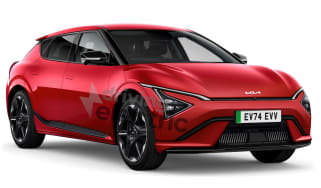 First contact: facelifted Kia EV6 will look even more like a UFO
Kia is readying an update for the EV6 crossover, which is set to include a new face and tech from the larger EV9
Big price cut: Electric Renault Megane prices slashed in time for Christmas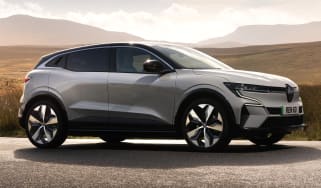 Big price cut: Electric Renault Megane prices slashed in time for Christmas
Renault Megane E-Tech gets a price drop of up to £3,500, bringing the starting price to just £34,495