Volkswagen ID.3 GTX electric hot hatchback expected in 2023
The electric Golf GTI equivalent is expected to arrive as part of the ID.3's mid-life facelift, with all-wheel drive and 295bhp output likely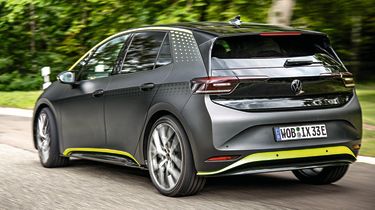 Volkswagen passenger-cars chief Ralf Brandstaetter confirmed in 2021 that an ID.3 GTX hot hatchback will join the ID.4 GTX and ID.5 GTX SUVs in the German brand's line-up of electric performance cars. Now it has been confirmed that it'll arrive in conjunction with the regular ID.3's mid-life facelift in 2023.
That's according to Volkswagen product line spokesperson Martin Hube, talking at the launch of the ID.5 coupe-SUV in Austria. "Of course the project is progressing," Hube said, adding, "[For the] ID.3 facelift… we will get some very interesting details and of course, we are convinced that customers' expectations for a bit more power, for all-wheel drive are there, and [the] customer's wish is what we have to fulfil."
That means the ID.3 GTX won't be launched this year, as we're not expecting the facelifted ID.3 to make its debut until 2023 at the earliest (VW's electric Golf equivalent was unveiled in 2019). The ID.3 GTX will likely share its powertrain with the ID.4 GTX and ID.5 GTX, which use a dual-motor setup for four-wheel drive and 295bhp power output.
Brandstaetter previously revealed an 'ID.X' prototype (pictured above, and driven by DrivingElectric below), which was put together by Volkswagen engineers to explore the concept of an ID-brand hot hatch. However, there'll be some differences between that car and the eventual production version of the ID.3 GTX. For example, the ID.X produces 335bhp from a single electric motor powering the rear wheels, fed by a 77kWh battery.
"The ID.X concept was to show what's possible," Brandstaetter explained in 2021. "We had the MEB toolbox in the beginning, then we added all-wheel drive with the GTX. We will add a performance engine on the rear axle [of the ID.3] to give the car more acceleration, more speed."
Volkswagen ID.X prototype drive
In 2021, Brandstaetter revealed the ID.X prototype to the world in a short post on professional social network LinkedIn. A hot-hatch version of the ID.3 seemed an inevitable prospect, offering a zero-emissions equivalent to the Golf GTI, but this was the first sight of a prototype.
Fast-forward to now, and DrivingElectric has had the opportunity to take a brief drive in the ID.X, getting an insight into what VW's engineers have in mind for the electric future of performance cars. The car itself is something of a 'skunkworks' project, assembled by the engineers using a pre-production ID.3 First Edition chassis, a 77kWh battery taken from a crash-damaged car and drivetrain components from an ID.4 GTX that had been used for crash-testing. It weighs 1,933kg.
As noted above, there are several key differences between this car and the likely configuration of the production ID.3 GTX. Firstly, the prototype is more powerful, making 335bhp and 460Nm of torque, compared to an expected figure of 295bhp for the final version. Secondly, it's rear-wheel drive, whereas the final version will be four-wheel drive for greater grip and stability.
Brandstaetter himself was along for the drive, and described some of the ID.X's key characteristics. "We already know that most electric cars do pretty well in the traffic-light sprint," he said, "but the ID.X is even faster than a Golf GTI Clubsport from 0-62mph. Driving an electric car doesn't mean leaving driving fun behind – quite the contrary, in fact."
The ID.X prototype is finished in Manganese Grey, accentuated with neon yellow stripes for a colour scheme reminiscent of the Peugeot Sport Engineered 508 high-performance plug-in hybrid. It'll do 0-62mph in 5.3 seconds (compared to 5.7 for the aforementioned GTI Clubsport) and is a full second quicker from 50-75mph than its petrol-powered equivalent.
Driving the ID.X on an oval test track and handling circuit, the playful nature of its rear-wheel-drive setup is immediately evident – something which the four-wheel-drive production car will no doubt tone down a bit. But it never feels like it has too much power; rather, it feels entirely appropriate for the chassis. Ride comfort is decent, too, despite the large 21-inch alloys and low-profile tyres. It even makes a good noise – a genuine revvy hum from the electric motor, rather than the synthesised sounds generated by many performance electric models.
New Volkswagen ID.3 shows its face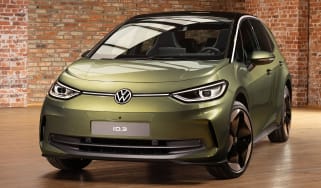 New Volkswagen ID.3 shows its face
New Volkswagen ID.3 SUV in the works, says CEO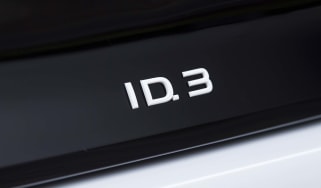 New Volkswagen ID.3 SUV in the works, says CEO
Top 10 slowest-depreciating electric and hybrid cars 2022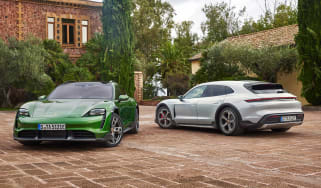 Top 10 slowest-depreciating electric and hybrid cars 2022
New Ford Explorer electric SUV revealed in full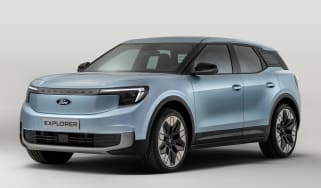 New Ford Explorer electric SUV revealed in full
Ford's new electric crossover boasts a range of more than 300 miles and will be built on the same platform as the Volkswagen ID.4 SUV
New Volkswagen ID.2all previews £22k electric hatchback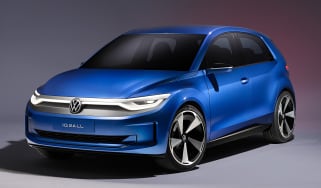 New Volkswagen ID.2all previews £22k electric hatchback
Volkswagen has unveiled its latest concept car, previewing its future rival to the Vauxhall Corsa Electric
Driver Power: The best electric and hybrid cars to own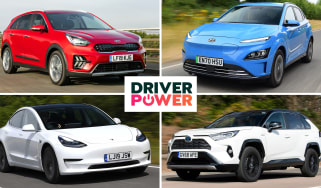 Driver Power: The best electric and hybrid cars to own
DrivingElectric's very own customer satisfaction survey ranks the very best EVs and hybrid cars, as voted by you