Electric Jaguar E-Type planned for 2020
British and Irish firms to collaborate on electrified version of classic Jaguar E-Type roadster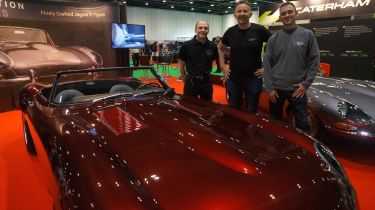 A fully electric Jaguar E-Type is to be launched in the coming months, built by the British E-Type re-engineering company Evolution E-Types and the Irish classic-car electric conversion firm Electrifi.
Planned for launch in 2020, the Evolution Electrifi E-Type will first be offered as a roadster with a canvas roof and a detachable hard-top; a fixed-roof coupe model will follow later.
The car will incorporate the modernisations that Evolution already applies to the petrol E-Types it restores, including electric power steering, air-conditioning, modern disc brakes and upgraded steering and suspension.
A power output of 450bhp and a 0-60mph time of four seconds are planned, along with a top speed of 165mph. The original petrol engine will be supplied with the conversion, which, like the electric Aston Martin DB6, will be fully reversible upon request.
The E-Type will join the DB6 and the Mini-based Swind E Classic on the growing list of available classic car electric conversions.  
Wicklow-based Electrifi is known for producing an electric-converted Ferrari 308 and Fiat 500 using Tesla drivetrains. It has plans to manufacture more electric-powered classics at factories in Ireland and Wales.
Speaking at the launch of the project at the London Motor Show, Uryk Dmyterko of Evolution said: "We are looking to the future, and we recognise that electric is the way forward.
"Our partnership with Electrifi means we can concentrate on building the best Jaguar E-type available and utilise Electrifi's already highly developed and tested electric technology."
Electrifi's Norman Crowley added: "With this partnership we are helping breath life back into these classic cars by building modern and sustainable technology into the very heart of cars for the 21st century.
"Working with Evolution to build the Jaguar E-type brings us a step closer to changing the way people drive in the future."
A prototype model of the electric E-Type is due to be unveiled at the end of the summer, with a production version ready by the end of 2019. Order books are open now, with the price expected to be in the region of £850,000.  
BMW i4 facelift to topple Tesla with huge range and tech upgrades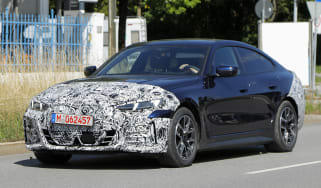 BMW i4 facelift to topple Tesla with huge range and tech upgrades
An updated version of the BMW i4 has been spotted testing, likely sporting a longer range and the latest technology
We've had a ride in the new electric MG Cyberster and it's NOT what we first thought…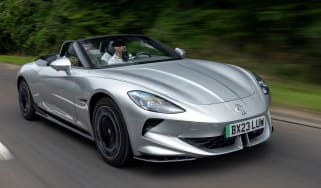 We've had a ride in the new electric MG Cyberster and it's NOT what we first thought…
The MG Cyberster is due to go on sale next year with up to 536bhp and scissor doors – and we've already had a ride in it