Toyota Mirai running costs
Daily economy is roughly on a par with a 40mpg petrol or diesel car, but the Toyota Mirai lease deal includes fuel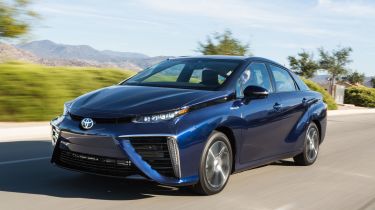 | Insurance group | Warranty | Service intervals | 2020/21 company-car tax cost |
| --- | --- | --- | --- |
| N/a | 5yrs / 100,000 miles | 12 months | £0 |
If you want to impress the neighbours with the first fuel-cell car on your street, it's going to cost you. Buy a Mirai outright and the sticker cost of £66,000 puts it head-to-head with some impressive plug-in hybrid and battery-powered electric rivals.
There's a bit of good news in the fact that Toyota's £750-a-month lease also includes fuel. That seems expensive, but when you knock off the £200 or so Toyota reckons users might typically spend at the hydrogen pump, the £500 left over isn't so savage compared to rates for similarly specified executive cars. If you want to drive on batteries, it's about the same cost per month as the Tesla Model S.
Without a Toyota hydrogen fuel card, you'd likely pay around £12/kg for fuel, which adds up to £60 for a full tank. Factor in a 300-mile range, and that's where the cost-equivalence with a 40mpg (real-world) petrol saloon comes in, so you get nothing like the running cost benefits of today's battery-powered electric cars, in fact the Mirai will be more expensive to fuel per-mile than an efficient diesel.
The Benefit-in-Kind tax rate for company-car drivers is 0% for the 2020/21 financial year, and with zero tailpipe emissions, the Mirai will be exempt from the London Congestion Charge until 2025. Even so, the purchase cost, fuel costs that are high compared to battery electric vehicles, and with depreciation that's unpredictable at best makes for an expensive ownership proposition.
Toyota Mirai insurance group
The Toyota Mirai hasn't been given an insurance-group rating, so you'll need to discuss the cost of cover with your broker.
Warranty
The Toyota standard warranty of five years or 100,000 miles applies to the Mirai, and you can bump up the battery warranty a year at a time after that to a maximum of 10 years – if you keep the service record up to date.
Servicing
The Toyota Mirai needs an annual service check, but under the terms of the lease deal everything's included. That said, long-term service and maintenance should be lower for fuel-cell cars than petrol or diesel equivalents.
The fuel-cell itself has no moving parts and is designed to outlast the car, so apart from a couple of specific checks – a water de-ionising filter needs replacing every 30,000-miles and there's a procedure to check hydrogen leak sensors – it's all about brakes, tyres and windscreen wipers.
Road tax
Zero tailpipe emissions means the Mirai currently attracts zero road tax.