Toyota Mirai reliability & safety
The Toyota Mirai uses mostly tried-and-tested parts and is engineered with safety in mind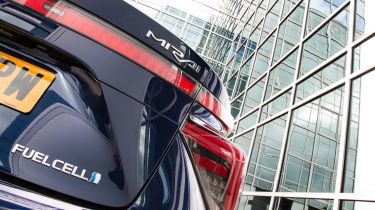 | Euro NCAP rating | Adult protection rating | Child protection rating | Safety assistance rating |
| --- | --- | --- | --- |
| Not tested | N/a | N/a | N/a |
With drivetrains derived from hybrid systems now installed in more than 10 million Toyotas around the world and garnering top-notch reliability ratings, plus new fuel-cell technology designed to outlast the car, all the signs are reassuring here.
Toyota Mirai reliability & problems
With only a handful of Mirais on UK roads at the time of writing, there's no chance of a placing in our sister title Auto Express' Driver Power customer satisfaction survey. However, Toyota traditionally does extremely well in the survey, and the Mirai shares much of its engineering with the truly tried-and-tested Prius. In the 2020 survey, Toyota continued this tradition with a strong 6th-place finish overall.
The only really new bit is the fuel cell itself, but Toyota has been on a 20-year development journey with this technology and has made significant advances with the longevity of service – to the extent that it claims the fuel cells will outlast the cars, with no noticeable degradation of performance.
Safety
Nobody would strap a pair of hydrogen cylinders under a car without some pretty rigorous thinking about safety, and Toyota is extremely proud of the effort that's gone into its tanks. There are a pair of them – one under the boot floor and another under the rear seats – and they're hi-tech units constructed from carbon fibre with polymer liners. They have to be extremely strong, not just for crash safety, but to withstand the extremes of 10,000psi pressures and rapid temperature changes associated with repeated fill cycles over years of driving.
Hydrogen is highly flammable of course, but because it's lighter than air it disperses so rapidly that leaks – unless in confined spaces – are not as dangerous as they might otherwise be. Interestingly, the University of Miami deliberately set fire to a pair of cars in 2003: one with a petrol engine and a leaky fuel tank, and the other a hydrogen car with a leaky gas valve. The petrol car burned to a heap, while the hydrogen fire burned out in two minutes and left the test car barely damaged – but Toyota's engineering seems to make such scenarios vanishingly unlikely in real life.
As well as inherent strength of engineering, there are hydrogen leak sensors (the gas is odourless and attempts to add agents to make it noticeable to human noses interfered with the fuel-cell reaction) and the system is designed both to shut off in the event of a collision and to ensure leaks couldn't make it inside the car should they somehow occur.
As far as more traditional safety issues are concerned, the Mirai has them covered, too. The car isn't sold in sufficient volume to have been independently crash-tested by Euro NCAP, hence it getting only four stars here, but it has a full roster of safety systems. They include multiple airbags, pre-crash safety with autonomous braking and blind-spot monitoring with rear cross-traffic alert. You can't get a spare tyre or space saver tyre, though - there's a tyre inflation kit.