Toyota Mirai interior & comfort
The Toyota Mirai is a well equipped and comfortable motorway cruiser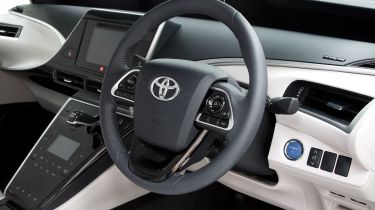 With an interior boasting materials and finishes that are more Lexus than Toyota, crisp contemporary design, high-end infotainment and eight-way power-adjustable seats, the Mirai goes some way to justifying its elevated price. It's not as luxurious as similarly priced executive rivals, but it's a nice environment all the same.
Toyota Mirai dashboard
The dashboard of the Mirai has much in common with that in the latest Toyota Prius, although it has a more expansively upmarket feel thanks to sweeping two-tone curves that break up the expanses of dashboard on either side of the centre console. There's no traditional instrument pod in front of the driver, as with the Prius, but critical information is displayed in a panel that sits beneath a ledge running across the dashboard.
Beneath the main touchscreen there are Lexus-style touch controls and a separate 4.2-inch display for the climate control. Instead of a gear shifter, a small lever on the console selects drive, reverse or park, but there's certainly nothing to alienate a driver used to more conventional cars.
Equipment, options and accessories
There are no trim levels other than the standard Mirai spec, but as you'd expect of a £60,000-plus car standard equipment is pretty impressive. There's a decent-sized infotainment touchscreen – although it's not of a scale drivers of the latest executive models would be accustomed to – and a great stereo system.
The interior also features leather upholstery, an electric tilt/slide steering wheel with heating, heated seats all round with eight-way electric adjustment up front, as well as dual-zone climate control, adaptive cruise control, a rear-view camera and parking sensors, heated power-folding mirrors and LED headlights. There's also a full suite of safety equipment.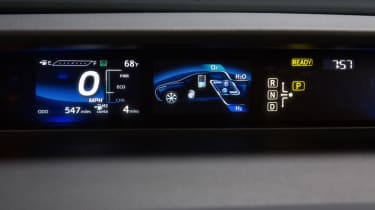 Infotainment, apps and sat nav
Taking centre stage at the top of the console is a seven-inch touchscreen with that includes navigation and an 11-speaker stereo with DAB radio. The screen is a little fiddly to navigate, but it's a not a big gripe. More annoying is that you can't have Apple CarPlay or Android Auto, but you can connect your phone by Bluetooth, and there's a tray under the centre armrest for wireless charging.