Renault Kangoo Z.E. van range, battery & charging
Developments have boosted the Renault Kangoo Z.E.'s range, but charging options are restricted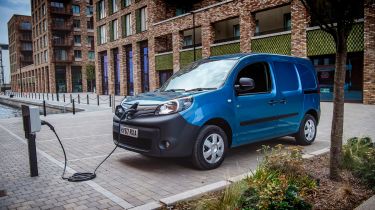 Renault has developed its battery technology over the years, so while the original Kangoo Z.E. that launched in 2011 had an official range of 110 miles, the current model can boast an official figure of 143 miles – although even Renault admits 124 is a more realistic figure in real-world use.
The Kangoo Z.E. has a 33kWh battery pack located under the load area. This is the same physical size as the original 22kWh battery, because Renault has improved the energy density of the cells, so it doesn't reduce load volume. The battery is connected to the 60bhp electric motor that's under the bonnet and drives the front wheels, while the sole charging socket for the battery is located in the Kangoo Z.E.'s nose, behind the Renault badge.
Renault Kangoo Z.E. range
Renault quotes a driving range of 124 miles for the Kangoo Z.E. – more than the electric Citroen Berlingo and Peugeot Partner, and more than the 124-mile maximum claimed by the Nissan e-NV200.
Renault is honest about the practicalities of the Kangoo Z.E.'s range, and it even has a range calculator on its website where you can change driving parameters, including temperature, payload and average speed, to produce different driving distances. In our experience of the Kangoo Z.E., you can easily get 125 miles out of a full charge in normal summer driving, without having to resort to the 'Eco' button to save energy.
Charge time
As there's just a single charging socket for the Kangoo, you're limited as to how quickly you can top the batteries up. Unlike sister brand Nissan, Renault doesn't equip the Kangoo Z.E. with a high-voltage CHAdeMO socket.
The fastest charging you're going to get for the Kangoo is from a public charging point with a power supply in excess of 7kW. It takes six hours to charge a flat battery there – the same amount of time if you plug into a higher-voltage 22 or 43 kW supply – as the Kangoo Z.E.'s on-board charger is the limiting factor. As for home charging, a 3.7kW supply can charge the Kangoo in 11 hours from flat.
Battery warranty
Renault offers a five-year/100,000-mile warranty on the Kangoo Z.E.'s battery, while the electric drivetrain is cover for four years/100,000 miles. The rest of the van is covered by the standard Renault vehicle warranty, which is three years/100,000 miles. An extended year of warranty cover is available for around £290.
The Kangoo Z.E. also gets breakdown cover that lasts for three years. If you've signed up to a battery lease deal, then the breakdown cover lasts for the duration of the lease. This includes recovery if you're left stranded by a flat battery – you don't get this kind of cover if you buy the diesel van and run out of fuel.