Peugeot Partner Electric van (2013-2019) range, battery & charging
A small battery pack means the Peugeot Partner Electric doesn't take as long as some rivals to charge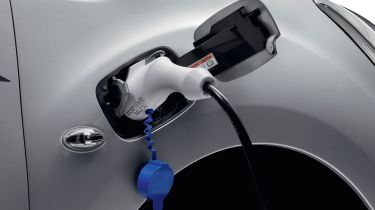 | Range  | Battery size | Wallbox charging time | Fast charge time |
| --- | --- | --- | --- |
| 106 miles (NEDC) | 22.5kWh | 8hrs (0-100%, 7.4kW) | 30mins (10-80%, 50kW) |
As it uses older technology than rivals such as the Renault Kangoo Z.E. and Nissan e-NV200, the Peugeot Partner Electric can't compete with them for driving range. The 22.5kWh battery capacity is split in two and mounted fore and aft of the rear axle, and it's about a third smaller than the Renault's, which goes some way to explaining the Peugeot's poorer range.
The battery is connected to a 66bhp electric motor developed by Formula E racing team Venturi and its 66bhp output is slightly more than the 60bhp made by the Kangoo Z.E. This sends power to the front wheels through a single-speed gearbox.
Peugeot Partner Electric van range
The quoted range for the Peugeot Partner Electric is 65 miles, which is less than Renault claims for the Kangoo Z.E. The real-world driving range of the Peugeot is likely to be about that, which isn't that great when you consider the Kangoo can easily cover over 110 miles in the same situation.
Charge time
As it has the same running gear as the Berlingo Electric, the Partner Electric is charged in the same ways. The fastest option is the CHAdeMO socket located on the nearside rear wheelarch. This can charge the battery from flat to 80% capacity in 30 minutes. The remaining 20% gets topped up more slowly because of the way the cells are charged, but it should take roughly 20 minutes to complete.
The second mode is via the mains, which uses a second socket on the offside front wing. This can be plugged into a three-pin plug socket or a dedicated home-charging box (there are two different types of charging cable for this) and it has a 12-hour charge time from a domestic socket, or eight hours from a wallbox. Either way, if you put the Partner Electric on charge overnight, the battery should be full by the morning.
Battery warranty
There's an eight-year warranty for the Partner Electric's battery, which guarantees the cells against a loss of capacity during that time or within 60,000 miles – whichever comes first. This might sound impressive, but it's fairly standard duration for EV battery warranty cover and many rivals offer cover for up to 100,000 miles.
In addition, Peugeot offers a second warranty that lasts five years/40,000 miles and covers the electric motor and drivetrain. The rest of the van is covered by the same three-year/100,000-mile warranty as the diesel Partner, and there's 12 months' breakdown cover from date of purchase.