New 2022 Fisker Ocean electric SUV: prices, specs and pictures
Pre-orders for new Tesla Model Y rival will begin in July, with cheaper models available from 2023
The Fisker Ocean electric SUV will be available to order from 1 July 2022, the company has confirmed. Initially restricted to the limited-edition Ocean One, further versions will go on sale at a later date.
With over 40,000 reservations on the books, Fisker says "many" of these are indications of interest for the Ocean One launch edition. Priced from £59,900, the Ocean One will be the most expensive model in the UK. The entry-level Ocean Sport will cost £34,990 when it arrives in late 2023. Fisker has said its "asset-light business model" should enable the company to "hold pricing steady through 2023".
The Fisker Ocean is a new zero-emissions SUV that'll rival the likes of the Audi Q4 e-tron, BMW iX3, Hyundai Ioniq 5 and Tesla Model Y. Several versions of the Ocean will be available in time, some with bigger batteries and a range of up to 391 miles.
The entry-level Ocean Sport will have a range of around 275 miles on a full charge according to Fisker. The all-wheel-drive Ultra variant has a longer 379-mile estimated range and a starting price of £48,900. Above that is the Ocean Extreme, which also gets all-wheel drive, an estimated range of 391 miles and a £59,900 price tag – the same as the Ocean One.
The first 5,000 examples produced will be badged as 'Fisker Ocean One' and feature the same powertrain as the range-topping Extreme. It's this version that'll go on sale first, in July 2022. Deliveries will begin shortly after production commences in November this year.
Fisker has said that due to capacity constraints, it's likely that production of the cheaper Ocean Sport "will not commence until late 2023, initially at modest volumes, with higher volumes expected in 2024."
While the electric SUV might be comparable in length to the iX3 and Model Y, speaking to DrivingElectric, Fisker told us: "The Ocean may be an SUV, but it drives like a sports car," adding: "It's got the handling because it's got torque vectoring, and it's also got instant torque."
Performance-wise, the entry-level Sport model has a single electric motor that produces 271bhp, which is enough for 0-62mph in 7.4 seconds. The all-wheel-drive Ultra pumps out 533bhp and can accelerate from 0-60mph in 4.2 seconds, while the Ocean Extreme and Ocean One both produce 542bhp from their dual-motor setups, and will do the same 0-62mph sprint in 3.9 seconds.
Fisker hasn't revealed information about the Ocean's rapid-charging capabilities, or the exact sizes of the batteries used in it, other than saying the units in the Ultra and Extreme models are "much bigger" than 80kWh. But it did say the two-wheel-drive and four-wheel-drive models will have two different battery chemistries.
The Ocean Sport's 'Touring Range' battery pack will use lithium-ion-phosphate chemistry, while the 'Hyper Range' battery pack in the Ocean Ultra, Ocean Extreme and Ocean One cars will use a nickel-manganese-cobalt chemistry. The different technologies are used to keep the price of the Sport model as low as possible and give the Ultra, Extreme and One models what Fisker describes as "segment-leading range and performance".
The Ocean Extreme and One also come as standard with Fisker's SolarSky roof, which is a full-length opening roof that also incorporates enough solar panels to potentially add up to 2,000 miles of range each year for customers in sunnier climates. Entry-level Sport models do get a fixed panoramic glass roof though, and Ultra versions get an openable glass roof.
Inside, there's a slim 9.8-inch digital driver's display behind the two-spoke steering wheel, with the dashboard dominated by a 17.1-inch central touchscreen that supports Apple CarPlay and Android Auto, too. Additionally, the infotainment screen in the Extreme and One models gets a 'Revolve' function, which allows it to rotate. When you're driving, it sits in portrait-orientated 'Control' mode, but when parked, the screen can be flipped 90 degrees into landscape-orientated 'Hollywood' mode, so you can watch films. The Ocean can also receive over-the-air (OTA) software updates.
Other features available in the top-of-the-range Ocean models include a 16-speaker HyperSound audio system capable of 360-degree sound, automatic parking and what Fisker calls 'Limo Mode', which allows rear passengers to adjust their climate-control temperature and media volume using a separate touchscreen. The limited-edition Ocean One also features 22-inch alloy wheels, while the rest of the line-up gets 20-inch alloys as standard.
Unless you go for the entry-level Sport trim, the Ocean also features 'California Mode' which lowers all eight of the SUV's windows, including the sunroof and the tailgate's glass panel, to transform the zero-emissions family hauler into a "coastline-cruising convertible" according to Fisker.
The Ocean's cabin has been designed with sustainability in mind, with the fabric seats made from recycled T-shirts, and the flooring from recycled plastic bottles. Fisker said: "We wanted to make a luxurious interior, something different. For example, if you look at the front seats, they don't have seams. We've used a whole new type of technology called freeform, which we worked on to make it really luxurious and super modern. The whole idea was to do a clean, luxurious interior. Yes, it's simple, but it still feels luxurious."
The Ocean's 2,920mm-long wheelbase and 'floating' centre console will help to maximise cabin space. There are no capacity figures for the boot yet, because "we may come out with a third row, so we'd move this [second] row a little bit forward and put a third row in".
All versions of the Ocean feature Fisker's Intelligent Pilot safety tech, which for Sport models includes autonomous emergency braking, a rear-view monitor, blind-spot monitoring, front and side collision warning, driver drowsiness and attention warning, lane keep assist and auto high beam. Ultra trim adds to this with a 360-degree surround view monitor and upgraded AEB, while Extreme and One models go even further by adding a self-parking functionality and lane change assist among other features. 
When the car does arrive in the UK, it won't be sold through a dealer network. Instead, the Ocean will be available to either purchase or lease online, while customers of the car-subscription service Onto will also have access to Fisker's all-electric SUV through the service.
Fisker's follow up to the Ocean will be a smaller car called the PEAR – an acronym for 'Personal Electric Automotive Revolution' – that's already in development. The PEAR was recently given a starting price of $29,900 (just over £22,000 at the time of writing) and a 2023 launch date. Then there will be two more expensive models, straddling the £100,000 mark, developed in the UK.
Where can I buy hydrogen and where is my nearest hydrogen filling station?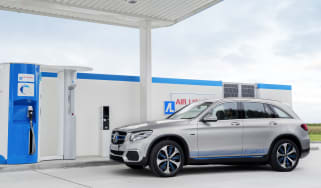 Where can I buy hydrogen and where is my nearest hydrogen filling station?
A guide to where you can find UK hydrogen fuel stations for filling up a hydrogen fuel-cell car
Tesla Supercharger network: complete guide to Tesla charging stations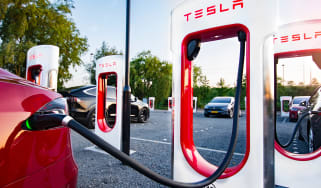 Tesla Supercharger network: complete guide to Tesla charging stations
The Tesla Supercharger network is expanding fast, providing reliable rapid charging throughout the UK to Tesla and non-Tesla owners alike
Top 10 best electric SUVs 2022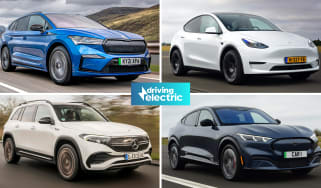 Top 10 best electric SUVs 2022
Electric SUVs combine style and practicality with low running costs, making them a very popular choice in the UK. Here are our top 10 favourites to bu…