New 2022 Range Rover: leaked images provide first look ahead of unveiling
Images of the upcoming fifth generation of the British luxury SUV have surfaced on social media ahead its 26 October reveal; hybrid and eventually fully electric variants are expected
Official images of the new fifth-generation Range Rover, due to be unveiled on 26 October, have leaked online, giving us our first look at the latest incarnation of the big-selling model. As an earlier official teaser shot suggested, the Aston Martin DBX, Bentley Bentayga and Volvo XC90 rival is set to retain its iconic, boxy proportions into another generation.
The leaked images reveal a subtle evolution of the current Range Rover's front-end design, however changes at the rear are more substantial, including a full-width tail-light arrangement. There also looks to be a major overhaul of the cabin, with a more minimalist design centred on a single, large central touchscreen, as opposed to the dual-screen setup in the current model.
Order books for the new luxury SUV will open when it makes its debut next week, with full specs and prices to be announced at the car's launch, too.
The all-new Range Rover will be the first Land Rover product to use the brand's new MLA platform, which has been designed to suit combustion-engined, plug-in hybrid and fully electric powertrains. However, while the plug-in hybrid and mild-hybrid variants of the fifth-generation Range Rover will arrive soon, we anticipate the pure-electric version won't debut until 2024.
The zero-emissions Range Rover was originally expected to arrive at some point in 2022, but according to Jaguar Land Rover's statement on its revised strategy released in February 2021: "In the next five years, Land Rover will welcome six pure-electric variants... through its three families of Range Rover, Discovery and Defender. The first all-electric variant will arrive in 2024."
Land Rover plans to achieve zero tailpipe emissions across its range by 2036, as well as net-zero emissions across its supply chain by 2039 through its 'Reimagine' strategy, which includes the introduction of the six fully electric models. Another part of the strategy is the hydrogen fuel-cell Defender prototype the company announced it was developing earlier in the year.
Land Rover has begun to embrace electrification already; the current Range Rover has been available in plug-in hybrid form for some time now, as have the Range Rover Sport, Velar and Evoque, plus the Land Rover Defender and Discovery Sport.
New Range Rover electric
As previously mentioned, the new Range Rover will be built on Land Rover's new Modular Longitudinal Architecture (MLA) platform, which can support battery-electric, plug-in hybrid and mild-hybrid powertrains.
Land Rover has been testing prototypes at its base in Gaydon and other locations for well over a year now, using a mixture of new running gear and existing bodyshells that give few clues as to the new car's design. However, the spy shots have shown a car that may be representative of the final product under its comprehensive camouflage.
From the pictures, it's clear that the Range Rover will keep its overall proportions, with a large glasshouse, raked rear screen and bluff front end. Other Range Rover calling cards like the clamshell bonnet, 'floating' roof and split tailgate have all made it onto the new car, too.
Crucially, it looks as though the Range Rover's wheelbase has extended – to our eyes, the car's signature large rear overhang has shrunk by a few centimetres. This could leave more room in the floor for batteries when the electric version arrives. 
Elsewhere, it looks as though the new Range Rover will get new LED headlights and tail-lights, as well as a redesigned grille. The seen in spy shots does without the pop-out door handles of the Range Rover Velar and Evoque, but these could well be added for production.
Design and technology
Our exclusive images (above) preview what the electric Range Rover could look like without its camouflage. At the front, the styling follows the trend of most electric cars with a smaller grille and fewer air intakes for cooling.
Meanwhile at the rear, the tail-light signature has evolved from a prominent, rectangular block into a thinner, horizontal design that straddles the rear pillar and tailgate. Naturally, there are no exhaust pipes, making the overall design less cluttered than before.
"There are two basic approaches," Land Rover's design director Gerry McGovern told us. "There's one that says if it's an all-electric vehicle, it gives you the ability to free up your proportions. So you could have a more cab-forward approach. And then the question is, is that right for Land Rover?
"Or do you just forget about what the proportion system is, and design the car around its relevance to the consumer and optimising it in terms of what it's capable of doing in terms of its on-road/off-road abilities, in terms of its functionality, its storage, its versatility and all those things?"
It's too early to speculate on performance figures, although Land Rover's MLA platform has room for two electric motors – one on each axle, giving four-wheel drive – and a large, 100kWh battery if required. This would give the electric Range Rover a range well in excess of 300 miles, putting it among the longest-range electric cars on sale.
Top 10 best luxury electric cars 2021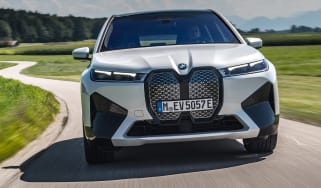 Top 10 best luxury electric cars 2021
From Audi to Tesla, here are our top picks of the most luxurious zero-emissions motoring options on the market right now
Complete guide to the IONITY charging network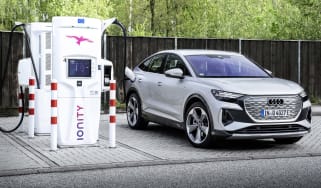 Complete guide to the IONITY charging network
The manufacturer-backed IONITY rapid-charging network is expanding across the UK and Europe – here's all you need to know
2021 Volvo XC40 Recharge electric SUV: single-motor version on sale now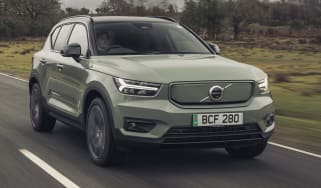 2021 Volvo XC40 Recharge electric SUV: single-motor version on sale now
Volvo has introduced a new single-motor version of its electric SUV, available in two trim levels and with prices starting from £48,300