Range Rover Sport PHEV reliability & safety rating
Worries about poor reliability seem to be a thing of the past, and we expect good things of the Range Rover Sport PHEV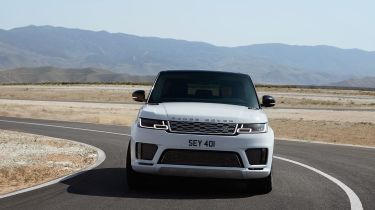 For a long time, Land Rover has been a consistent performer in reliability surveys – consistently below-par, sadly – and that trend continued in the 2020 edition of the Driver Power owner satisfaction survey, which saw the brand ranked 25th out of 30 in the UK, and finish dead last when it came to reliability.
While the Range Rover Sport hasn't been crash-tested by Euro NCAP, safety should be no worry. Every Land Rover and Range Rover tested since 2011 has managed a five-star result, so there's little reason to think the Sport would do anything different, especially as it shares most of its safety kit with the Velar and Range Rover.
Range Rover Sport PHEV reliability & problems
It's fair to say that Land Rover has had a pretty dismal record for reliability in recent years; it finished bottom of a table of 30 manufacturers for reliability in the 2020 Driver Power survey mentioned above. The Range Rover and Range Rover Sport models weren't rated individually however, as not enough owners replied for there to be a sufficient sample.
Safety
The Range Rover Sport hasn't been crash-tested by the experts at Euro NCAP, but other Range Rovers have performed well recently. Back in 2012, the Range Rover itself scored a full five-star rating, and that performance was equalled by the Velar in 2017. There's nothing to suggest that this model will be anything other than at least as good – and probably better.
That's partly because it shares much of its standard safety equipment with the larger and more expensive Range Rover. That includes Cornering Brake Control, Roll Stability Control and Emergency Brake Assist, as well as cruise control with a speed limiter, autonomous emergency braking (AEB) and lane-departure warning.
What the Sport also shares with the full-fat Range Rover is many of its options. For example, you can add a couple of identical packs. The Drive Pack includes traffic-sign recognition, blind-spot monitoring and driver drowsiness detection, for example. Then, there's the Drive Pro Pack, which also adds lane-keeping assistance, blind-spot assistance, adaptive cruise control and high-speed emergency braking.