Hyundai Kona Electric performance, top speed, motor
The Hyundai Kona Electric is quick off the mark, but the handling is safe and sensible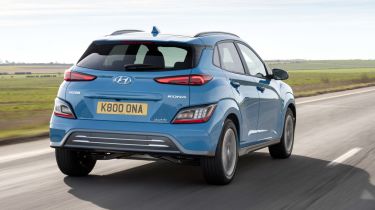 | 0-62mph | Top speed | Driven wheels | Power |
| --- | --- | --- | --- |
| 7.6-9.7s | 96-104mph | Front | 134-204bhp |
The Hyundai Kona Electric is a safe, sensible and predictable car to drive. It's feels instantly familiar, even if you've no previous experience with electric cars. A powerful motor in the 64kWh version means the Kona Electric has what it takes to surprise a hot hatchback at the traffic lights, too, though its considerable weight and comfort-focused handling mean it's most at home pottering around town or cruising on the motorway. Even the less powerful car feels pokey enough for most, however, thanks to all of that power being instantly available. Both motors produce the same 395Nm of torque.
Hyundai Kona Electric motor, 0-62mph and acceleration
A 201bhp electric motor helps the Kona to a 0-62mph time of 7.6 seconds, but in spite of that relatively decent on-paper time, the Kona's acceleration doesn't really add any sense of excitement to driving it, as its 1.7-tonne weight always makes itself felt. The 39kWh version is less powerful and so the 0-62mph sprint and top speed take a hit to 9.7 seconds and 96mph respectively. 
There are paddles behind the steering wheel that you can pull to operate the regenerative braking system, allowing you to gently slow the car to a stop while giving the battery a boost – without touching the brake pedal.
Progress is pleasingly silent from inside, unless you're accelerating hard, when a faint whine from the motor is audible. In order to alert pedestrians and cyclists to your approach, Hyundai has added a not-unpleasant harmonic hum to replace the engine note of a traditional car at low speeds.
Handling
Once again, the Kona Electric's weight is the defining characteristic here, and the chassis is definitely not set up to provide any fun behind the wheel. The steering is direct and neither too heavy or too light, but it doesn't offer any tangible connection to the front wheels through your fingertips.
The handling is unremarkable, too, with a tendency for the nose to drift wide into understeer quite early if you're trying to push the car into corners with any sort of commitment. On the plus side, the silent interior, well composed suspension and easy-driving nature of the Kona Electric make it a likeable companion for drivers who want a relaxing, comfortable drive.