Ford Mustang Mach-E: prices, specs and on-sale date
The electric Ford Mustang Mach-E SUV will cost from £40,270 in the UK, with first deliveries taking place in early 2021
The new Ford Mustang Mach-E electric SUV will cost from £40,270 in the UK, while the Extended Range rear-wheel-drive version has also been made cheap enough to qualify for the government's plug-in car grant. DrivingElectric has now had the opportunity to drive the Mach-E; you can read our full review here.
The entry-level model is rear-wheel-drive Standard Range, while the rear-wheel-drive Extended Range comes in at £49,900 – down from an originally announced £50,190 – in order to qualify for the plug-in grant, which is applied to cars with an original list price under £50,000. This version offers a claimed 379 miles of range, compared to the 273 of the Standard Range.
There are also all-wheel-drive (AWD) versions of each car, wearing a '4X' badge and with slightly reduced range, as well as a high-performance Mach-E GT variant. The latter was announced in December 2020 by Ford; it's targeting a Tesla-rivalling 0-60mph time of 3.5 seconds thanks to its 480bhp power output.
First UK deliveries of the MACH-E were set for late 2020, but have now been pushed back to early 2021 due to production disruption caused by Covid-19. Ford confirmed in June 2020 that the Mustang MACH-E would be offered with 'hands-free' autonomous driving capability in the US and Canada – similar to rival Tesla's 'Autopilot' system. It's not confirmed whether this will be offered in the UK and Europe; the introduction of such systems can be held up by differences in legislation dealing with the technology in various countries.
Ford Mustang Mach-E specifications
When the Mach-E does arrive, it'll take on rivals ranging from the Skoda Enyaq iV to the Tesla Model Y. The car sits on a new platform and will be available with a choice of 75kWh ('Standard Range') or 99kWh ('Extended Range') batteries. Rear-wheel-drive cars will be offered with either 255 or 282bhp, hitting 0-62mph in less than eight seconds; the all-wheel-drive versions will complete the sprint in under seven seconds, with dual-motor powertrains producing either 255 or 333bhp.
The rear-wheel-drive cars offer more range thanks to their single-motor layout, with the Extended Range version of this car returning the headline figure of 379 miles and the Standard Range 273 miles. The all-wheel-drive models – dubbed 4X – will achieve 249 and 336 on a single charge respectively; they have an electric motor on each axle that can vary torque delivery as traction demands it.
A limited-run, First Edition Mach-E (priced at £58,000, but now sold out) was also available, equipped with all-wheel drive and the 99kWh battery. A choice of three colours (including the exclusive Grabber Blue Metallic), a styling kit with body-coloured detailing, special First Edition scuff plates, SENSICO seat covers, a panoramic glass roof, 19-inch alloys, a hands-free tailgate and a B&O sound system were included, too.
The Mach-E is inspired by the Mustang muscle car, with its low nose, long bonnet and flared wheelarches giving it a sporty, muscular look. The tail-light design and the 'pony' badge at the front of the vehicle are clear nods to the Mustang. The boot measures 402 litres, rising to 1,420 litres with the rear seats folded down. There's also a 100-litre 'Front Trunk' under the bonnet, which has a removable, waterproof and washable lining.
Every version of the Mustang Mach-E will come with three drive modes: Whisper, Engage and Unbridled. These affect the brake regeneration, steering weight, throttle response, the synthesised noise that the Mach-E emits and the simple LED strip display that sits in front of the wheel.
Charging
The Mustang Mach-E will be supplied with standard three-pin and Type 2 charging cables to facilitate charging at home and at most public stations. Top-up times for these speeds haven't been confirmed, but we'd expect a 7kW home wallbox to deliver a full charge of the larger battery in some 11 hours for the 75kWh car, while the 99kWh will take around 14 hours.
Every Mustang Mach-E is compatible with CCS chargers, including those of the ultra-rapid IONITY charging network that Ford is a founding member of. Cars equipped with the 75kWh battery will accept a maximum charging rate of 115kW, while 99kWh cars see that figure rise to 150kW. At these speeds, Ford anticipates the car can add 73 miles of range with just 10 minutes' charging – faster than previous estimates. That translates to a 10-80% charge in 45 minutes for both the rear and all-wheel-drive cars.
Drivers will be able to monitor charging remotely using the FordPass smartphone app. It has a Power My Trip feature that can calculate the most efficient way to charge the Mach-E over a long journey, even highlighting nearby points of interest while you wait, giving estimated costs for the charge and telling you an estimated time of arrival having factored in charging times.
In June 2020, Ford in the US announced an 'Intelligent Range' function for the Mach-E. This system aims to reduce unplanned stops for charging by more accurately predicting how much range drivers have using past driving behaviour, weather forecasts and crowdsourced data from other Mustang Mach-Es. In addition, Ford says that future over-the-air updates will add the ability to factor in real-time traffic conditions, terrain and elevation of a given route.
Interior, technology and options
Inside, the Mach-E has taken a leaf out of the Tesla Model 3's book, with a simple design dominated by a full-length air vent and a large screen: the 15.5-inch portrait touchscreen controls most of the car's functions, with only a handful of physical buttons to be found on the steering wheel, dashboard and doors. The screen also contains a rotary dial at its base; a feature not seen before anywhere on the market.
The infotainment runs Ford's SYNC 4 system, with a 10.2-inch digital display showing vital information ahead of the driver. Wireless Android Auto and Apple CarPlay are standard, as are voice control, sat nav and built-in 4G connectivity, although it has yet to be decided whether the 4G capability will come with a subscription.
Drivers will be able to use their smartphone to unlock and start the Mach-E and there's also a touch-sensitive keypad on the B-pillar: entering a unique code will open the car, with another code required inside to start the vehicle. Similarly, the doors can be opened at the touch of a button, with a small grab-handle on the fronts and a green-lit lock sign on the pillar. There are no conventional door handles, just touch-sensitive pads.
Elsewhere, customers get the choice of two technology packs: the first adds a 10-speaker B&O sound system, a hands-free tailgate, traffic-sign recognition, advanced active parking assistance with a 360-degree camera and active driver assistance with lane-centring functionality. The '+' version gets all of these features, as well as eight-way, powered front seats with memory functionality, powered, foldable mirrors, puddle lights and a panoramic fixed glass roof. 
Rear-wheel drive cars sit on 18-inch alloy wheels, with LED tail-lights and adaptive cruise control with stop-go functionality included. The 10.2- and 15.5-inch screens are standard across the range. All-wheel drive cars get 19-inch wheels, adaptive LED headlights, heated, contrast-coloured mirrors and rear brake callipers too. A plethora of driver assistance systems are available across the line-up.
Over-the-air updates
The Mach-E will come with over-the-air update functionality, similar to its Tesla rivals. Ford says that while some other cars can only update while stationary, the Mach-E will be able to update itself on the move – often, it claims, in under two minutes. Ford has suggested that the updates will extend beyond the car's infotainment system, with all of the Mach-E's on-board computers capable of wireless updates. This could mean performance upgrades or entirely new features, Ford claims.
Owners will be able to set a specific time of the day for their car's updates to take place. Ford says that some updates will complete almost instantly after start-up, with information displayed inside to give a rundown of what has been installed. The company says that the first updates should roll out six months after the first customer deliveries in the US.
Ford says that its other new cars in the US will also start to be fitted with over-the-air update capability going forward, although it's not clear which vehicles it means, nor if this technology will make it to the UK on anything other than the Mach-E. In the US, Ford engineers used over-the-air functionality to continue final development of the Mach-E even while working from home during the coronavirus lockdown.
GT and Shelby versions
For those disappointed by the Mach-E's un-Mustang-like acceleration figures, a faster, more powerful Mach-E GT will go on sale at a later date: it'll develop 480bhp and hit 0-62mph in around 3.5 seconds, as well as getting standard adaptive dampers, performance brakes and distinctive contrasting fascia and aerodynamic upgrades. 
And there may be an even more full-on performance model to come. When DrivingElectric asked Darren Palmer, Ford's global director for battery electric vehicles, about a Shelby version, he said "I'm not commenting on a Shelby version of Mach-E but, it's a Mustang…"
Palmer went on to explain that the Mach-E "is the first brand extension ever for Mustang. It's not a replacement for the Mustang Coupe, but it takes Mustang in a new direction and safeguards the base Mustang for the future. Mustang needs this, long-term."
Best plug-in hybrid SUVs 2021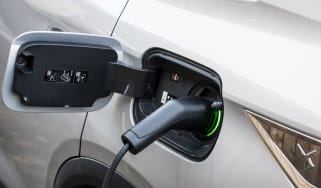 Best plug-in hybrid SUVs 2021
A good plug-in hybrid SUV should combine low running costs with excellent practicality. These are some of the best on sale right now
Where can I buy hydrogen and where is my nearest hydrogen filling station?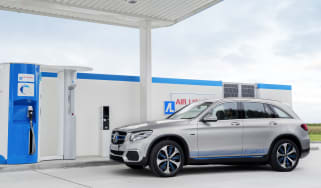 Where can I buy hydrogen and where is my nearest hydrogen filling station?
A guide to where you can find UK hydrogen fuel stations for filling up a hydrogen fuel-cell car
Best electric SUVs 2021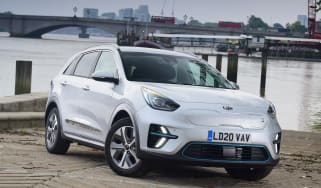 Best electric SUVs 2021
Our selection of the best electric SUVs you can buy features cars that promise to mix style, practicality and rock-bottom running costs