Audi e-tron Sportback interior & comfort
It's hard to find fault with the e-tron Sportback's cabin – it feels beautifully built and there's loads of tech on offer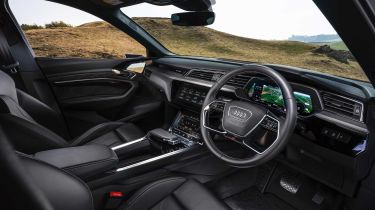 Quality inside the e-tron Sportback is exemplary. Nothing rattles, nothing shakes and the fully digital dashboard looks and feels absolutely first-rate. Audi has stuffed its first electric car with technology and most of it works seamlessly – fitting into your daily duties without fuss.
This can't be said of the e-tron Sportback's digital door mirrors, however. While you do get used to them eventually, if you ever find yourself hopping in and out of different cars, you'll require extensive (and effective) re-calibration of your brain to ensure safe operation. We think they're a bit of a gimmick; the car is a quiet and refined place to spend time even with the bulkier, conventional door mirrors.
Audi e-tron Sportback dashboard
The e-tron Sportback's dashboard design is among the slickest in any price bracket. It looks premium without feeling too flash, with a pair of touchscreens allowing access to the infotainment system and climate control settings. These screens are complimented by a fully-digital 'Virtual Cockpit' instrument cluster, which is one of the most expertly-integrated systems on the market. You can switch between trip information and full-screen mapping at the flick of the switch, all without losing sight of things like speed and remaining range.
Quality is another high point for the e-tron Sportback. Everything feels beautifully built – and so it should for this car's near-£80k list price. We've not had a chance to sit in the range-topping Vorsprung model, but if this entry-level S line is anything to go by, we've little reason to believe the flagship e-tron would have any trouble rivalling the far pricier Bentley Bentayga for build quality, fit and finish.
Equipment, options & accessories
Unlike with the standard e-tron, the entry-level Sportback is flashy S line spec, with prices starting from a smidge over £70,000. This brings kit like privacy glass and 21-inch alloy wheels, as well as matrix LED headlamps and scrolling indicators front and rear. Inside, there are power-adjustable and S-embossed front sport seats covered in Valcona leather. 
Launch Edition sits above S line, identifiable by way of its black styling, exclusive Audi Sport wheels, and standard-fit digital door mirrors – an option fitted to our test car. Also standard on the Launch Edition is the full-length panoramic sunroof, powered steering wheel adjustment and the more sophisticated virtual cockpit plus. Vorsprung tops the range, with huge 22-inch wheels, digital matrix lights, 'super' sport seats with diamond stitching and a Bang & Olufsen sound system.
Infotainment, apps & sat nav
There's no denying the e-tron Sportback's infotainment system is packed with features. The graphics look slick, and the menus are pretty easy to navigate, too. If you don't like the setup, you can hook up your smartphone using Apple CarPlay or Android Auto (both standard) for a more familiar range of media and navigation apps.
The only thing we're not sold on is the haptic touchscreen. Most of the features are hidden away in one of the two central displays; one houses the infotainment system, including mapping and audio connectivity, while the lower screen allows access to the climate control and heated seats.  However, unlike a conventional touchscreen, the Audi's setup requires a firm prod to activate a given function. It feels like the engineers have tried to marry the feel and functionality of a conventional button with the convenience of a touchscreen, without much success.